Olivia Rodrigo spills her GUTS on her angsty sophomore album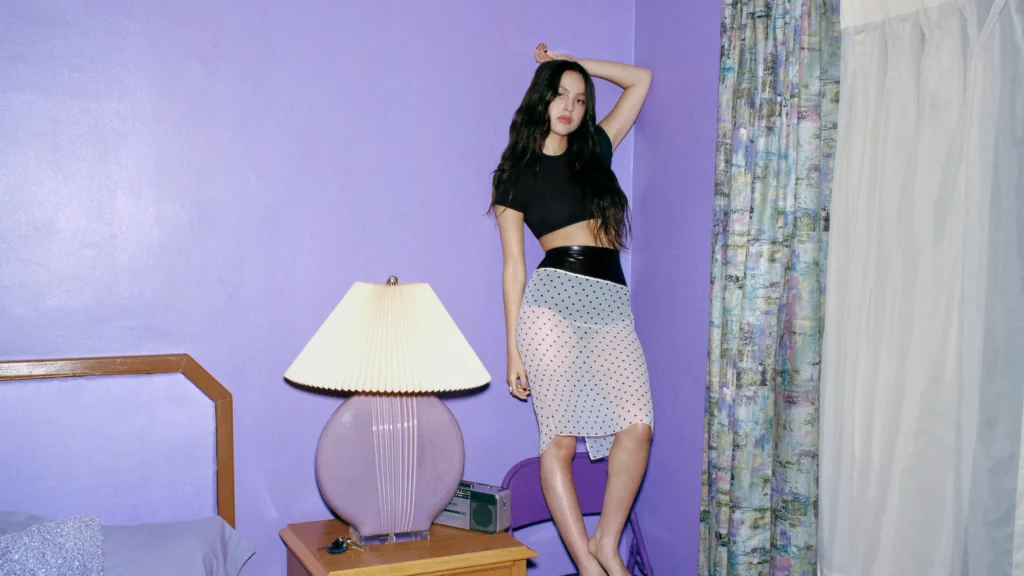 Fans have patiently been waiting for Olivia Rodrigo to release new music after her smash hit album SOUR. Now, GUTS is here with even more anguish, heartbreak, and deep-cut lyrics. 
I love Olivia Rodrigo and everything she is doing. Her debut album, SOUR, received critical acclaim with hit songs driver's license, deja vu, and good 4 u. While I do like that album, it lost steam for me after its release, and I tend to only go back to those three singles. Something that remains steadfast in her music, though, is her ability to capture what it is like to be a teenager with all sorts of worries. Add in some awesome bass lines, impeccable bridges, and raw vocal emotion, and Olivia Rodrigo will continue to take the world by storm.
GUTS, as some would call the follow up from SOUR, absolutely proves that Olivia Rodrigo is here to stay.
all-american bitch
This song has a steady guitar opening and makes you feel like you are in a coming-of-age movie from the early 2000s (which goes for the sound of the album overall). The chorus goes into heavy rocker mode while quickly halting to the slow, charming pace for the second verse. The second chorus explodes into a lot of cathartic screams and relatable lyrics like "I scream inside to deal with it." I love the outro of the song, with her striking and slow harmonies. A strong opening for GUTS that sets the tone wonderfully for the next 11 tracks.
bad idea right?
This one is my favourite of the singles so far, where she contemplates whether if it's a good idea to see an ex again. I have jammed out to this song in my car way too many times! I usually do not enjoy when an artist talks in their music, but Rodrigo has mastered it in a way that feels fun to sing along to, with playful and cheeky lyrics. The bass is super prominent throughout the entire song, and my favourite part is the pre-chorus with the "ahhhhhs." It is super different than what is on the radio right now, really leaning into pop-punk influences. I have spoken to people who did not love this song when it came out, but I disagree! It is awesome!
vampire
The first single off GUTS, vampire is reminiscent of Rodrigo's debut single driver's license with its piano and buildup. It is obvious that it is about dating someone who is older than her ("girls your age know better"). The other lyrics are hard hitting: "bloodsucker, fame fucker," "sold me for parts," and "bleeding me dry" are prime examples. Starting with a thunderous guitar synth, the bridge steals the spotlight. And if you've been following Olivia's musical journey, you'll agree that this comes as no surprise, since she consistently delivers masterful bridges.
lacy
I was floored when I listened to this song. It almost sounds like a lullaby with many soft, layered harmonies as she is whispering. A second instance where I thought that this did not even sound like her. Stunning. I felt like I was transcending during the peak before the finale of the song, where she holds some lengthy notes. The closing really displays her sentiment through the inflection of her voice. The lyrics of this song were less transparent to me, but I sensed a spin on being envious of someone else.
ballad of a homeschooled girl
Upbeat from the get-go, ballad of a homeschooled girl mirrors the lyricism in brutal from SOUR. Self-evident through its name, she is writing about how uncomfortable it is to interact with people who she did not go to school with. There are incredible lines about not fitting in: "i'm on the outside of the greatest inside joke," "it's social suicide/ wanna curl up and die." The song takes a different shape during the second verse and pre-chorus that includes a little bit of rap and talking, but circles back to its aggressive chorus. Her yells and chants make you want to rock out and scream!
making the bed
This track is slower, dissecting her journey to fame and how people may not have her best interest. It is real and raw and reflects the downsides to being a celebrity or being an object of the general public's scrutiny. The lyrics are clear, like "another perfect moment/ that doesn't feel like mine" or "like i'm some tourist attraction." The crescendo towards the end makes you feel intense before going quiet again as Rodrigo' soft voice finishes with a reference to the song's title.
logical
On my first listen, I felt the grief that was pouring out of this song. It has mainly piano as the instrumental, but the lyrics are transparent, delineating falling in love and feeling trapped or manipulated. Another powerful song that makes you feel sad for what Rodrigo went through. Her volume increases during the bridge and her anger is palpable because it sounds like she is crying or is choked up. The ending is emotional, almost beating herself up for being in this situation and not doing anything about it. This track stirs up memories of the ballads on SOUR. Beautiful.
get him back!
The song starts and I immediately start banging my head. The title itself is a double entendre, because throughout, Rodrigo alternates between the desire for revenge and wanting to be with this man again. An additional variation of talking during verses, with chanting in the chorus. The chorus is certainly the standout of this song along with the sick backing vocals. Once again, the bridge is awesome with call and answer lyrics about the conflicting feelings about this man: "wanna kiss his face/ with an uppercut," "i wanna meet his mom/ just to tell her her son sucks." The running theme and variation of "i want to get him back" that filters in the background creatively elevates this track to be one of the best on the album.
love is embarrassing
I claimed this song as my favourite on my first listen, so I am curious to see if a different one comes out on top as time goes on. The sporadic, gritty guitar sounds add a nice touch in the middle of the verses as well as the steady drumbeat. I feel like dancing alone in my room to the catchy chorus and her smooth, fiery voice. I LOVE the bridge! I know I sound redundant, but Olivia Rodrigo is truly the queen of bridges. Her voice is nearly piercing as she approaches the conclusion of the song with a slant rhyme sequence. I can picture this being so fun to hear live.
the grudge
A slow ballad, the grudge is about being betrayed and not being able to leave it behind. The most noteworthy lyric is "and we both drew blood/ but, man, those cuts were never equal" OUCH. I felt a lot of pain when I heard this song, so I think I would listen to this when I feel gloomy. Rodrigo has an amazing way of showcasing the despair in her voice. It ends with an incomplete sentence, alluding to the fact that she has not reached a point where forgiveness is possible. I do not see myself listening to this as often as the more up-beat songs due to its heavy nature, but it was crafted beautifully, and her vocals are truly astounding.
pretty isn't pretty
Sooooo relatable. Incredible track about beauty standards and feeling insecure about physical appearance. I think everyone can relate to this song at some point in their lives, with society's conventional beauty ideals. The beat is very steady and feels cheerful, despite the subject of lacking confidence. Some impactful lyrics include: "bought a new prescription/ to try and stay calm," "i could change up my body and change up my face," and "you just feel like shit over and over again."
teenage dream
Dismal. Wow. This track is deeply touching as Rodrigo paints a picture of turning 19 and fearing that her prime years have passed: "but i fear that they already got all the best parts of me." The crescendo comes in the bridge (yet another moment to belt) with a haunting lead-up, and the song concludes as softly as it started. If you keep it playing, you hear a little baby in the background, which I thought was a nice nod to the theme of the song about growing older.
I was so impressed with this album and thought it was a major level-up from SOUR. Olivia Rodrigo and her producer, Dan Nigro, excel at building songs that do not follow a standard formula. There are always a lot of surprises and unique sounds that you do not hear much in music today. GUTS is the perfect balance between pop-rock jam songs and powerful ballads. I tend to gravitate towards the fun songs more often than the slower ones, but that is just my nature. Although, I haven't stopped listening to all of them since its release, and I see her going far in awards season for this masterpiece. If you need to let out some anger, get in your feels, or just listen to some excellent music, GUTS is the album for you.