the platform that champions female fans
Launched in 2020, That Fangirl Life has become a pillar of the fan community, offering a safe and welcoming environment for pop-culture fans from around the globe.
maybe, we can find a place to feel good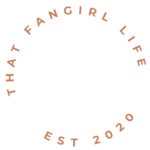 join the fan club!
SUBSCRIBE TO OUR NEWSLETTER FOR EXCLUSIVE news, updates, and DISCOUNTS!
get in touch
HAVE QUESTIONS OR JUST WANT TO CHAT?