My History with One Direction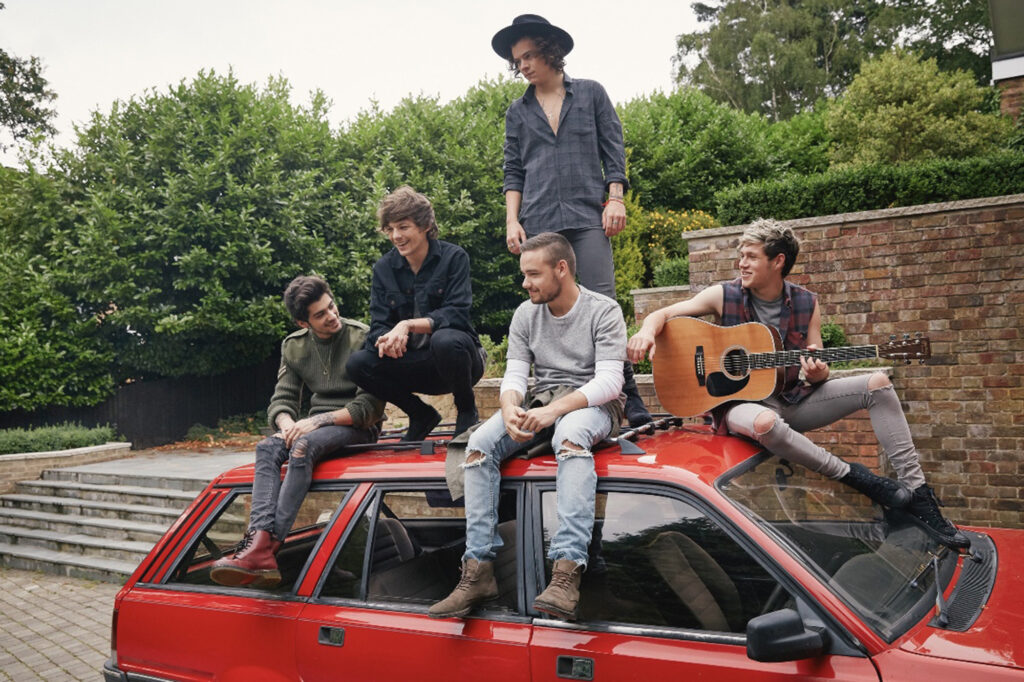 When I was eight years old I found the band that changed my life. It was 2015, and I was in third grade when Made in the A.M. came out. My first memory of this obsession was of my neighbor showing me this compilation video, "One Direction Funniest Moments." From that point on, the band was all I thought about.
Before the days of Apple Music, the only way I could listen to music was if I bought it on iTunes. I had limited access to things like the internet and music streaming, so it was a treat when my Mum would let me buy a One Direction song on iTunes. Up until that point, all I had downloaded on my iPhone 4 was her music and Meghan Trainer. 
On the special occasions when I was allowed to use the family computer, I would pull up an iTunes tab and play samples of all the songs I couldn't purchase. I would make lists of the songs I liked, so I knew what I wanted for my birthday.
This was also where I watched all of their music videos and more compilations of funny moments. There were many times when I would sneak downstairs to secretly watch YoutTube late into the night.
The girl next door, my best friend, would indulge in these activities too. I remember watching their X-Factor auditions and tour videos on the big TV in her basement. Sometimes, her mom would leave on the MTV channel after a workout, and we would get to watch their music videos.
If it weren't for her, I probably would have joined the One Direction hate train that was going on at the time. I held no shame at school for my interest, but other kids believed I should have. I would often get made fun of for liking the band.
Whether it was children's ability to dislike random things (the movie Frozen was a popular hatred), or the far too normalized hobby of poking fun at the interests of young girls, I was picked on pretty much every day in third grade.
I have a distinct memory of singing a portion of "Drag Me Down," and the girl I was coloring with told me to shut it down. It was a popular song, so I'm not sure what her problem was. I had their book, "Dare to Dream: Life as One Direction." It still sits on my bookshelf. I used to bring it to school with me every day and keep it under my pencil box during the day.
Looking back on it, doing that only gave fuel to the fire. Yes, I got made fun of constantly for it, but I probably had the courage that others didn't. I don't remember ever feeling sad when the other kids teased me. I was only being myself, and if that was something they didn't like, I didn't care.
Zayn Malik left the band shortly after I became a fan. Since I was so young, I couldn't grasp the concept of why he would do such a thing. I wasn't super attached to him because I was still new to the fandom, so I resorted to hating him for no good reason.
My neighbor shared this hatred, but she also shared my love for Niall Horan. He was my first crush. He could've been hers too. She was only a year older than me, but when I was a kid she felt so much older. 
The two of us had come to this conclusion supported by nothing that Niall was the most underrated member of the band, and we were his biggest fans. I'm still a big Niall girl today, and he will always be my favorite of the five.
If I had to choose two, they would have to be Niall and Louis. Harry was the most popular member of the band, but I thought the aforementioned members were better. Liam was just kind of there for me. I saw pictures of his buzzcut era and decided that was the end of it.
My friend got to see One Direction in concert, which I was extremely jealous of. They broke up that following year, so I would never get the chance to go to one of their shows. At the end of the day, I'm glad that she at least got the opportunity.
I don't remember too much about the breakup itself. I do remember my neighbor's dad breaking the news to us both during a house party. I was probably crushed, though I'm not really sure what my exact reaction was. I can only assume that night was spent replaying all the songs I was gifted for Christmas.
I was still a fan after that, but I moved on to different bands and other things to obsess over. I still loved Niall and listened to his album, Flicker, on repeat in fifth grade. During the rest of elementary school and most of middle school, I forgot about my One Direction obsession, but sometimes would still listen to a playlist of their songs to feel some nostalgia.
In seventh grade, I became obsessed with Harry Styles's album, Fine Line. During quarantine, my mom bought me six mini-paint canvases. On each one, I painted something inspired by one of the songs. I had one for "Cherry," "Watermelon Sugar," "Treat People With Kindness," "Canyon Moon," "Golden," "Adore You," and "Sunflower, Vol. 6." I taped these on my bedroom wall, and in the middle of the small canvases, there was a medium-sized one that was pink and blue and had "Fine Line" written on it.
There was another Harry Styles painting I made that would hang on the opposite wall. I even did a music project on him. It was one of those quarantine assignments that you really didn't have to put much effort into, but I did anyways.
In July of 2020, there was a lot of talk about the ten year anniversary of One Direction becoming a band. There were people I went to school with posting about this. I thought it was kind of ironic since most of them were the same people that made fun of me back in the third grade.
I dismissed them as fake fans because, according to fourteen-year-old me, I was an OG, so that classified me as a real fan. After nothing happened on July 23rd, I forgot about 1D once again.
Each member of the band has tried at a solo career, most being mildly successful. Of course, I'm looking forward to Niall's new album coming out in June. He released Flicker, his first album, in 2017. Songs "Slow Hands" and "This Town" are the best known from this album.
Also in 2017, Harry released his debut album. It was an immediate hit. Fine Line came out in 2019, which was extremely popular as well. Harry's House followed in 2022. Each album has its own unique sound that is still undoubtedly Harry. He was the most popular member during One Direction, and he kept that title after.
Zayn started out strong off the back of his One Direction days, but it wasn't sustained. His single Pillowtalk from 2016 was the mark of a new era. The song conveyed that Zayn no longer wanted to "censor himself," as he felt he did during his boy band days. A year after he departed from One Direction, he released his first solo album, Mind of Mine.
Later in 2016, he collaborated with Taylor Swift and Sia. "I Don't Wanna Live Forever" and "Dusk Till Dawn" were both hits, but unfortunately, this is where Zayn's notability stinted somewhat.
Louis and Liam were, in terms of commercial success, a little behind the rest. Louis has his second album out, but it hasn't got much traction. Liam is another story. He had a hit single, "Strip That Down," in 2017. I remember this song playing on the radio constantly, but at the time I found it a little disturbing.
It seems that other fans agree with me because Liam has gained some bad publicity in recent years. A video of him dancing to "Strip That Down" resurfaced last year, and it became a huge meme on TikTok. It also came out that Liam had been talking some trash about the other members of One Direction to start drama, which apparently wasn't a new thing for him.
The only members I have stayed loyal to over the years are Niall and Harry. I haven't listened to any solo music from the others since it came out. Presently, my music taste leans into the 70s combined with a lot of Taylor Swift. I still listen to my One Direction playlist when I need a pick-me-up, and every once in a while I'll see a YouTube video or TikTok that will bring me back to my roots.
One Direction is a big part of my life. I know there are many other girls out there who were made fun of for enjoying their music. It's important for us to embrace these things instead of being ashamed of them. Our interests make us who we are, so this one goes out to all the die-hard Directioners.