Harry Styles: Love On Tour, Palm Springs, CA Night 1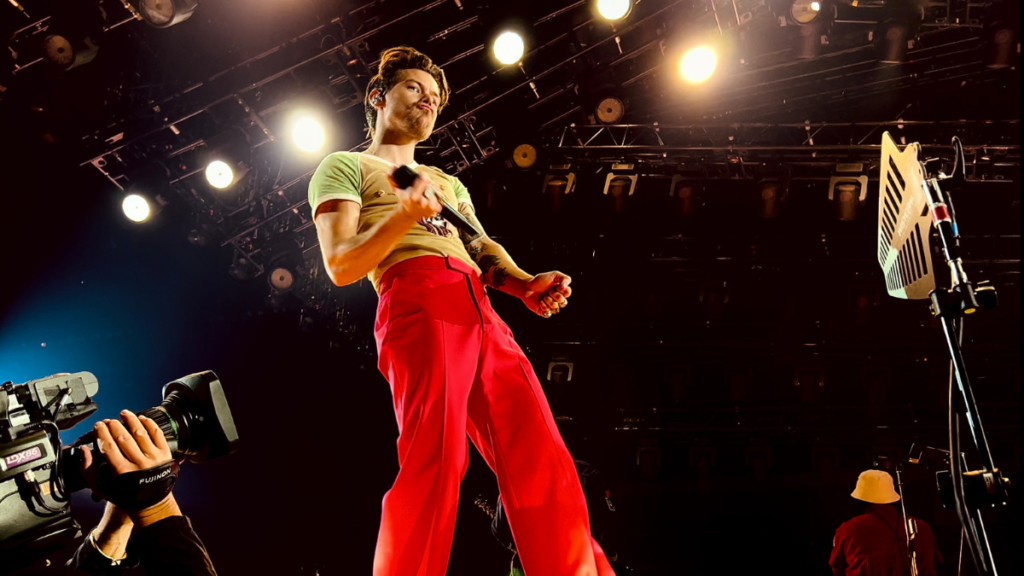 Harry Styles kicked off his last shows in North America for a special two-day long birthday bash on January 31st and February 1st. These shows were held at Acrisure Arena in Palm Springs, California. Once announced, fans were eager to try and get tickets to celebrate Harry's special day with him. Acrisure Arena made sure to welcome Harry and his fans with festive birthday decorations and fun experiences. Many photo opportunities were also available for everyone. The most notable photo opportunity was the huge lit-up letters in front of the arena that read 'Happy Birthday Harry'. Since January 31st was the first of two birthday shows, the anticipation was high for what surprises Harry had in store for us.
Madi Diaz who was the opening act started off the show with her powerful voice and charismatic personality. The crowd loved her energy, as well as her music. It was a perfect way to prepare for Harry's performance. Shortly after, fans were sent into a craze as they learned some celebrities such as Kris Jenner and Katy Perry were in attendance.
Before you know it, the lights go down and the show is about to begin. As the 'Daydreaming' intro plays, the arena erupts into cheers as the anticipation is finally over. Harry rises from the stage and stuns the crowd with bright-coloured pants and a Popcorn-themed tee, which was a subtle nod to his fan-favourite song 'Cinema' from his latest album Harry's House.
Following some of his biggest hits, 'Golden' and 'Adore You', he takes a moment to talk to the crowd before getting back to the music.
"My name is Harry: it is an absolute pleasure to be able to play for you tonight. These are the final two nights of our American tour, thank you so much for coming out and being with us tonight. It means so much.". He also adds "You have made this tour incredible. Tomorrow will be our last night of our tour here in North America… it will also be my birthday!".
This line made fans' excitement go through the roof as they were reminded that not only are they at a Harry Styles show, but they are also there to kick off Harry's special birthday bash celebration.
Harry continued the show and sang songs from his most recent album 'Harry's House'. Songs such as 'Daylight', 'Keep Driving', 'Matilda', 'Little Freak' and 'Satellite' kept the crowd entertained and in awe of his stage presence. Afterwards, he takes a brief moment to interact with some fans. One of the most memorable interactions that night was between Harry and a fan who brought a sign which read "My Dad thinks I need therapy". He responded to the fan by saying "Can I tell you something? Your Dad probably needs therapy.". With this response, he shocks himself and his fans and immediately sends everyone into laughter. He follows up by saying "Because therapy is a good thing! It's not a burn! Nothing wrong with trying to improve yourself!".
Styles' continues on with the show and sings more of his hit songs, such as 'Cinema' and 'Music For a Sushi Restaurant'. Just like any Harry Styles show, fans threw objects on stage in hopes Harry would use them. Some objects thrown were birthday glasses, fan-made crochet hats and many pride flags. Harry even caught a fan's unlabeled pride flag and kept it in his back pocket during 'Treat People With Kindness' and 'What Makes You Beautiful'.
Some fun even happened with guitarist Mitch Rowland during the show as a few fans threw an inflatable doll of him on stage. Mitch would later take the doll with him and you can find a picture of it posted by drummer Sarah Jones on her Instagram (@pillowpersonpp).
After going non-stop and keeping the energy high, Harry takes another moment to talk with the crowd. He jokes around with the fans around the catwalk after he gets a whiff of a certain substance. He playfully says "[This section] stinks of California! Absolutely reeks of the stuff!". He laughs it off and continues talking to the audience.
He then resumes the show by singing 'Late Night Talking', 'Watermelon Sugar' and 'Love Of My Life'. He leaves the stage and comes back on for the encore to sing his iconic singles 'Sign Of the Times' and 'As it Was'. Although the crowd attempted to sing Happy Birthday to Harry several times, his charismatic energy and eagerness to perform kept going through to the last song. 'Kiwi' is the song that Styles' always ends his shows with. This song really gets the crowd going one last time before he ends the night. After famously throwing water on fans, dancing with Pauli and doing the iconic "whale", he says his final goodbyes and leaves the stage waving a pride flag and running through a crowd of fans.
As the show ended, fans were still left in shock at what they just experienced. With scattered boa feathers everywhere you went, each person left the arena with much excitement and memories that will last a lifetime. Although Harry has finished the North America leg of Love On Tour, he will continue to perform in Australia, Asia and Europe throughout this year.
Once again, Happy Birthday to the one and only, Mr. Harry Styles. Thank you for all the love and energy you've given your fans throughout the years. You are loved and appreciated and you mean the world to us.