The 6 Incredible Alter Egos of Nicki Minaj Explained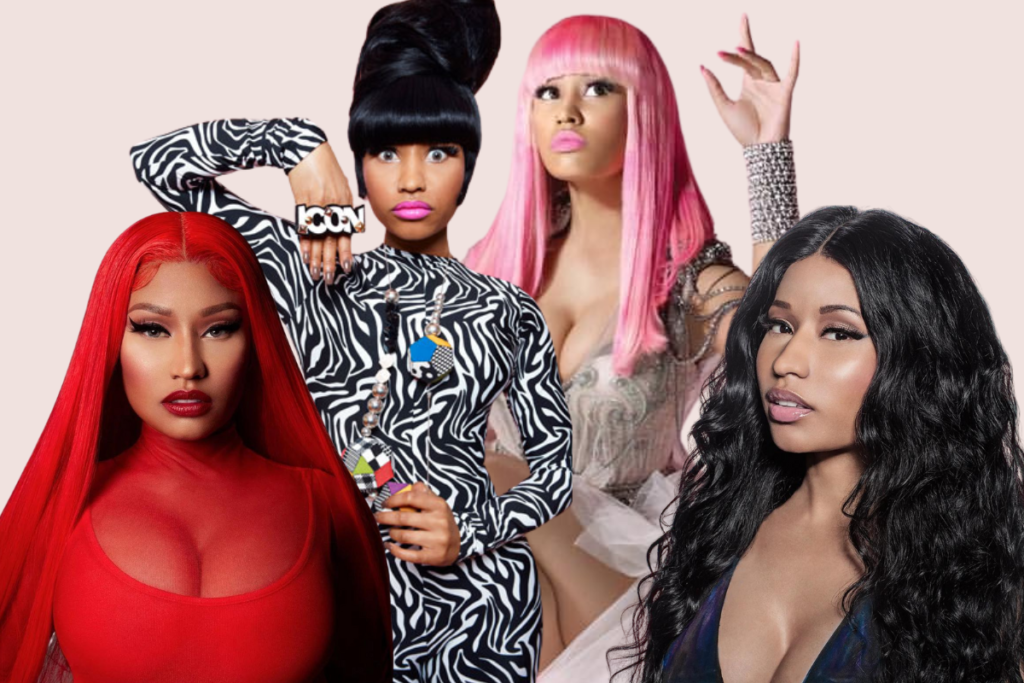 First coined in the 18th century, alter-egos in their various forms have been a prominent societal feature. But with the modern age and pop culture evolutions, alter egos have become popular among singers, rappers and musicians. From Eminem's 'The Real Slim Shady' released in April 2000 to Miley Cyrus as Hannah Montana, Beyonce as Sasha Fierce to CeeLo Green as Gnarles Barkley, the list goes on. So what exactly are alter-egos? And which of Nicki Minaj's alter egos are most recognisable from her career so far?
Nicki Minaj first came onto the scene in 2007 with her first mixtape 'Playtime Is Over', and since then, she has sold over 100 million records worldwide, making her the best-selling female rapper of the 21st century. During Minaj's career, she has introduced many alter-egos to entertain us as her audience, and explored her own identity intensely along the way. Let's dive into them!
Harajuku Barbie
Harajuku Barbie is Nicki's longest-running and arguably most beloved alter ego. First appearing in her Pink Friday debut studio album in 2010, her fanbase has also adopted their name 'barbs' from this very persona. Harajuku Barbie is a fun, whimsical character with a softly spoken voice and a playful attitude. Harajuku Barbie is associated with the pink outfits Nicki has worn, as well as her blonde and pink wigs that we all know and love.
Roman Zolanski
In complete contrast to Harajuku Barbie is Roman – a violent homosexual male from London who was 'born out of rage', told to us by Minaj in an interview. Roman shows similarities to Eminimens's slim shady, featuring in four singles of Nicki Minaj: Romans Revenge (a diss track to Lil Kim), Roman in Moscow, Roman Reloaded and Roman's Holiday. Unfortunately, Roman is also one of Nicki's shorter-lived alter egos. Nevertheless, an important one in her story to the Nicki we know today.
Onika Tanya Mirage
Onika holds the closest correlation to Nicki herself, with the alter ego taking on Nicki's birth name and the most authentic version of herself. The first appearance of Onika is in 'Letting Go (Dutty Love) with Sean Kingston in 2011, with Onika resurfacing when Nicki wants to show her true self. She is vulnerable, romantic, and powerful, and often wears minimal makeup without her colourful wigs. We love the wigs, we really do, but seeing Nicki's authentic edge adds another sword to her already impressive armoury.
Chun Li
Nicki's alter ego 'Chun Li' is an imitator of the Chinese street fighter Chun Li in the Street Fighter series. Chun Li's name translated means 'spring' and beautiful, but her musical style uses cutthroat and blunt lyrics to add another cunning dimension to this character. Chun Li has a distinct unapologetic ego about her and a defensive attitude that alludes sass.
Nicki wears Chinese and Asian-inspired sexy, edgy outfits in her music video. Unfortunately, this alter ego has been misrepresented, with many viewing her as the villain rather than the hero.
Queen Sleeze
Queen Sleeze's alter ego is an earnest ego which grants no clear indication of her backstory or nature. Queen Sleeze, inspired by Big Bz's song 'Heavy on the Sleeze', offers her first introduction during the 'SUGE' (Remix). When teasing her album Queen (2018), she wrote on Twitter to describe Queen Sleeze as 'calmer but way deadlier'. Queen Sleeze is identifiable with her red lip and red wig combination.
Nicki Lewinsky
Nicki Lewinsky was born during her mixtape days when she was still largely considered an underground artist. It was the first alter ego she adopted and one which allowed her to gain confidence and use her sexuality to her advantage. The alter ego was heavily featured in the single, 'Beam Me Up Scotty' in 2009 (a play on words for Star Wars fans).
In Summary, Nicki has created alter egos for fun, her music, escapism and her appearance in interviews. It's paramount to know that each era of Nicki Minaj has gone hand in hand with each album she has released with Nicki Lewinsky (Beam Me Up Scotty), Harajuku Barbie (Pink Friday), Onika (The Pink Print) and Chun Li (Queen). And with each alter ego, Minaj has risen in stardom and success, changing the rap and hip-hop scenes forever.