10 Iconic Eurovision Performances To Get You Ready To Party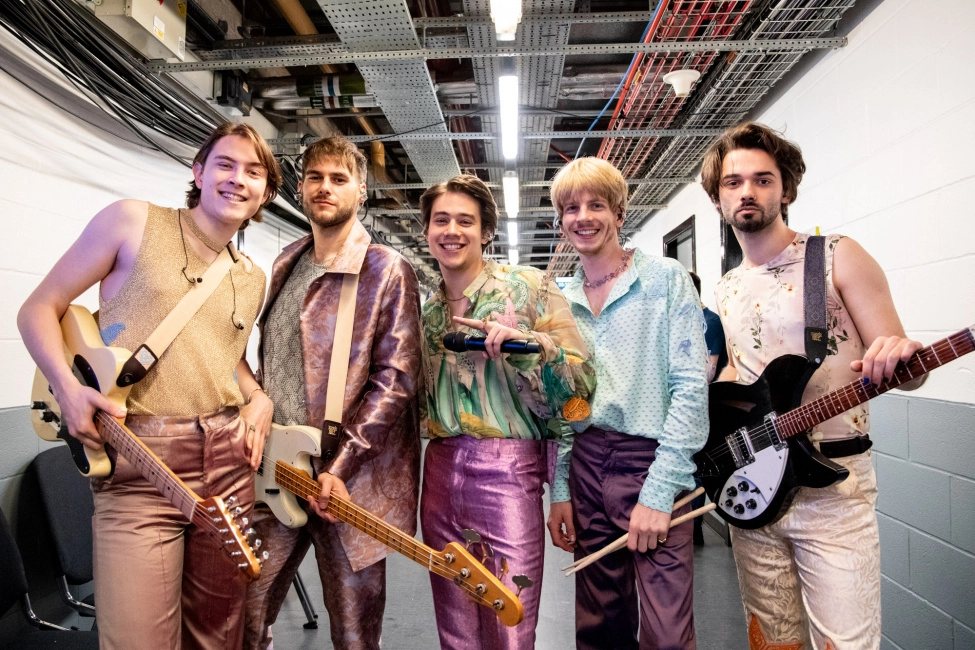 Since its inception in 1956, the Eurovision Song Contest has become a cultural phenomenon, captivating audiences worldwide with its mix of music, glitz, and national pride. Over the years, this extravagant competition has witnessed countless memorable performances that have left a lasting impact on the hearts and minds of viewers.
2022's show in Turin, Italy, was an incredible affair. Whilst studded in several memorable performances, it was Ukraine that secured the top spot with their entry, Stefania, from Kalush Orchestra. However, with the ongoing war showing no sign of slowing, it was decided that the United Kingston would step in as runner-up to host this year's competition – the fourth time in its history. Landing in Liverpool, last year's UK entrant Sam Ryder said, "It's Ukraine's party, we're just inviting them to host it at our house." And that ethos has been visible in the week's entertainment so far.
So, with this year's edition featuring undoubtedly memorable performances from 37 countries, it wouldn't be right to not recognise those that went before. Let's dive into the archives of Eurovision history to revisit some of the most iconic performances that have shaped the contest so far.
Lordi (Finland) – Hard Rock Hallelujah (2006)
Eurovision has always celebrated diversity, and in 2006, Finland's Lordi broke all conventions with their hard rock anthem, "Hard Rock Hallelujah." Dressed as monstrous creatures, they delivered an electrifying performance that merged rock music with the traditional glitz of Eurovision, leaving audiences in awe. Lordi's triumph proved that Eurovision could embrace different genres and push the boundaries of the contest.
Dana International (Israel) – Diva (1998)
Dana International made history in 1998 as the first transgender winner of Eurovision. Representing Israel, she captivated the audience with her fierce and empowering performance of "Diva." This groundbreaking moment shattered stereotypes and opened doors for greater inclusivity within the competition, emphasizing the power of music to transcend boundaries. She later went on to re-represent Israel in the competition in 2011 but failed to make it past the semi-finals.
Duncan Laurence (The Netherlands) – Arcade (2019)
In 2019, the Eurovision Song Contest witnessed a truly poignant moment with Duncan Laurence's performance of Arcade. What made this performance truly remarkable was his ability to convey genuine emotion, a feat often overlooked by the excitement and energy that Eurovision performances tend to deliver. And yet, this entry brought victory home to The Netherlands. The song continued to deliver well after the competition closed its doors, sticking to charts and permeating social media for months following its win.
Celine Dion (Switzerland) – Ne Partez Pas Sans Moi (1988)
Long before becoming a global sensation, Celine Dion made her mark at Eurovision representing Switzerland. Her powerful rendition of "Ne partez pas sans moi" showcased her extraordinary vocal talent and charisma, earning her the top spot. This performance laid the foundation for her remarkable career, making her one of the most successful artists in music history.
Daði og Gagnamagnið (Iceland) – Think About Things (2020)
In 2020, the Eurovision Song Contest took a different form due to the global pandemic, but that didn't dampen the spirit of Daði og Gagnamagnið from Iceland. With their catchy tune "Think About Things," this eccentric group brought a unique and delightful blend of quirkiness and charm to the Eurovision stage, displaying a remarkable synergy and playfulness that was impossible to resist.
With its catchy chorus and memorable lyrics, "Think About Things" quickly became a fan favourite, transcending the boundaries of the contest itself. Iconic in every sense of the word.
Jedward (Ireland) – Lipstick (2011)
Jedward's iconic performance in 2011 feels like a fever dream in the timeline of Eurovision entrants. With their unmistakable hairstyles, infectious personalities, and boundless enthusiasm, the dynamic duo's memorable performance left an indelible mark on Eurovision history. They achieved a respectable eighth place, but their impact extended far beyond the contest. The Grimes brothers became beloved personalities, continuing to make their mark on the entertainment industry with their infectious enthusiasm and entertaining projects.
Love 'em or laugh at 'em, Jedward certainly knew how to make an impression and kept us entertained with their over-the-top Eurovision extravaganza!
Måneskin (Italy) – Zitti E Buoni (2021)
The Eurovision Song Contest has witnessed a myriad of genres throughout its history, but few performances have captured the attention and energy of viewers quite like Italy's Måneskin in 2021. With their electrifying rock sound, unapologetic stage presence, and undeniable talent, Måneskin delivered a performance that captivated the Eurovision audience and propelled them to victory.
Måneskin's triumph at Eurovision 2021 not only secured Italy's first win since 1990 but also marked a significant milestone for rock music in the competition. Their victory resonated far beyond the Eurovision stage, as "Zitti e Buoni" became a massive hit across Europe and beyond.
Loreen (Sweden) – Euphoria (2012)
In 2012, Sweden's Loreen mesmerized audiences with her breathtaking performance of "Euphoria." Combining powerful vocals, mesmerizing choreography, and striking visuals, Loreen delivered an unforgettable spectacle that captured the essence of Eurovision. "Euphoria" went on to become a massive hit across Europe, showcasing the contest's ability to launch successful careers beyond the Eurovision stage.
Conchita Wurst (Austria) – Rise Like A Phoenix (2014)
A defining moment in Eurovision's history came in 2014 when Conchita Wurst, an Austrian drag queen, took the stage with the powerful ballad, "Rise Like a Phoenix." Conchita's remarkable voice and captivating presence challenged societal norms, promoting acceptance and inclusivity. The performance resonated globally and sparked conversations about gender identity, making it one of the most impactful Eurovision moments to date.
Abba (Sweden) – Waterloo (1974)
No list of iconic Eurovision performances would be complete without mentioning the Swedish superstars, ABBA. In 1974, their performance of "Waterloo" propelled them to victory and catapulted them to international stardom. With their infectious energy, catchy melodies, and vibrant costumes a testament to the time, ABBA set the stage alight and forever secured their place in both Eurovision and music history.
Eurovision has provided a platform for countless extraordinary performances, leaving an indelible mark on the global music scene. From ABBA's infectious energy to Conchita Wurst's empowering presence, these iconic moments have not only entertained millions but have also contributed to the cultural and social fabric of our society.
As we eagerly anticipate the weekend's events, let us celebrate the diversity, talent, and creativity that continue to define this beloved international extravaganza. Eurovision Party anyone?