Celebrating Harry's House: One Year On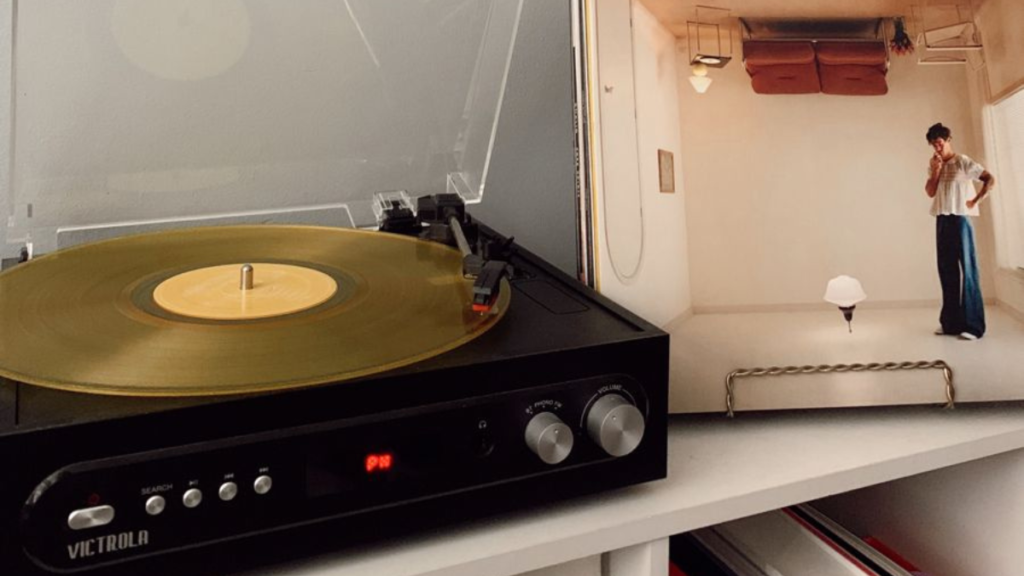 With the release of his critically acclaimed album Harry's House in May of last year, 2022 brought Harry's popularity to new heights. One year after its iconic release, let's take a moment to look at everything Harry and this album have accomplished since its launch. 
At the start of the Harry's House era, Harry used many tactics and promotions to help fans get excited about his new project. One of the biggest promos that fans followed was through the You Are Home website. Everyday at 9 am PST, a new photo would be shown behind a closed door on this website. During the same time, he would also tweet cryptic messages that would later connect to the album. Without the title "Harry's House" even being released, fans were highly confused but quick to make theories and try to decipher what these messages and photos could mean. Shortly after, Harry headlining Coachella meant new music was coming soon. Little did we know what he had in store. Not only did he smash his performances and bring out fun guests, but he also performed 2 unreleased songs. Fans watching at home or those who were in attendance immediately loved the new tracks Late Night Talking and Boyfriends. With these new songs along with As It Was which was already released, it gave fans a taste of what Styles' new era would sound like.
Closer to the release of the album, Harry also created Pop Up shops. This allowed fans to buy limited edition merch and have fun with different photo opportunities that really embodied the essence of Harry's House. These Pop Up shops were located in various cities around the world for fans to experience. To top off the anticipation of his latest album, Harry announced a One Night Only concert in New York City. Similar to his One Night Only show for Fine Line in 2019, he would play his new record front to back for fans on the day of its release. There is no better way to celebrate the release of an album, than with Harry himself (forever jealous of those who were able to attend).
Immediately after the release of Harry's House, it was already topping the charts and breaking records. Just 2 hours after its release, it earned the most first-day streams for any pop album in 2022. Harry's House also broke vinyl sales records by selling over 180,000 vinyl copies within 3 days. Harry's House also debuted at #1 and stayed on top for 2 weeks. Fast forward a year later, Harry's House now has over 5.1 billion streams on Spotify alone. 
There were also a lot of individual song successes from this album. 4 songs from Harry's House would make the top 10 of Billboard's Hot 100 at the same time (As It Was, Late Night Talking, Music For a Sushi Restaurant and Matilda). This made Harry the first British solo artist to achieve this. As It Was specifically smashed it out of the park and charted at number 1 for 15 consecutive weeks. This would make As It Was one of the longest-running songs to stay at number 1. This song is also currently the 20th most streamed song of all time on Spotify platforms. 
From a critical standpoint, Harry's House received mainly positive reviews from music critics and professional ratings. Some people, such as Rolling Stones, would even say that Harry's House was Harry's best album to date. In an album review, The Guardian says: "Harry's House is extremely well turned out, ticks a lot of the right boxes and has abundant charm, which makes it a perfect reflection of the pop star who made it.". People, Billboard and The Times were also some of the many organizations who raved highly about this album and even listed Harry's House as one of the best albums of 2022.
Harry's House also earned many awards and accolades for Styles. Harry's House won Album of The Year at the 2022 MTV Video Music Awards. This was one of the first of many awards Harry would win for his latest record. The most rewarding and prestigious awards given to Harry's House were at the 2023 Grammys. The night started off with Harry's House winning Best Engineered Album, Non-Classical. He would continue to have a successful evening as he took home 2 Grammys for Best Pop Vocal Album and Album Of the Year. Album Of The Year is the biggest award of the night and it was Styles' first time being nominated for this category. This was a tough category, as he was up against artists like Beyonce, Adele, Bad Bunny and Lizzo. What made this moment extra special, was that a fan was able to present the award for Album Of The Year to Harry.  A week later he would go on to win every single award he was nominated for at the 2023 Brit Awards. He won Best Pop/R&B Act, Artist of the Year, Album of the Year for "Harry's House" and Song of the Year for "As It Was". 
Styles also took Harry's House on tour with him on continued Love On Tour dates all over the world. From residency stops in North America to sold-out stadium shows in several countries, fans everywhere jumped at the opportunity to hear his new album live. Songs a part of Harry's House would go on to create many traditions and favourite moments for the rest of the tour. His 11th track, Satellite created the famous "Satellite stomps" which is an infamous dance that Harry has done every time he performs this song. The addition of horns to certain songs such as Cinema, Late Night Talking and Music For a Sushi Restaurant excited fans as this was a version of the songs you can only hear live and in person. As It Was also gained popularity on tour as International fans made it a tradition to scream the lyrics "Leave America" exceptionally loud. So loud that you can hear it from quite a distance outside the venues. This became such a tradition that fans in other countries would even go on to yell these lyrics at other artists' shows if they had As It Was apart of their pre-show playlists. With Styles' growth in popularity and love surrounding the new album, Love On Tour would become one of the highest-grossing tours of 2022, making $214.4 million.
As someone who has been a fan of Harry Styles since One Direction and the beginning of his solo career, it is crazy to look at the growth and success he has achieved over the years. Harry's House era was unlike anything I've ever experienced as a fan. From attending multiple Love On Tour dates, making friends along the way, and watching Harry break records and win so many awards, it's truly been such a memorable experience. It's such a delightful feeling as a fan to experience these moments and look back on all that Harry has accomplished in this past year alone. Not only did this album change Harry's life but it changed ours too. 
He is still on tour for Harry's House and will finish the final Love On Tour dates this summer in Europe. Once he is done, we don't know what the future holds for Harry. We can only hope that new music and Harry content will come soon. But in the meantime, we are left with such an amazing discography to enjoy.