Why Lizzo is So Special: Thoughts on The 'Special' Tour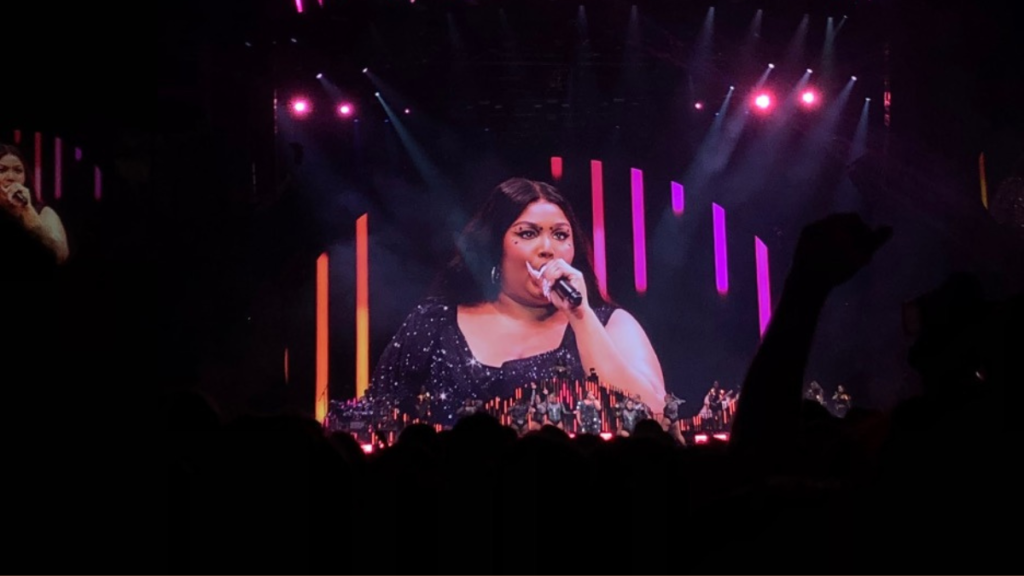 Last summer, Lizzo released her fourth (second with a major label) studio album 'Special' following the success of 2019's 'Cuz I love You', before embarking on the epic 62 show, 3 leg 'Special Tour' in September 2022. Fast forward to March 2023, and Lizzo graced our UK shores for eight days worth of shows, from Glasgow's OVO Hydro to her closing two days at London's iconic O2, supported by the breathtaking Joy Crookes.
When tickets came out, I hadn't planned to attend – I extend a public apology to both Lizzo and Joy – but after a big year of gig-going my body and bank account were a little tired and at that time I hadn't heard the full album yet (my bad).
However, as the dates approached I majorly regretted this decision and by a stroke of luck, which I think was more so due to the impending tube strikes, resale tickets were available. And so I made the perilous journey to the O2 last Wednesday…
Two trains, one wrong platform and a bus later I made it! Much to my heartbreak I missed Joy Crooke's set, due to a last-minute trip to bag drop for my work laptop, and had to leave early to get my train home, but however long I ended up spending in that arena, surrounded by the love and energy of Lizzo and the 20 thousand odd fans, was worth it all.
Lizzo showed us on that stage how one of a kind she is in the music industry today, and maybe of the last decade. From the choreography (big up the Big Grrls) and her gorgeous live band to her eye-catching makeup and on-stage visuals, The Special tour was a celebration of women, friendship, sexuality, blackness, bodily autonomy and pure, scream at the top of your lungs Pop music.
None of this will come as a surprise to anyone who has followed Lizzo's journey over the last few years. Her music, her (Emmy award-winning) TV series, and her social presence to name a few, have always had celebration and inclusivity at their core. As someone who also had the pleasure of attending her first big tour just 4 years ago (O2 Ritz Manchester May 2019…funnily enough I also had to take a train and a bus to get there), it's clear the only things that have changed as Lizzo's career has blossomed, is the size of the venues and the songs on the setlist.
She's for the people
Lizzo's longstanding commitment to her values of uplifting and creating refuge for Women, especially those that are Black, Big, and LGBTQ+ is just one of the things that makes her so treasured amongst fans. As her platform has grown and she has been increasingly scrutinized, she still proudly twerks in lime green lycra and encourages fans to take their masks off and know that they're safe in her lyrics.
During the show, Lizzo showed women with cellulite and all sorts of bodies exercising during 'Fitness', she projected 'My body, My choice' onto a stripped back skin coloured bodysuit she wore during 'Naked' and lit the arena up in a rainbow whilst waving the LGBTQ+ flag for 'Everybody's Gay', moments woven into her performance that showcased how much love and support was in the room.
Topically, she also addressed the tube strikes, declaring her support of the workers and their right to strike – even if it did mean her own journey took 3 hours.
Lizzo repeatedly shows she is for all people. Those who are overlooked and undervalued and those who don't usually see themselves in pop culture.
She's for the fangirls
Furthermore, she is and always has been for her fans. We witnessed this when she sang, and I mean really sang – not the off-key version we (I) sometimes do, Happy Birthday to a fan onstage during 'Birthday Girl'. I can only imagine how much that would've made their day. Of course, it's in the name 'Birthday Girl' but I never thought she would've stopped mid-verse to belt Happy Birthday specifically to someone whose birthday it was. But that's Lizzo for you!
And then there's THAT video of the fan brought over the barriers into the pit to dance with Lizzo and the Big Grrls for 'About Damn Time'. Shyanne had learned the choreo for 'About Damn Time' and brought a sign to the show letting Lizzo know she was available to join them, and Lizzo took her up on it, making for a very wholesome fan-to-artist moment that became a 'core memory' for Shyanne and left Lizzo in tears backstage.
As a fan girl herself, Lizzo sees the massive role she plays in people's lives as an honour. Her story is an inspiration for young people who want to be in her shoes, as someone who faced a lot of hardship to get there.
I could go on but I'll spare you for now and conclude by saying during the few hours we had with her during the show we were reminded of just how special Lizzo is and what she means to fangirls of all shapes and sizes. We are so lucky that artists like her exist and are sharing their art and joy with the world despite what they might face.
I cannot wait to see what she does next and if she's coming to a city near you anytime soon – please get a ticket! You won't regret it.