5 UK Festivals You NEED To Attend This Year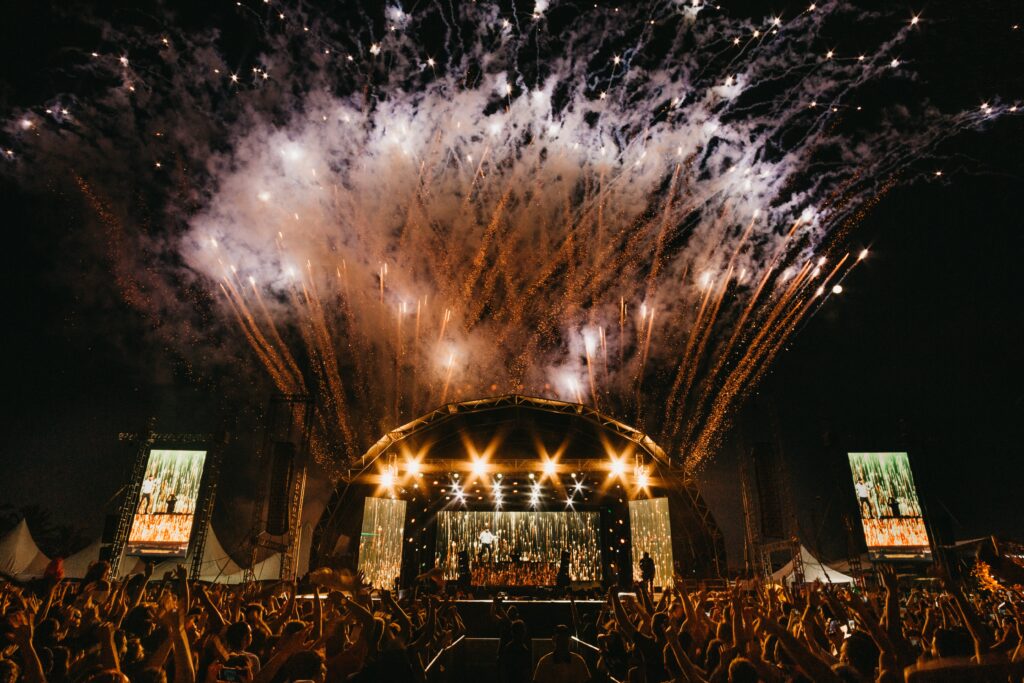 Summer is just around the corner, and that can only mean one thing for music fans: festival season is upon us! The UK is home to some of the world's most iconic festivals, from the legendary Glastonbury to the indie haven of Truck Festival. With so many amazing events to choose from, it can be hard to know where to start.
So, here at That Fangirl Life, we thought we'd share some of our favourites to ensure that you have a summer to remember!
Glastonbury Festival
21-25 June 2023, Worthy farm, somerset
Glastonbury Festival is often considered to be one of the best festivals in the world, and there are a few reasons for this.
The sheer size of Glastonbury is impressive. Taking place on a massive 900-acre farm in Somerset, the event attracts around 200,000 attendees each year. This means that there is always something to see and do, whether it's watching live music, attending workshops and talks, exploring the many art installations and exhibits, or simply soaking up the atmosphere.
Secondly, the lineup at Glastonbury is always top-notch. The festival attracts some of the biggest names in music from a wide range of genres, with this year boasting acts like Elton John, Arctic Monkeys and Lizzo, just to name a few. And with headliners like these, the unique atmosphere at Glastonbury is hard to replicate.
Whether you're a seasoned festival-goer or a first-timer, Glastonbury is an experience not to be missed this year.
Barn on The Farm
29 June – 2 July 2023, over farm, Gloucestershire
One for all of the indie guys and girls out there! This independent music festival takes place on a year-round working farm, and whilst it may not have the same scale and grandeur as larger festivals, it has gained a loyal following and a reputation for being one of the best in the UK. Known for earthing talent before the radio grabs hold of them, former, now-famed performers have included Ed Sheeran, Tom Odell and Hozier. The organisers truly know how to cherry-pick the best, and for what is on offer, it's an incredible deal.
One of the standout features of Barn On The Farm is its intimate atmosphere. The festival is deliberately kept small, with a capacity of just a few thousand people, and this creates a sense of community and camaraderie that is often missing from larger festivals. There is a friendly and relaxed vibe from the camp to the stage, and attendees often describe the festival as feeling like a big family gathering.
In 2019, Lewis Capaldi finished his Sunday set and headed out into the camp for a chilled sing-along session which gathered quite the crowd. This intimate atmosphere is one of the greatest things about Barn, as it is affectionately known by its regulars and something that shouldn't be missed.
This year's lineup consists of Holly Humberstone, Lizzie McAlpine, Bleachers, The Academic, Thomas Headon, and even features a special yet-to-be-announced performer! Who could it be?
Truck Festival
21 – 23 july 2023, Hill Farm, Oxfordshire
Truck is another independent festival renowned for its eclectic lineup and relaxed atmosphere. Founded in 1998 by brothers Robin and Joe Bennett, the pair wanted to create a festival that celebrated alternative and indie music. Over the years, it has grown in popularity and is now a highlight of the UK festival calendar.
Previous headliners have included Foals, The Libertines, and indie-legends, Catfish and the Bottlemen, while the 2023 lineup features Two Door Cinema Club, Maisie Peters, Kate Nash and DMAs. Packing a punch with its stellar lineups each and every year, Truck is also one of the more affordable festivals on the UK circuit, so definitely not one to be missed!
Isle of Wight Festival
15 – 18 June 2023, seaclose park, isle of Wight
The Isle of Wight Festival is one of the country's most legendary music festivals. First held in 1968, it has a rich history and has seen performances from some of the biggest names in rock and pop music throughout its many years of musical service. With this record, it's no surprise that it consistently attracts some of the biggest names in music, with past headliners including The Rolling Stones, Fleetwood Mac, and David Bowie.
Now, in 2023, the festival has expanded to attract an estimated 60,000 people. The festival site is located near the town of Newport and features multiple stages of varying sizes, several camping areas, and food and drink vendors so you never have to go without.
This year's lineup is no exception to the rule, set to feature performances from 00s icons, the Sugababes, George Ezra, Niall Horan, The Human League, and, Sabrina Carpenter.
Victorious
25 – 27 August, portsmouth
If the thought of slumming it in a tent surrounded by lively, drunk revellers isn't your cup of tea, this one might be for you! Victorious Festival, set on Portsmouth's historic seafront can be best enjoyed as a day trip. Whilst there are options to camp should you choose to give it the full experience, the connectivity of Portsmouth to surrounding areas between Bournemouth and Brighton makes it the ideal day-festival experience.
A relative newcomer to the UK festival scene, and since its arrival in 2011, organisers have managed to pull some big names out of the bag. 2023 is no exception to that rule, featuring Jamiroquai, Blossoms, Kasabian, Ellie Goulding, and even Mumford and Sons.