What To Wear To Love On Tour 2023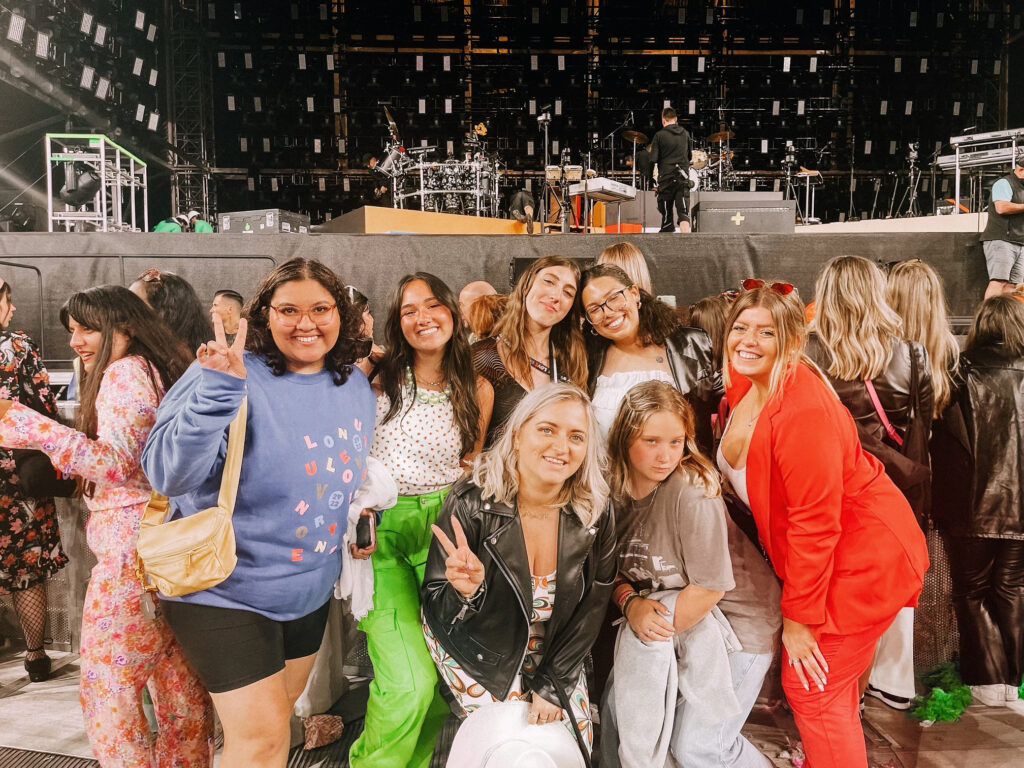 After battling Ticketmaster's queues and securing those tickets, it's time to let the fun begin! Whether you're going to one show or every single one, this is the time you'll be deciding on that outfit of all outfits, because everyone knows it's not a Harry Styles show without a little wow.
We're here to bring you a few ideas of things you can implement into your outfits to feel good in your skin. So without further ado, shall we see some highlights? Highlights… Roll highlights!
*This post does contain affiliate links. Purchasing through these links doesn't cost you any more than it would normally, it just means that we get a small cut of the payment which will help us to keep That Fangirl Life running! You can learn more about our affiliate scheme here.
Dresses
A dress is a comfortable and simple way to have a party! Whether you choose a simple bodycon or a puff sleeve a-line dress, it's a sure-fire way to ensure comfort and style in one. Depending on the style, it allows the ability for a selection of accessories and room for you to dance the night away to Treat People With Kindness. I'd recommend something lightweight to allow for even more comfort but think about the weather too. If you're headed to the UK and Europe shows, you're looking at summertime so it could be a scorcher (but then it could rain, who knows!). Here are some of our favourites to choose from!

Flares
Flares are a top-class style of trousers to wear to the shows. They're comfortable, they're stylish and they're very Harry. Paired with a bodysuit or a cropped vest it will allow you to be relaxed and comfortable. Definitely think of the accessories and shoes for this one outfit choice. Colour and pattern are definitely a key part of this choice, but then again you could flip-turn this and wear a black pair with a brightly coloured top. There are so many places you can buy these from Primark to Shein, but here are some of our faves!
Pantsuits
When you think back to many of Harry's shows, he's worn a lot of suits. From the leather Grammy's suit back in 2021 to the cropped red suit jacket and black trousers for The Brits, Harry loves a suit. They're a simple way to dress for the shows, but still look cool and collected. Bright colours and prints will look incredible with these, and bring that pop of fun to the shows. Plus, bright and happy colours make you and everyone around you feel happy. These will look great styled with any kind of top under the blazer. You have a wide range of options for this too. You could have a cropped blazer, or flared trousers, or keep it simple with a standard suit style.

Jumpsuits
Jumpsuits provide so many opportunities for incredible outfits. They give complete ease with only having to find one outfit instead of bottoms and a top, but then have their downsides of when you need to use the toilet. You've got an opportunity to find something either so fun and playful with bright colours, but then also find something that's relaxed and a more subtle colour. The world is your oyster with a jumpsuit. Jumpsuits are also incredibly flattering and can be found in some incredible styles (pun intended).
Gazelles and Boots
Shoes are the second biggest part of an outfit to me, aside from the main clothing part itself. I'd recommend something that you're willing to stand around in if you're standing, or walking anywhere. I wore a pair of uncomfortable boots from ASOS and they were taken off within 20 minutes of leaving the car, so the entire show was in three pairs of socks – it rained after. Then I had huge blisters… not fun. Gazelles are Harry's biggest statement at the moment, so they're going to be a huge choice for tour at the moment.
After Harry wore them from Glasgow, all the way to the Grammy's, sales of this shoe will have rocketed. Boots though have been big for the first part of the tour among fans. There are so many styles, heights and places to buy them and they really do complete every outfit. Both of these choices are amazing for dancing around in!

Colour Choices
Colours for Love On Tour are such a wonderful part of planning an outfit. Harry is known for his bright colours, displayed at a selection of his shows, and The Brits in 2020. There's bright colours like yellow, green and pink that stand out from the crowd, which provide so much fun and playfulness to your outfit. A lot of shops have these colours out on display for late spring and into summer so i'd recommend keeping an eye out from now. On the other hand, colours such as creams, beiges and browns are another great idea. They're neutral and relaxing, and give me the vibe of Harry's House. Harry loves a neutral too, take his Grammy's acceptance outfit.
Fabrics and Details
For fabrics and those little details on your outfit there are a few options I believe would be fantastic for the tour. Let's start with tassels. Harry seems to wear more tassels than he ever has before, which is incorporated into his jackets usually. They add a little something to a jacket and look great when you're dancing around to As It Was. Sequins are another fantastic option. Who doesn't want to be a glitterball when you're dancing around in standing. I love sequins, because I feel they just give so much fun to an outfit when you want to have a party. Glitter is another option. It can make a bit more of a mess depending on the amount on your outfit – yes im looking at you H&M cami from Jingle Bell Ball 2019, but will definitely provide another glitter ball vibe to your outfit. A few iconic outfits to incorporate this were definitely the Grammy's entry jumpsuit, Coachella and Wembley Night 2.
Accessories
Every outfit needs accessories, it's something we all know. So, let's start with a cowboy hat and feather boas. Iconic to Harry shows, bring so much colour and fun and Harry seems to love being gifted them through the shows. Another option is a pair of brightly coloured sunglasses. If you're a Keep Driving fan think of yellow maybe. There is some incredible jewellery on the market, from simple and dainty, to sparkles and then even onto fruit vibes. He's not the fruit man for no reason right? Help him to show it off!

No matter what you wear to the show, there's no doubt you'll look absolutely flawless. The best thing you can wear is your self-confidence. You've got this. Let's go and party, and don't forget to post those outfits!