Celebrating Harry Styles' 29 Satellite Spins Around The Globe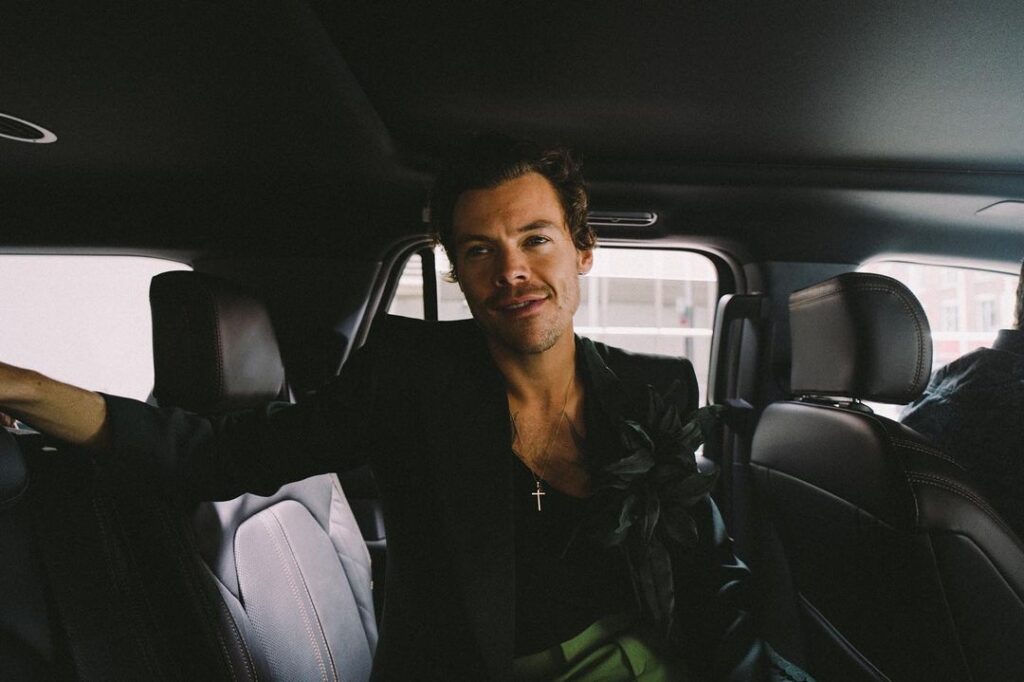 The man, the myth, the legend that has and is continuously taking over the world in and out of the music industry began 13 years ago. A young, charming 16-year-old boy from the picturesque Holmes Chapel, took a fated journey to audition for the X-Factor in 2010 singing Isn't She Lovely by Stevie Wonder. That one action launched him into an unforgettable journey that had to be written by the stars.
Harry Styles as a young teenager knew exactly what he wanted to do (or according to the audition video, he would've gone to college for law, sociology, business, and "something else"). Harry said something quite profound in the mini-interview part of his X-Factor audition video that left me with cold chills. He said, 
In 1 sentence, unknowingly Harry Styles manifested his dream career and life. A piece of who Harry Styles is at heart comes from that inner 16-year-old, his inner teen, who took a chance – and instead of Walking in the Wind, he ran with it.  
If 16-year-old Harry Styles met 29-year-old Harry Styles, he would be in disbelief at the extent of how much he's been able to continue feeling that thrill of singing and performing in front of more and more people. He would be in even more disbelief in how he has been travelling the world, acting in movies, being a conduit of change, and having incredible achievements in a relatively short time span.  
If you know anything about me, I can and will talk about Harry non-stop. I deeply admire him, and I am completely inspired by Harry to live my life unapologetically by following my dreams, being whoever I am, and working on being a changemaker like himself.
That's why it is such an honour for me to highlight Harry Styles more than ever to show him, fans, non-fans, and the world why he is such a remarkable human being to be aware of. I can't think of a better day to do so than his birthday!
To celebrate Harry Styles on his 29th birthday we are going to explore what would've made 16-year-old Harry speechless and what makes fans of Harry Styles extremely proud of him by walking through his career history, his achievements, his impact, and ending with a very special portion from fans to Harry.
Early Life 
Harry Edward Styles was born on February 1, 1994, in Redditch, England to Anne Twist and Des Styles. Fun fact: Harry is an Aquarius sun, Libra Moon, Libra Rising, Aquarius Mercury, Aquarius Venus, and Aquarius Mars.
There are videos and photos that show Harry as a young kid, who loved performing on the stage and shared his big amusing personality. Harry was influenced by Elvis and The Rolling Stones – in which led him to being the lead singer of a band called White Eskimo. That is the band that lit the fuse of Harry's passion for singing, performing, and putting on shows for fans.
One Direction
Harry Styles wouldn't be Harry Styles if it wasn't for his bandmates Niall Horan, Louis Tomlinson, Liam Payne, and Zayn Malik that made up One Direction from 2010 to 2015. One Direction formed during the X-Factor when the boys didn't make it through as solo artists but were put together to continue as a group by the judges. It's an emotional video when the boyband was formed as it gave the young members of One Direction an opportunity to pursue their music career and showed how passionate they were about making their dreams come true.  
From the big day of getting cleared to continue their X-Factor journey at the judges' house singing Torn to their final performance before being eliminated from the X-Factor finishing third – their paths as a band in the music industry would grow beyond what was expected. One Direction's journey went from the tv screen of the X-Factor to being on the big stages in venues worldwide.  
Iconic things that happened during the One Direction days were the early videos like Spin the Harry (watch if you need a good laugh or walk down memory lane), the pregnancy prank (and how stressed, caring, and concerned Harry was – which says a lot about his character), roller coaster interviews by Liam Payne, Tattoo Roulette on The Late Late Show with James Corden, Never Have I Ever on Ellen, and One Direction Day – just to name a few.   
Those moments are just smaller pieces of what the 5-year long reign of One Direction was.  
The first single What Makes You Beautiful was released in September 2011 and now has over 7 million copies sold worldwide making it one of the bestselling singles of all time. Their debut album Up All Night was released on November 18, 2011.  
The Up All Night Tour was One Direction's debut headlining tour, and it was announced shortly after the album was released. One Direction's first tour sold out within minutes and had 26 shows in Europe, 7 in Australia, and 27 in North America. If you were a fan who couldn't go to an Up All Night Tour show but wanted to enjoy a One Direction concert experience, you could've been like me and bought the Up All Night Tour on DVD. In Spring of 2012, One Direction toured with Big Time Rush as their opening act for 10 shows across North America.  
One Direction's sophomore album – Take Me Home was released the following year on November 12, 2012, with three leading singles Live While We're Young, Kiss You, and Little Things. The former of the lead singles brought out a flirty, live-in-the-moment type of energy in the lyrics and the brighter poppier instrumentals that weren't seen in their first album. While the group went for a more subtle acoustic intimate approach for the latter.
The boyband's second headlining tour was the Take Me Home Tour which started in February 2013 and ended in November 2013. This tour was announced after the band won a BRIT award in 2012 and the tickets were sold out within hours after going on sale on February 25, 2012. Due to the extremely high demand of the 5-member boyband they had to add more dates to compensate. This tour is particularly special to many fans (including myself) as this tour was known as the "it" tour. All because of the opening act and how many One Direction fans also became fans of the opening act. The Take Me Home Tour introduced 5 Seconds of Summer to mass audiences – resulting in amazing behind-the-scenes content of One Direction and 5 Seconds of Summer hanging out, cheering each other on, and having fun. 
The Take Me Home Tour had 211 shows in total across Europe, North America, Australia, and Asia.
Midnight Memories, the third album released on November 25, 2013, was a game-changing album for One Direction. This album had left behind the super poppy sound and opted in for an edgier alternative pop sound with more mature lyrics due to the contributions of the members of One Direction co-writing tracks. Louis and Liam co-wrote ten tracks, Harry five, Niall three, and Zayn two. The leading singles were Best Song Ever, Story of My Life, Midnight Memories, and You & I. Midnight Memories wasn't just career-altering for One Direction but also for Harry Styles. This album demonstrated his vocal talent through his vocal control, range, and ability to do an edgier vocal scream/fry on his notes to give it an alternative sound.  
Where We Are Tour was One Direction's third tour and their first official worldwide stadium tour. This tour grossed over $290 million in sales after 65 shows across Europe, Latin America and North America, with over a total of 3.4 million in attendance. This is the 12th highest-grossing tour of all time. Where We Are Tour had a fun twist with a 7-day countdown announcement for the tour revealed; where information about One Direction performing at Wembley and a teasing hint about the later release of a "rockier" sounding album which was Midnight Memories.  
Four, the perfectly named fourth album by One Direction was released on November 17, 2014. This album continued One Direction's stray away from their typical pop sound to something of alternative pop or mainstream rock. Four had more contributions from the members of One Direction as Harry co-wrote five songs, Niall and Zayn three, Louis and Liam with nine. The leading singles from the album were Steal My Girl and Night Changes. Other notable songs on the album that reflect the change of the band's sounds are Stockholm Syndrome, No Control, Clouds, and Fireproof. On March 25, 2015, Zayn Malik left the band due to various personal reasons and then pursued a solo career.  
The last tour the band had together was the On The Road Again Tour which began in February 2015 and ended in October. Billboard announced in 2015 that this tour was the top-grossing Hot Tour after the boys completed the first leg, earning $62 million in ticket sales. That trend continued when it was announced in July that the tour was earning over $81 million dollars. Despite Zayn leaving before the end of the first leg of the tour, the band still saw success in January 2016, it was released that the tour was the top-earning tour of 2015 with $210.2 million earned and 2,364,390 tickets sold. 
The 5th and currently final album by One Direction was Made in the A.M. and was released on November 13, 2015. Made In the A.M., had more contributions from the members than the rest. Louis co-wrote ten songs, Harry seven, Liam six, and Niall four. The leading singles from their 5th album were Drag Me Down (which debuted at #1 in over 13 countries), Perfect (reaching #1 in 4 countries), and History (peaked at #6 in the UK).  
One Direction has sold over 50 million albums worldwide, and had four albums debut #1 on the US Billboard 200 (being the first band ever to do that), in 2016 they were the second highest earning celebrities of the year earning $130 million, they band earned $188 million from the On The Road Again Tour, had the most tickets sold in 2015, and won multiple awards. One Direction was also nominated for 285 awards in total across various music award shows, platforms, and categories – in which they won 177 of those nominations.  
By the time Harry Styles was 21 – he won 177 awards, released 5 albums with written contributions on 3 of them, sold over 50 million albums worldwide, been on 4 worldwide tours, and sold millions of tickets to perform in front of adoring fans. That's a lot for a young adult to achieve and he wasn't done yet.
One Direction's hiatus was a vital component to Harry's ability to unlock his inner teenager's dream of a solo career after the success of his time in the band. Solo artist Harry was preparing to re-brand himself from Harry Styles, a former member of One Direction to being a household name just as Harry Styles. That came in 2017.
Harry Styles: A Solo Artist  
In February 2016, Harry left Modest Management and joined Jeff Azoff's management. In May of 2016, Harry created his own record label Erskine Record and signed his contract with Columbia Records. While Harry was working on his debut solo album, he co-wrote a song with Meghan Trainer and Michael Bublé. Harry was featured in Another Man magazine where Harry was described as an "artthrob" which I believe is an excellent choice of wording to describe Harry's impact.  
Harry spent time in LA, London, and Port Antonio, Jamaica recording his first album – then took a break from recording to film Dunkirk. Harry's debut single Sign Of The Times, was released on April 7, 2017, followed by Two Ghosts and Kiwi as singles. Harry Styles by Harry Styles was released on May 12, 2017, debuting #1 in many countries and landing at the top of the Billboard 200 -leading to Harry winning an ARIA Music Award for Best International Artist. Harry's debut album set a new tone and sound for him that had elements of pop, classic rock, and soft rock that come from his musical inspirations.  
Harry was busy in 2017. He had the Dunkirk film released in July, and performed at the BBC in November that was hosted by Nick Grimshaw, performed at the Victoria's Secret Fashion Show in Shanghai, and guest hosted The Late Late Show with James Corden.  
Behind The Album was released by Apple in 2017 too, allowing interested audiences to see the making of Harry Styles by Harry Styles. This documentary allowed old and new fans of Harry to see how his personality and creative side come out. Anyone who watched the documentary saw the cut of his long hair to the short hairstyle that we see now. This haircut was symbolic as it represented an end of an era of being known as the guy from One Direction with the long hair to a fresh new change of look, feel, and brand as Harry Styles the independent solo artist. 
Harry's debut tour was announced April 28, 2017. Due to Harry Styles Live on Tour being a small venue tour the tickets sold out instantly. Harry opted for smaller venues to provide his fans, Harries, the ability to have a more intimate live experience at each of his 89 shows from September 2017 to July 2018. In reaction to Harry's debut tour and album, The Irish Times' Louise Bruton said
That is the most accurate statement that anyone could make about Harry Styles – he feels approachable, personable, and comfortable to be around. 
Harry's passion for charity and paying it forward is reflected in the total $1.2 million earned in donations from ticket and merchandise sales that were distributed to 62 charities worldwide. Alongside charitable donations, Harry has been able to use his platform to get hundreds of new voters registered in the US in a collaboration with the non-profit organization HeadCount. Harry also had a partnership with Reverb and engaged in a water conversation effort that saved 10,000 single-use water bottles by fans, 3,200 by the band and crew, and recycled over 6,500 gallons of water from the offices, dressing room, and buses. 
Harry became the face of Gucci's 2018 campaign, in which the relationship he built with Gucci has continued, as he has modelled for various fashion campaigns that led up to his 2022 special collection: Gucci HA HA HA. This collection perfectly captures Harry's playful spirit, love for patterns, eye for tiny details in the floral prints and heart decals, and options for streetwear and casual high-end day-to-day attire.  
2019 was another busy year for Styles. He inducted his idol, Stevie Nicks into the Rock N Roll Hall of Fame and performed Stop Draggin' My Heart Around with her in March. Then two months later Harry alongside Lady Gaga and Serena William hosted the 2019 Met Gala. Harry Styles' released Lights Up as his first single for his sophomore album in October 2019. In the following month, November, he performed Lights Up for the first time and debuted Watermelon Sugar on Saturday Night Live. Adore You debuted on the Graham Norton Show days before the album was finally released. On December 13, 2019, Harry Styles released his second full album: Fine Line.  
Notable performances of Harry's during 2019 into early 2020 were his performance of Fine Line at The Forum, covering Lizzo's Juice while on the BBC Live Lounge Set, Fine Line again at Electric Ballroom in London – where he sang along to Stormzy's anti-government song. That latter performance resulted in minor controversy; however, Harry Styles has never not been political or anti-governmental issues. 
Harry Styles' 2020 would've been spectacular as he was planning to start his second world tour in April 2020, however, the COVID-19 global pandemic postponed Harry Styles Love on Tour until 2021. Despite that Fine Line debuted at #1 in the US resulting in being the third bestselling album of 2019 even with a December release date. Rolling Stone ranked Fine Line at number 491 on their 2020 list of the 500 Greatest Albums of All Time.  
Harry released additional music videos for Falling, Watermelon Sugar, Golden, and Treat People with Kindness. At the 2020 Brit Awards, Harry was nominated for British Male Solo Artist and British Album of the Year. Later in 2020 Harry performed an NPR Tiny Desk concert. Harry went on to win Favourite Pop/Rock Album for Fine Line at the 48th American Music Awards, Best International Artist Award at the 34th ARIA Music Awards, and Chart Achievement Award at the 27th Billboard Music Awards.   
This isn't even the end of what was going on for Harry Styles from 2020 into 2021 – the achievements and successes continued. He received something quite phenomenal, 3 Grammy nominations for Best Pop Vocal Album (Fine Line), Best Pop Solo Performance (Watermelon Sugar), and Best Music Video (Adore You) at the 63rd Annual Grammy Awards. Harry took home his very first Grammy for Best Pop Solo Performance for Watermelon Sugar (see here to watch the Live Grammy Performance).  
Later in September 2021, Harry was able to officially start his second world tour: Harry Styles Love On. On top of headlining his second world tour, Harry made a cameo as Eros/Starfox in the Eternals movie and released his first few products in his skin, nail, and clothing brand Pleasing.
There was something incredibly magical about 2022 for Mr Styles. He released his single As It Was and it was a hit. The single debuted at the top of the UK and the US as it became the fourth longest-running number-one in the chart's history at 15 weeks. At the Women in Music Conference that I attended on January 25-27, 2023 – it was shared that As It Was, was the 3rd most streamed song in the world in 2022. Before the 3rd album was released Harry headlined at Coachella where he teased a few songs off of the upcoming album like Boyfriends. Harry's House was released on May 20, 2022, and the sound is a mixture of pop-funk, pop-rock, synth pop, and hints of R&B which contradict the soft rock sounds of his first two albums.  
Additional singles off of Harry's House were Late Night Talking, Music for a Sushi Restaurant, and Matilda. All these, along with As It Was, dominated the Billboard Top 10 in both the UK and the US. For Harry's House, he won Album of the Year during the 2022 MTV Video Music Awards.  
Harry Styles is a very humble individual and deserves immense recognition for his hard work. He did receive an incredibly remarkable keepsake that will forever be a note of his legacy for years to come and pass when he is no longer performing.   
After performing 15 consecutive nights at Madison Square Garden, Harry Styles earned his first banner for earning his residency at the venue for that leg of Harry Styles Love On Tour. Knowing that I was a part of 2 of those nights makes me feel as if I helped contribute towards Harry receiving that achievement. Harry also recently received another banner for his 15 nights of performances at the LA KIA Forum. 
There is no argument that 2022 was Harry's year of taking over the world while continuing to be the kind, down-to-earth, funny and charismatic man on and off the stage. The 9 Grammy Nominations for the 65th Annual Grammy Awards for Harry's House for Record of The Year (As It Was), Album Of The Year (Harry's House), Song Of The Year (As It Was), Best Pop Solo Performance (As It Was), Best Pop Vocal Album (Harry's House), and Best Music Video (As It Was) – reflect how impactful, influential, and powerful Harry's music was in 2022 and will continue to be in 2023.
Harry Styles – Treat People with Kindness the Living Legacy And Impact
Harry is not one to shy away from matters of the heart that he holds dear. Harry has pushed the narrative of gender expression and representation in the 2020 Vogue Cover  and his Dorothy Harryween costume. Harry has shown his allyship to his fans of colour when he took stances politically by actively engaging in the 2020 Black Lives Matter movement by showing up at a Black Lives Matter march in the US during the Summer of 2020. This was indicating that he was and is aware of his need to learn and advocate for his fans and the greater society. As mentioned earlier, Styles has collaborated with HeadCount (a non-partisan organization) to increase voter registration to  "Vote with Kindness" (which endorsed President Biden's viewpoints which is the first time Harry hinted at his political views). A large part of his focus has been making his brand LGBTQ+ safe. 
Making his brand LGBTQ+ safe is something that is a huge aspect that Harry takes seriously as well. He is made a huge difference in the lives of others by  helping fans come out during concerts, playing  "Medicine", and parading the stage proudly with LGBTQ+ flags (in which recently due to a wardrobe malfunction tied one around his waist),  donating funds to GSLEN from his Treat People With Kindness merchandise, and his most recent movie  My Policeman  which is a project  Harry fully put himself into and picked himself to be a part of. 
Harry, with his power to make positive change, has been able to entice, enlighten, engage, and empower his fanbase with a call to action to match the manta of "Treat People With Kindness" (TPWK).  TPWK is the mantra Styles coined during his 2018 tour and it stuck. TPWK became a song on his album "Fine Line" and was a tribute to fans who have allowed him to be authentic and free in spaces as he has done for them. Treat People With Kindness is woven into the core of the Harries fandom with Vote with Kindness, a  recent initiative of the Ending Gun Violence campaign during the US leg of the 2022 Love on Tour, and  how Harry sets up his concert space with ground rules that allow no barriers towards authenticity for all. 
Before going solo – Harry along with Liam Payne in 2013 were ambassadors for Trekstock (a cancer charity) that raised over $800,000 through online fundraising. Later in 2013, Harry spoke up against Westboro Baptist Church when they were rallying against One Direction responding on Twitter saying he "believes in equal rights for everyone". He joined the #FirstSnog campaign run by Stonewall for their 25th Anniversary. He has also received a Gay Times Honour for being an LGBTQ Advocate.   
Harry endorsed Emma Watson's HeForShe gender equality campaign, sponsored a water well in India via Drop4Drop, purposefully played shows for his debut album at The Garage in London and the Troubadour in LA where proceeds would go to charity, endorsed President Joe Biden, endorsed Beto, and openly supported women's right after Roe V. Wade was reversed in the US as well as standing with Iranian Women.   
There is a long list of reasons why Harry Styles has made a huge impact and has made so many of his fans feel seen, validated, and safe over the years since One Direction. Using his passion for treating people with kindness to create a better world for himself and others through music and social justice shows how powerful and influential his platform has become.
Harry knows that his legacy goes beyond the music he makes. It's in how he can create stories and meaningful experiences in those spaces where people can be themselves authentically and safely. All thanks to his personal values and morals which are woven into his performances. That's what makes Harry Styles truly a legacy, a legend, a heartthrob, a changemaker, an artist, a lover, and most importantly so very personable. That's why I love Harry Styles – and why so many others do too.  
The achievements, the advocacy, the impact, the art, the bubbly personality, and the music are why we are celebrating Harry Styles, even more, this year. I know he has a big day for celebrating his birthday with thousands of lucky fans attending his birthday concert – I hope it is a show that takes the cake, and he is over the Canyon Moon with joy and love as he enters chapter 29. From the birthday concert, he is off to perform on Sunday, February 5th at the Grammys and hopefully leave with a few wins.  
It wouldn't be fair or right to end this Harry Styles celebration without a few words from doting fans sharing how much Harry Styles means to them and giving him well-deserved birthday wishes. I'll let the Harries take it away.  
Happy Birthday Harry (A Harrie Birthday Card)
Harry, just like any other person, deserves to have all the attention on their birthday not just on their sparkling accomplishments but attention in love and support (he is an Aquarius after all). A special fan project was created to collect submissions for Harry fans from around the world sharing what Harry meant to them and any birthday wishes they want to give to the birthday boy. We might not be able to send him a birthday card directly – so this will do, to so show that we simply Adore You. 
As always, Harry, I hope this article shows my love, support, and adoration towards you. You're an inspiration in my life and are the reason I am in pursuit of a music industry career – that inspiration started in 2012. Thanks for being the guy you are. I love you and I can't wait to watch you grow and develop as an artist and as a person. I wish you an amazing 29th birthday and that you continue to find a balance between work and life so that you can continue to explore more of yourself mentally, physically, and spiritually. I recommend reading The Year of Yes to help you out in living continuously as you.  
  – Tyra Baker, She/Her, Indiana (Author)
I love Harry so much <3 I don't think I would be here if it wasn't for Harry. He is my everything, and he's helped be through a lot. I love him more than anything in the world, and I don't know what I would do without him <3. I wish that he will have one of the best days of his life, and party with all his friends/family. And I hope he gets all that he asks for <3. 
I think Gale King said it best. Harry is walking sunshine, he is walking happiness, he is walking light. His music and creativity has inspired not only me, but millions of people across the world. Seeing him perform and write and act makes me so happy, and it feels like watching a friend make amazing accomplishments. He inspires me to write music of my own like no other artist has. H means the world to me and so many people. His music has helped me grow and I can't thank him enough for being a beacon of light and hope in my life. 
– Abby, She/Her, Indiana
HAPPY BIRTHDAY TO THE KING OF ALL KINGS!! what a year 28 was for you. I hope 29 brings even more love and joy into your life than you could ever imagine. we are all cheering you on. best wishes to my favourite Aquarius<3. 
– Ella Gries (She/Her) Grand Rapids, Michigan
He honestly changed my life for the better. I can't put into words how happy he makes me feel. I am an '07 baby, so I didn't know who he was until later but growing up I loved One Direction in 2012 and I fell in love with them. He's been in my life for so long and just having him in my life makes it better. I grew up very abruptly because of my family and growing up I would always just listen to One Direction music and when he went solo I kept listening to his music and it helped me through so much. I honestly believe that he is the sweetest most precious soul on this earth. I haven't met him personally but I just can feel that he's so thoughtful and he actually cares about people. He means so much to me and people make fun of me because I love him but I don't care because I support and love a beautiful kind soul not a hateful one. I LOVE HIM SOOOOOOO MUCH🫀
I HOPE HE HAS THE BEST BIRTHDAY EVER!!! I sadly am not able to go to his birthday show but I just want him to know how much he means to everybody. I'm so glad that you get another year of an amazing life because your life is worth it because you live as a kind person, and I hope that both sides of your pillow is cold ;). I really do wish you a happy birthday and I hope you are happy on this birthday and all the fans that are going to be at that show (VERY LUCKY PEOPLE) make you feel wanted and happy!
– Katana Torres (She/Her), Midland, Texas
Harry means so much more to me than he'll ever know. From being one of the few I can always turn to, to put a smile on my face. To making the horrible days in the hospital okay and worth waking up for. Thanks for everything Hazza! 🖤 Happy Birthday Hazza!! Hope your birthday is as beautiful and full of love as you are! 🖤
– Lorry (She/Her), Northern Ontario
As I've been a fan of his for 13 years (since the X-Factor years), he has been an inspiration to me, and his songs are so inspiring and he's the reason why I treat others the way they want to be treated (With kindness). Thank you for making a lot of people happy & I just want to say thank you for being so inspirational and don't forget to always take care of yourself!! Lots of Love & have an amazing birthday!!
– Kristine (She/Her), Toronto, Canada
Harry Edward Styles means more than the world to me. He means home. Home is a place where one is comfortable and safe. Harry makes me feel like I am not alone and have someone, even when I have no one. I wish for Harry to get well deserved rest he needs <3 
– Liz Frank (She/Her), California
Harry has provided me with a sense of comfort. He has allowed me find who I am today and has helped me to be proud of the person I am. Harry has provided me and many others a form of acceptance and love that goes beyond measures. I cannot begin to find the words to voice my appreciation in all that he does both musically and emotionally for myself and fans likewise. And with that I thank him <3. Happy birthday to the most amazing person in the music industry!! Enjoy your day, and get some rest, you deserve it!!!! I'm so proud of all that you've accomplished<3. 
– Maeve (She/Her), Florida
2 years back I was suffering from a severe postpartum depression, listening to Harry's House and Faith In The Future saved me. I was really in my darkest days when Harry's House came out his music became my go to and his lyrics really helped me coming out of it. Harry styles saved me. I have been in this fandom since 1d days it was always my go to, I am major fan of all the boys' solo career as well, but Harry and Louis made me believe in love again in myself again I love him with all my heart. 
I wish you all the success in your personal and professional life. May you achieve everything you desire. I just hope we as fans give you the same happiness, love, and joy that you give to us. I love you Harry now and forever. P.S. my 2-year-old knows almost all your songs! 
– Mansi Kapoor (She/Her), Luxemburg
Literally everything, wouldn't be here without him. I hope 29 treats him well and he gets all the presents and love he deserves because he deserves the world. If I could literally buy the world and give it to him, I would. 
– Lucy S (She/Her), Aberdeenshire, Scotland
He means happiness. All I think about when I hear or see him is how much joy he brings to the world. His music is amazing and means so much to so many people. He is a light to this world. Have the best birthday ever! Sorry I can't be there, but I hope you feel all the love. Wishing you a year of happiness and health! ❤️
– Isabelle (She/Her), Chicago
He makes me smile every day. Wishing you a massive happy birthday!! Have a great time! Please continue to make us smile. Loves ya xx. 
– Joanne (She/Her), Cheshire
Harry saved my life, which is something I will never be able to repay him for. He is fresh-brewed, strong coffee and a cool breeze on a warm summer day. He is the smell of a new book and the melody of your favourite song. The feeling you get when you hug someone you missed, he is flowers and sun, happiness, and love. Most of all, he is my favourite person. He is everything to not just me, but so many others. 
My birthday wish for the fruit man is for him to always know how loved he is, how much of a difference he has made in so many people's lives, and how happy he makes us. I want him to feel that same love and I want him to feel the same happiness we have when we think of him. I hope he can be proud of himself and all the good he has done for the world. Most importantly, I hope he knows how much he means to us and how thankful we are to have him in our lives. Harry, we love you. Happy Birthday! 🧸🍒🌷🎉
– Soph K (She/Her), Pennsylvania
What Harry means to me is sunshine! He is the one thing I know will brighten my day when I'm at my lowest and darkest. He is walking love and light. I remember going to see One Direction at Dr. Pepper Ballpark in Dallas so many years ago. It was right after X-Factor, and I had no idea who they were. If only I knew back then, what I know now. Harry has been there for me through the bullies, and all of my hardships as a teenager all the way through to adulthood. I went and saw my first show in Chicago this past year. I will never forget that experience. Harry styles is my idol but Harry styles is my friend always. TPWK forever! 💜
HAPPY BIRTHDAY! I hope this year is as amazing and beautiful to you as you are to everyone you meet. I hope you get some rest eventually! Shine your light and don't let anyone dull it! Do you know who you are? (I know I do😉) 
-Alexandra (She/Her), Kansas City
Harry Styles means so much to me. Some people only like him because he is "hot", but I like him because of him, he is kind, funny, puts all his effort for shows, supports BLM and LGBTQ, and genuinely cares about his fans. His music always makes me feel super happy even if I had a bad day. So that is why I like Harry Edward Styles. I hope Harry has the best birthday ever! 
– Sophie Brown (She/Her), Seattle, Washington
He means the world to me in words I cannot explain. I wish him to have the happiest birthday he can this year and to spend it with the people he loves. And I wish him to take a break when needed from touring. I want him to enjoy it not when he's literally about to pass out on stage but anyway HAPPY BIRTHDAY MY CURLY 💚
– Isha (She/Her), England
For me Harry means never giving up on your dreams, Harry has shown that whatever happens we have to be resilient and hardworking, and the achievements will come little by little. He means love, joy, freedom and passion, authenticity in what we do. He means "I don't care what others say about you, just focus on being yourself and showing love." [I wish that] all Harry's dreams and goals continue to come true. That Harry always surrounds himself with people who support and love him that always maintains its interior and exterior light which makes him unique and fab.

– Sofia Isabel Vergara (She/Her), Lima, Perú 
To me Harry means a perfect songwriter, someone who is accepting to all, someone who has so much love there is enough for anyone and everyone who walks into his shows every time, and he is also someone I look up to make this world a better place. Happy birthday Harry, I wish you the happiest 29th birthday 🎂 You have come so far but I know you are only going to go farther. My one wish for you is that forever and ever you will TPWK and always love cause as long as you do that, all of us supporting you will too. Love and hope you have or had a great birthday 🥳.
– Teghan (She/Her), Oregon
He means so much to me, at the lowest point in my life I found Harry. Since then, I started to accept myself and my sexuality. I will always love Harry for that. He really is home. Happy birthday!! Hope you have an amazing birthday with lots of love! And just remember you mean so much to me and obvs all of your fans. 
-Stacey (She/Her), The Netherlands
There are no words in a dictionary that can describe the way Harry makes me feel or what he means to me but if I were to describe it then this is what I would say; Harry is the love of my life and he helps me and many others get through really bad situations. Whether it's his beautiful smile, charisma, laugh or any of the other amazing things about him that help us when we need it the most. He's the sun and we're just revolving around him because he is the quite literal definition of EVERYTHING. I don't remember a time in my life when I wasn't madly in love with him. I never really got to know one direction when they were still together because I wasn't old enough to even know right from wrong or left from right. But I started listening to their music and watching videos from behind the scenes, interviews, concerts, etc. and I couldn't not love them and the inseparable bond they had. I haven't had the privilege to go see him live yet but when I do I'll never complain about anything ever again because that's all I want, to see Harry.
I wish Harry the best birthday and I hope that he has the best birthday one could ask for. I hope that the concert goes really well and that he dances the night away doing what he does best. You make me happy every moment of every day of every year so I just hope that I can make you happy for a moment to wish you a happy birthday.
– Rylee Griffith (She/Her), Ohio
Harry means so much to me. I truly think I would never be where I am today without him. I've been a fan for half of my live when I was going through my darkest days of my life in need something that was consistent, that was Harry. I just wish that he is happy in life. 
– Grace Morrow (She/They), Minneapolis
He represents love, happiness, and light. Harry has completely changed my entire life. It is because of him I have met some of my closest friends. He brought so much happiness to my life. I am forever grateful to him. He has created a space where you can be your authentic self. That is such a beautiful thing♥️ Happy birthday my fruit salad! Thank you for filling my life with music. 
– Victoria (She/Her), Indiana
Harry styles means the world to me. Even though I have never had the opportunity to personally speak to him he has changed my life. I can definitely say Harry has changed my life. His music has gotten me through many challenges in my life. I have been a fan of harry since the 1D days and have admired him ever since. His positivity and attitude towards life have helped me become a better person and I am forever grateful. I wish for harry to have the most amazing birthday and to have the best time performing on the night. I hope he has a wonderful birthday and gets anything he wants. I also wish for harry to have a peaceful (but fun) and safe tour and for him to enjoy every moment of it.
– Ava G (She/Her), Ireland
To be honest the whole world he is the reason I get up in the morning he is the reason I am who I am Harry has been one of the biggest influences on my life he means everything to me. Harry my love, I hope you have the most amazing, wonderful birthday ever and you continue to be so successful I will support you always I love you. 
– Baylee (She/Her), Myrtle Beach, South Carolina
Harry has brought me so much joy since I was 14 years old and first discovered 1D. He's such a light for me in dark times and I smile every time I see a picture or video of him. I love the community that being a Harrie has given me. When I meet another Harrie, I know that I will be safe with them. Harry has created something so beautiful just by being himself and letting us all join him. Happy 29th Birthday Haz!!!! I hope your year is filled with never-ending joy and new adventures. Never stop being beautiful, fruit man.
– Katie (She/Her), Milwaukee
Harry helped me so much with his music in so many ways. His first album meant so much to me, as it gave me strength to go through my parents' divorce. And in all these years, his music, his values, and his personality helped me realise so much about my life, who I am and what I want to do in my life. Every time I feel down, or I feel defeated he is there for me, with his music. "If you're happy doing what you're doing, then nobody can tell you you're not successful", words cannot explain how this sentence makes me feel empowered and valued, all thanks to Harry. Last but not least, I have met so many wonderful people thanks to Harry, and built so many friendships that I know will last forever. 
I wish Harry a wonderful birthday full of love, kindness and music. I wish him happiness and time to rest, time for himself and time with the people he loves. I wish him freedom to be whoever he wants to be. I wish him that all of his dreams will come true. I wish him the happiest birthday and the happiest year. 
– Francesca (She/Her), Udine, Italy
The absolute world… in fact no… the universe and beyond🤍. Happy birthday to the best fruit man anyone's ever known. Take the day to do whatever your heart desires. You deserve everything in life, and everybody is so, so proud of you. Have the best day, enjoy being 29! 🤍 
– Sophie Reardon (She/Her), Hampshire, United Kingdom
Absolutely everything! He has been the highlight of some of my favourite memories and he's played a big role in why I'm still on this plant. His shows are always so fun, welcoming and feel like home. He makes sure we feel heard, seen and never alone. Whether that's through music or just things he says. Harry, I hope your birthday is as amazing as you are! I hope the Palm Spring shows go really well and that you have the time of your life. I can't wait to see all that this year has in store for you. I love you lots! Happy Birthday!!!!
– Kaylae Chambers (She/Her), New Jersey
He literally makes me so happy. I had the opportunity to go to one of his NY shows on my own and I met so many amazing fellow fans there. The community he's created around him is incredible. His shows are like being at home- it truly is Harry's house. Thank you for making so many people smile every day. All the love in the world. 
– Aoife C (She/Her), Northern Ireland 
Harry is that person that never fails to make me smile just watching him do what he loves and him being himself. I love his music and idk just harry is such an amazing human being. I hope he gets a lot of rest after this tour is over and that I hope he knows how many people love and care about him.
-Sierra (She/Her), New York