Paramore and The Power of The Teenage Girl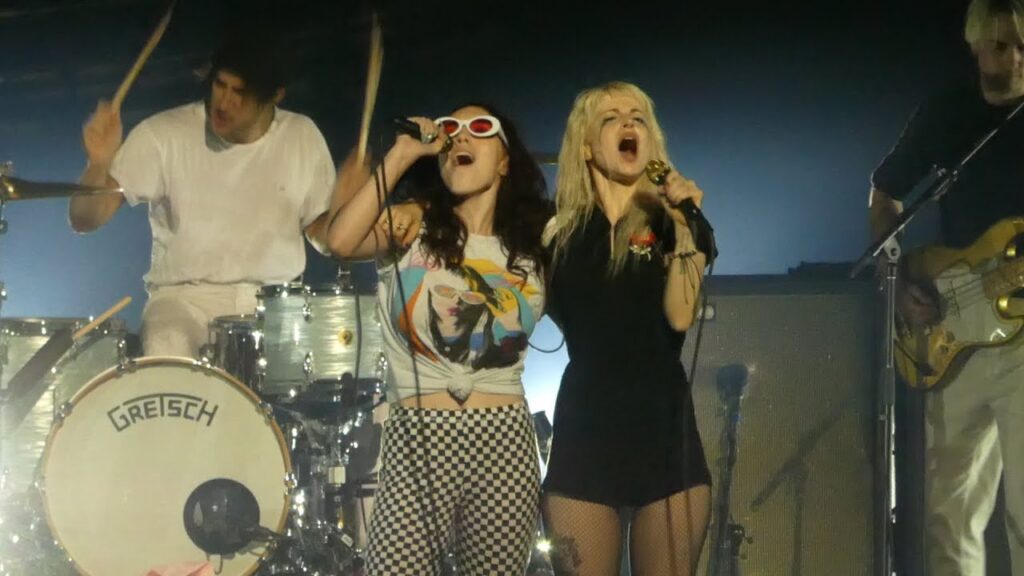 The emo revival has been steadily gathering momentum over the past few years, partly thanks to TikTok trends and a sense of pandemic-fuelled nostalgia. When Paramore announced their comeback with the release of their frenetic new single 'This is Why', twenty-somethings like me were taken back to simpler times. But like many fans, my connection to Paramore runs deeper than a yearning for the days of checkerboard Vans and Edward Cullen posters. Growing up in a culture that constantly told young women that they weren't good enough, Paramore gave me permission to be myself.
My first real experience of live music was on a balmy August day in 2012. It was six days after my fifteenth birthday, and I had tickets to see Paramore live at Custom House Square, Belfast. I remember putting together my outfit that morning: denim shorts, black tights, red knock-off Converse and a skull-printed tee – doing my best impression of a cool teen who went to concerts. Joining the queue with my older brother a few hours before the show, and the euphoric feeling of seeing Hayley's orange hair and beaming smile as she was escorted past the line to the backstage area. I remember feeling like I was in a music video as the heavens opened during the outro of 'Pressure' and weeping as they played a mashup of 'In The Mourning' and 'Landslide' by Fleetwood Mac.
That night allowed me to momentarily let go of some of the discomfort and grief that had coloured my early adolescence. Standing in a buzzing crowd for the first time, I felt connected to another world that existed outside of school, homework, and small-town monotony.
I discovered that there was an alternate universe where girls could get on stage and command the attention of thousands of people. I screamed and sang and sobbed. It was magical.
Although I had been a Paramore fan for a few years at that point, seeing the band live in concert was a seminal moment, the apotheosis of hours spent scrolling on 'bandom' Tumblr and listening to their albums on the bus home from school. It was also the night that I realised that I wanted live music to be part of my life forever. Three years later, I started a band with my brother that would see us touring across the UK and Ireland and playing festivals such as Electric Picnic and Reading and Leeds. Six years after seeing Paramore play Custom House Square, I walked out onto the same stage, as my band Brand New Friend were booked to open for Lewis Capaldi and Kodaline.
At that moment, my usual feelings of pre-gig nerves and imposter syndrome were replaced with a sense of fulfilment. I knew that my 15-year-old self would be glowing with pride. We played our noisy pop-rock songs far too fast, propelled by the kind of youthful energy that would beset a bunch of kids who couldn't believe that they were playing on such a big stage.
Whilst Paramore were by no means the first female-fronted band to make waves in alternative music, (see: The Pretenders, The Sugarcubes, No Doubt, etc.) they rose to prominence in the early to mid-2000s, when the airwaves were dominated by lad-rock and emo acts including Fall Out Boy, My Chemical Romance and Panic! At The Disco. As 'Misery Business' ignited the charts upon its release in 2007, Hayley became a flame-haired beacon for young girls like me, who felt like they didn't fit in. British singer Denai Moore told i-D magazine, "Hayley's music has always felt very personal but always has a wider sense of hope, which as a teenage girl made me feel seen and looked after through the music."
This resonates with me, as Paramore's music comforted me through the awkward phases of my adolescence. 'Grow Up' pushed me through a nasty friendship break-up. I lived vicariously through 'The Only Exception' as my teenage heart pined after unrequited crushes. 'Looking Up' gave me the confidence to perform with my band, the lyric "it's not a dream anymore, it's worth fighting for" ringing in my ears during tough moments. And of course, I wasn't alone. Paramore's cultural impact eventually made space for artists like Olivia Rodrigo (the band earned a belated writing credit on 'Good 4 U') and Billie Eilish to flourish years later.
This is no mean feat. Over the years, Paramore have demonstrated a level of staying power that is almost unprecedented. When other bands would have crumbled through years of tumultuous line-up changes, legal battles and long hiatuses, they have re-emerged time and time again. Not to mention their series of sonic evolutions; Paramore have managed to keep their fanbase on-side as they have traversed hook-filled pop-punk, atmospheric indie and glittery pop. Whilst the band's 2017 album 'After Laughter' offered alt-rock by the way of 1980's aesthetics and jangly Johnny Marr guitars, 'This Is Why' provided a glimpse into the angstier side of Paramore that captured the hearts of fans in the preceding years. Almost 15 years after 'Misery Business' defined the zeitgeist of its time, Paramore are still around, having grown up alongside their fans.
And as the band has grown up, they have had time to think hard about the legacy of this song. When touring 'After Laughter' in 2018, the band made the decision to retire the fan favourite, which had previously been a staple in Paramore live sets. The lyrics (written by Hayley at age seventeen) were symptomatic of the misogyny that many young women grew up internalising in the early 2000s. Returning to the live circuit earlier this year, the band decided to resurrect the song. But as Hayley took to the stage at When We Were Young Festival, Las Vegas on 29th October 2022, she set the record straight.
"This song [Misery Business] is about misogyny and the way I grew up metabolising it because I didn't feel like it was okay to just be a teenage girl. But let me tell you teenage girls, you've got so much power."
Mistakes will always be made in the messiness of youth. But Hayley's positive impact outweighs the naivety of her old lyrics. And as Paramore gear up to release their sixth album, they are set to empower another generation of young women.