A Night Out with Arctic Monkeys in Salt Lake City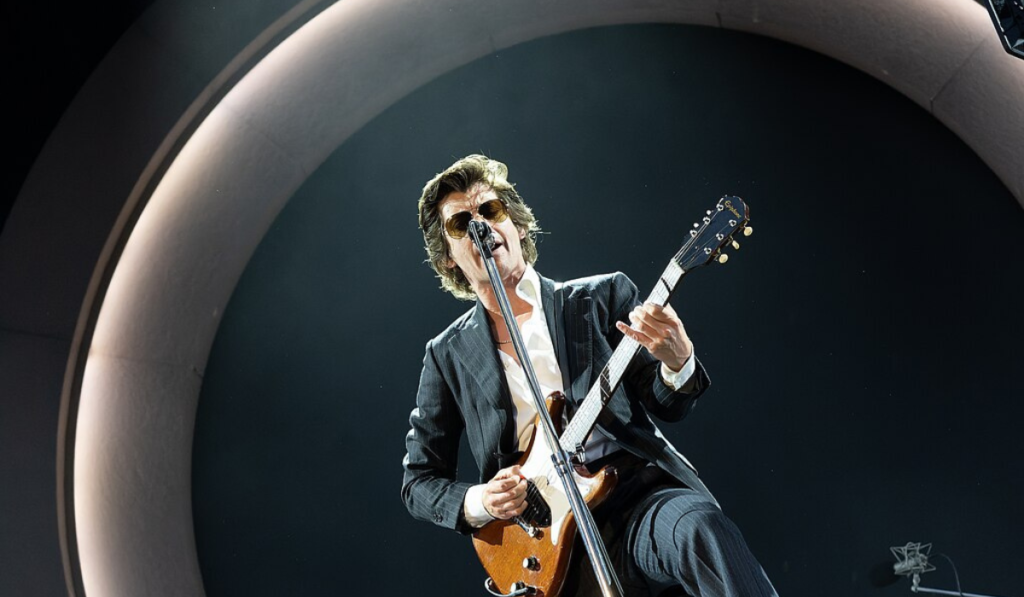 Waiting to see one of your favourite bands is much like waiting for the ball to drop on New Year's Eve. You countdown the hours, minutes, and seconds until that fateful moment when the lights go out and you forget everything.  
Arctic Monkeys continued dominating their tour around the world stopping in Salt Lake City a month before the One-Year Anniversary of their most recent album The Car. The anticipation in the Delta Center was palpable. You could feel that everyone was eager for the band to be on stage. As the last pre-show song faded out, and the lights went out, the scream that erupted from fans was deafening. It was so loud that you could feel the vibration on the floor. The ten-year-long wait for me was finally ending.  
I was in awe. I could not process what was happening in front of me. I felt like I was having a true out-of-body experience where I was looking down at myself watching the show. Watching Alex Tuner and the rest of the band walk out on stage is something that I cannot explain and something I will never forget. Alex wearing a loosely fitted suit with messy hair looked solidified one thing. He looks good in anything he wears. The band opened the set with Sculptures of Anything Goes from their most recent album The Car and I knew from that moment that we were in for an amazing gig. The show continues with tracks from each one of the records such as Snap Out of It, Crying Lightning, Why'd You Only Call Me When You're High? and one of my favourites, Arabella. Every artist has songs that are going to be crowd favourites where you know that they are going to be singing back every word and 505  was no exception. A disco ball came down and illuminated the room. It was an incredible experience that I was lucky to catch on film.  
The second half of the gig proved to be just as high energy as the first half. With hits ranging from, Perfect Sense, Knee Socks, Pretty Visitors, and Fluorescent Adolescent, knowing that the night was already half was making me want to rewind this night and start over. Do I Wanna Know? is one of the band's most iconic songs with a huge cult following. It is one of those tracks where you can play one note and most everyone will know which song that is. With the familiar strum of Alex's guitar,  people went feral, including myself. It is the one song that if I did not hear anything else but that one, I would have been happy just hearing that.  
After the band briefly left the stage after Body Paint and before the Encore, we were all wondering what they would end the show with. Not having seen the setlist from previous shows, I had no idea what could be next after hearing Do I Wanna Know?  That is why when I Wanna Be Yours began to play, I had a full-on moment where I could not move. It was only when I snapped back into reality that I realised what was happening. Just when I thought I had come down off the high that was I Wanna  Be Yours, we were at the end of the night, and we all knew what that meant. The iconic, needs no introduction, R U Mine?. From the guitar riffs to Alex adding two additional choruses on just because he didn't want the night to end just yet. It made it the perfect end to one incredible night. 
The response from fans throughout the night was positively electric. With each song the energy was insane. There was a moment when I looked around at the crowd and was just taking it all in. People were dancing around to their heart's content, not caring who was watching or they were screaming each lyric at the top of their lungs. I have been a huge fan of Artic Monkeys for the last 10 years and even now I still can't comprehend that I was there and that I have countless footage of the gig. I have gone to a lot of concerts over the years and what I love so much about them and why I will continue to go to shows and travel for shows is what they do. It brings so many different people together who may not have a lot in common but for one night we are all there for the same reason. I think after the pandemic and losing a year of not being able to go to shows, I think going to gigs and having live music is important to those and why we need to keep live music around.  
I had the time of my life seeing Arctic Monkeys for the first time and I wouldn't change anything about that night. If anything, I would love to put that night on repeat. If I could pinpoint a favourite moment of the show, it would have to be when  I heard Arabella. That song is widely known on social media as being the ultimate rockstar girlfriend anthem. Another moment was when we were waiting in between sets after The Fontaines DC played and waiting for the band to come one stage. The moment that I think no one really talks about after a concert is what is known as the  Post-Concert Blues. The feeling you get after seeing your favourite artist that you have been looking forward to for so long and now that that moment is now over, you have no idea what to do next because everything has been leading up to this night and going back to work or going back to normal after a show is a weird feeling. This was a night for the books, and I will be talking about this show for many years.