Meet Wet Leg: The Indie Rockers Supporting Harry Styles on Tour This Summer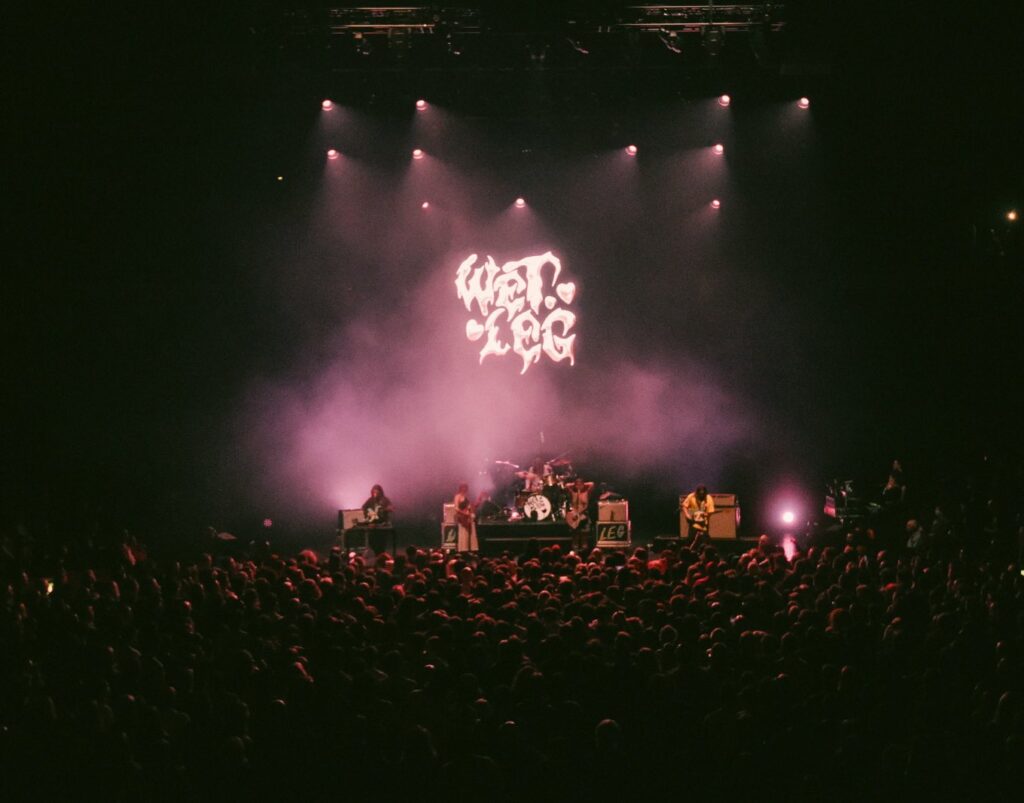 It's time to get excited for Harry Styles once again as our beloved pop star is getting ready to continue  Love on Tour  on May 13 in Denmark! As much as we are so excited to get more content of Harry moving and grooving, this is  not  about him. We know, it's a total shock to not be so Harry-centric. This is about his fabulous and talented opener for the  Love On Tour Europe an leg: Wet Leg. This is not the first time that we've been introduced to Wet Leg as they opened for Harry during the rescheduled  Love On Tour Kia Forum Shows  and his  Australian leg of HSLOT too.  
All of Harry's openers have been great for us fans to discover! However, Wet Leg is a bit different as they are going to be opening for him longer than the others. It's time that we get a proper introduction to who Wet Leg is and why they are so important to stan and support without being tied to Harry Styles. Here is your guide to everything Wet Leg so you can be prepared  for the return of  Love On Tour  and for what comes next for their music career. 
Who Are Wet Leg?  
If you've been asking yourself this question, don't worry, we have the answer for you. The oh-so-very-talented Rhian Teasdale and Hester Chambers are the duo that makes up  Wet Leg. Wet Leg is an  alternative rock group  that has seen tremendous success since its formation in 2019. The powerful duo didn't know each other until they magically while studying at an Isle Of Wight College and hit it off!  
Before becoming  Wet Leg  both members had individual music careers of their own. Rhian created music under the name Rhain from 2016 to 2018, a nice little twist on her name. Hester was the lead in Hester and Red Squirrel, which is such a fun and quirky band name. Our leading ladies confided in each other after they kept facing financial struggles and eating difficulties as they prioritised music so much. Their individual music careers were not going to plan and it was draining them. They were on the edge of making the most difficult decision ever: giving up their music dreams.  
After they realized both were struggling with stress and anxiety in their individual aspirations, they joined together and never looked back. 
When you listen to Wet Leg you will hear Rhian singing the lead vocals and playing the rhythm guitar. Meanwhile, Hester is on lead guitar and backup vocals. They have undeniable talent which explains their rapid succession into becoming a name worth knowing as they are opening for one of the biggest names in pop now: Harry Styles. They have described their entire music career as weird and rightfully so.  
After Wet Leg was formed without having any music released they were signed with an extremely well-known manager in London. Within 6 months they were signed with Domino Records and struck a label deal. At the time Wet Leg only had four songs available on a private SoundCloud account. 
Wet Leg being signed with Domino Records was a big deal. Domino Records, in case you don't know houses other well-known alternative rock/indie talents such as the Artic Monkeys!! Wet Leg being signed without music at the start of their career is not a typical thing. Domino Records had a lot of trust and belief that they would take off. And they weren't wrong. 
Wet Leg debuted in June 2021 with Chaise Lounge, and English fans loved it which propelled it to grow even more quickly. Their debut album  Wet Leg  was released last year. Their quick rise to recognition is extremely deserving.  "That's why it's so weird because the moment we stopped trying to make anyone else happy and did a band for the joy of playing and hanging out," said Rhian Teasdale for NY Times
Why Are They Called Wet Leg? 
 You know when you have a silly little emoji conversation with your best friend? That's exactly how it went down for Wet Leg. They are just like any of us when we put random emojis to convey an emotion, a feeling, or a new phrase that ends up being an inside joke with friends. Forming the name Wet Leg came after Rhian and Hester were playing a game where they would make band names out of different random emoji combinations. They came across the  water emoji and a leg  and we know what happened next.  
Their Music Is A Haven For Alternative Rock/Indie Girlies
Their songs are refreshing to hear within the Alternative Rock and Indie genres. The songs are of course for anyone to listen to and enjoy. They are sassy and quirky songs that are for all audiences. They are a bit bratty at times too. 
However, they do strike a chord more with a female-identifying listener as their songs provide perspective and insight into women's viewpoints on lust, relationships, love, sexism, independence, and more. This has been done before by other artists but, their approach is raw and direct with unique descriptions of life and intricate euphemisms that will leave you feeling empowered, laughing, and smiling as you dance along in your room. Trust us, you will want to play these songs very loud and dance in your room. Or play them loudly move the furniture around and have your own Wet Leg dance party in the living room. Either way, you're going to be loud and unapologetic with the edgy Wet Leg playing sharply from your speakers.  
Don't just take our words on it, go listen to a few of their songs now. We recommend that you check out Your Mum, Wet Dream, Too Late Now, and Angelica along with the now-infamous, Chaise Lounge. You really should listen to their album  Wet Leg  after you get done listening to those songs as you will be longing to have more Wet Leg in your life.  
Wet Leg On The Rise 
The awesome and laid-back duo are going to be a riot as they continue their time with Harry Styles. From  NPR tiny desk concert, to live  shows in 2022, to  being covered by Harry Styles, and touring with Harry himself, they are making themselves known to all. If you have the chance to go see them on Love On Tour with Harry, you must  get tickets to see them! They will be setting the tone for an amazing show with high energy that Harry will take and continue into his set.  
We hope to get more of Wet Leg after  Love On Tour  commences in the form of another album. Perhaps their headlining tour? Any additional Wet Leg content will make us happy so we continue to support these rapidly rising weird not so serious stars.