The Boys Are Back: The Online Mystery of a Boyband's Return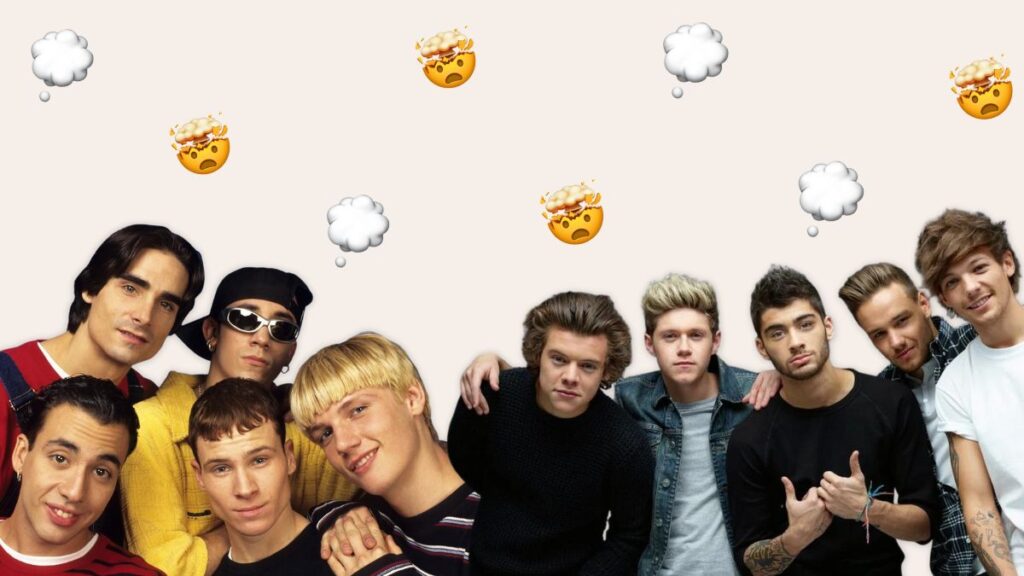 The transition from 2022 to 2023 at first seemed that it was going to be a quiet and calm experience for us fans knowing that the festive season is the quieter time for the music industry. However, there is a very mysterious situation occurring that is causing confusion, contemplation, curiosity, and excitement. It's more so, creating a bit of a frenzy and generating a lot of buzz on Twitter, Instagram, and TikTok about what is going on.
This situation that is occurring all started randomly 18 days ago, and it all started on socials. Out of nowhere The Boys Are Back appeared. It started as a few promoted tweets and ads targeted interestingly at One Direction fans and fans of the members as solo artists. Then it grew to paper ads and flyers with a QR code that takes you to the website. Later, a billboard ad appears in LA. All the promoted social media content, hashtags, and physical promotion lead users to the website. The setup was done intentionally and with great thought.
Upon entering this website, you see a pop-up that says Who Are We? and to check back for a clue at 12 PM Pacific Standard Time. Exiting out of the pop-up, dead centre of the screen inside of a white circle on a static background in bold lettering says We're Back And Better Than Ever. Below there is the countdown that indicates how many days are left until the truth is revealed.
What truth is being revealed? A boyband is returning. It's exciting and nerve-wracking, especially when there isn't anything that explicitly says who.
The theme of the website is simple and vague, creating new layers of mystery with every single click. It's only black and white colouring along with a basic font and that continues on their Twitter and Instagram accounts. The only difference is that on the Twitter banner and the Instagram profile picture there is a guitar. Which could serve as a hint or a clue about the return of…someone. This theme wasn't done accidentally, it was done on purpose. It's a puzzle, a game of clues, or perhaps an Easter Egg hunt. This is something that we have seen before by many artists such as Taylor Swift, Harry Styles, BTS, and Louis Tomlinson.
Fans are going to have to work to figure it out and create their own theories and takeaways of what this will lead to. The marketing team has done this all on purpose to be unrecognizable in terms of branding. However, the clues that are shared are recognizable and can be tied together. The big question is how?
The role that I'm imagining that the marketing team had in this is to make us, fans, work together to brainstorm what is going on. It's a way to create a stir using guerrilla tactics of fans sharing the content and creating discussion – minimal work on the marketing team after generating the initial digital and analogue promotion. That's what fans are good at, generating buzz, especially when it is about the return of a boyband.
We fangirls love a good conspiracy when it comes to our artist – why would it be any different for one of the many beloved boybands? It's time for a deep dive into what we know now and create speculation.
17 Days of Clues and Theories Galore
Tyra's Theory
All the plausible guesses, ideas, and theories that have been shared are moulded around the clues. Those of us who are keeping up and eagerly watching are hoping to receive a clue that gives us the ultimate indication of knowing. It's yet to happen.
I have been actively keeping up with this since Day 4 on my TikTok about my stance on this being One Direction related. I'll take you down my thought process about One Direction while also leaving room for speculation and considerations of other boybands.
My theory is that this is a giant Easter Egg hunt for One Direction. All the clues can be tied back to One Direction in some capacity – whether it is from news about a specific member of One Direction at a location, a One Direction music video or album, a band that One Direction has been compared to or has received advice from, or has a similar hiatus experience. These clues just like what was done for Harry's House and Midnights are not surface level, they require a deeper dive to create a double meaning when it can't be easily figured out. The way that Midnights and Harry's House were treated as a clue hunt and deeply pulled apart should also be applied here, as not everything is as it seems.
When Taylor Swift was using bingo balls to share titles of her Midnights tracks saying "Hi, it's me" and holding the phone upside down a few times – those were deeper Easter Eggs of what was to come. Fans caught on later the references to her songs Anti-Hero and Bejeweled. When it seems simple to pinpoint another band, I see an Illusion to distract and throw off any sound theories.
Especially when that is the marketing strategy that artists under Universal Music Group (UMG) have executed for their promotion. Such artists as Taylor Swift, BTS, Harry Styles (UMG Publishers), and Niall Horan (Capitol Records is a branch of UMG) have done Easter Egg-type promotions for their past and current album promo. With One Direction being signed under Universal Music Group, who is to say that a reunion for the band wouldn't be announced in the same manner? It's a perfect way to increase fan engagement, boost online conversation and inspire fans to think critically.
I have seen many One Direction fans, put down the idea of a reunion because it seems "impossible" due to what is published about the schedules of Louis, Niall, and Harry. Liam's schedule for 2023 is unknown. A five-member One Direction reunion with Zayn is equally as unknown. However, a reunion doesn't have to mean a tour. A reunion could simply be an appearance on James Corden's last segments of The Late Late Show, a few One Night Only's promoting Made In The A.M, or if there is a tour it wouldn't be until 2024.
Clue Breakdown
Now, let's shift gears and get into the clues. The interesting theme throughout is that all the boybands being hinted at have either gone on a hiatus and are now active or on a current hiatus.
Day 1: Los Angeles International (LAX) Airport.
Immediately fans were on the hunt to figure out what LAX Airport had to do with a boyband. As quickly as the hunt began, the answer was shared. It's the Backstreet Boys. The 90s boy group filmed their music video for I Want It That Way at LAX. The Backstreet Boys did go on hiatus between 2001 to 2004 and have been active since then. Fitting the theory of a boyband that has gone a break at some point during their time active and returned.
One Direction Connection
If you Google One Direction and LAX Airport. You will find videos and articles about the LAX safety threat due to the paparazzi. As well as an article about Louis Tomlinson getting arrested at LAX for a scuffle with a paparazzi photographer who was provoking and invading Louis and Eleanor Calder's space. I wouldn't be surprised if this is for a One Direction reunion that they'd tie LAX back to both paparazzi incidences. I also fully believe that Louis would joke about his arrest and be ok with it being an Easter Egg (I just get those vibes from Lou).
There is also a video of the Backstreet Boys giving "advice" to One Direction to be successful.
Day 2: Mojave Desert, California.
This stumped a few fans and many theories came out on who this could be connected to. Lots of ideas were thrown out. The first was for Unbelievable by Why Don't We, yet that music video was shot in a desert in Colorado. Putting Why Don't We out of the equation. Then it was *NSYNC for the driving scene in their music video for Bye Bye Bye, but that music video was filmed in Fillmore, California. 98 Degrees was also brought up for this because of their music video for My Everything, which doesn't look like it was filmed in an actual desert location but used a green screen for the backdrop effect.
Leaving with one plausible answer Steal My Girl, by One Direction.
One Direction Connection
The music video for Steal My Girl takes place in a desert very similar to the desert in the given clue. Figuring out the location of the music video is a bit more complicated in comparison to the other possible answers. A Billboard article and a Metro UK article mentioned the filming took place in a desert outside of LA. Another article says that the location of the music video was shot southwest of Palmdale, California. An article mentions BTS' desert filming location as Vasquez Rocks Natural Area and Nature Center as the same filming location as Steal My Girl. Despite the location not being the Mojave Desert, the overall look is of Steal My Girl. I believe that this clue does not heavily rely on accurate location, but more so the image of the clue, as to my knowledge no boyband music video has been filmed in the Mojave Desert.
Day 3: Clevedon Pier
One Direction Connection
I figured it out from black and white – it's obvious who this is connected to. It's immediately One Direction. From their third album Midnight Memories, the music video for You & I was filmed at this pier. The grey cloudy day allowed the pier to pop against the sky as the members of One Direction walked down the pier singing the iconic ballad. A fun fact is that Zayn earlier in the year surprised fans when he shared a video on his Instagram singing his well-known high note from the song.
Day 4: Los Angeles, California
As someone who doesn't know much about *NSYNC, a creator on TikTok (@honkifursad) broke down that the clue is from the music video for Bye Bye Bye. The box that was used for the rotating room in the music video is Day 4's clue. To learn more about how this music video was filmed this article on Entertainment Weekly has all the details
One Direction Connection
The same creator mentioned above created this video, where she broke down how the rotating box is for *NSYNC, but also it could be an Easter Egg for One Direction. At the beginning of December, it just so happened that Liam Payne posted on his Instagram story for the first time after taking a break, singing to Bye Bye Bye. Here is a video from another TikTok creator who screen-recorded it and uploaded it on the 5th of December. This might be a coincidence that Liam happened to sing this *NSYNC song only a week before this announcement campaign began, or could it be something a bit more. I'm not dismissing this as an Easter Egg as we've seen in the past the smallest things can be the biggest clues.
Day 5: Long Beach, California
This clue takes us to the Queen Mary ship in Long Beach, California. This is where the Jonas Brothers filmed their music video for S.O.S.
One Direction Connection
Both boybands have been compared to each other, which isn't new in the world of boybands. There is an article about a spin class that Joe Jonas attended that was One Direction vs the Jonas Brothers, in which the Jonas Brothers lost. In that article, it is mentioned that Nick Jonas and Harry Styles are gym buddies. Additionally, Niall can be directly connected to the Jonas Brothers as they went golfing together and Joe and Niall went uncover to lead a cycling class as part of The Jonas Brothers' Family Roast on Netflix.
Day 6: Ontario Airport, California
This location was where Big Time Rush filmed their music video for Worldwide. Fans of the Nickelodeon TV show and boyband were the first to point that out.
One Direction Connection
One Direction opened for Big Time Rush in 2012, which resulted in Big Time Rush displaying a bit of jealousy for their opening act. Despite Big Time Rush being the headlining act, One Direction received more attention from fans singing their songs while waiting in the queue to enter the venues. Big Time Rush shared the sentiment of feeling used to tour and promote One Direction as they were under the same company. One Direction's fame and fan support were not something that they had control over, despite that, it negatively impacted the relationship between Big Time Rush and One Direction.
Day 7: London, United Kingdom
One Direction Connection
There is no doubt once people checked the clue and saw a red telephone booth, that it was immediately One Direction. The band's sophomore album Take Me Home has Niall inside the phone booth, Zayn holding up Louis who is climbing the phone booth where Liam is, and Harry looking up at the boys on top of the phone booth. Not only is the phone booth an indication of One Direction, but the location this time has significance. The actual phone booth that was used in the album cover is in London. You'll find it at the Hard Rock Café in Piccadilly Circus. Fortunately, I was able to visit the Hard Rock Café in October 2022, making this clue click into place automatically for me. The association with One Direction is quick and I think hints at the album's theme of home. Directions are at home with One Direction and it's time to take me, well us, home.
Day 8: Forest, USA (Undisclosed)
This one had a variety of different answers as well! *NSYNC's This I Promise You, Why Don't We's Chills, and then Gotta Be You by One Direction. The picture of the forest in the clue shows tall trees with thinner trunks and minimal evergreen conifers. *NSYNC filmed their music video in a Redwood Tree Forest making that visual from the clue and their music video not match, despite it being filmed in California. Upon watching Chills, it's in a forest where there are more conifer trees making this not match the visual in the clue either.
The only music video that seems to fit in with the clues visual, is Gotta Be You.
One Direction Connection
The music video for Gotta Be You was filmed at Lake Placid in New York. One Direction was filmed in a forest that had taller trees with thinner trunks and a blend of coniferous and non-coniferous trees. The music video that was released in November 2011 has visuals and an aesthetic that matches more with the clue.
Day 9: Hertfordshire, England
This location has had many music videos filmed there from Sucker by the Jonas Brothers, Woman Like Me by Little Mix, Lego House by Ed Sheeran, Bohemian Rhapsody by Queen, etc. The Jonas Brothers being the only boyband who has filmed there, this could be a second clue for the Jonas Brothers or a very complex Easter Egg for One Direction.
One Direction Connection
As mentioned earlier, One Direction and the Jonas Brothers have history together. One Direction and Little Mix also have interesting histories. Both the boy group and the girl group were on the X Factor together, Little Mix winning and One Direction coming in third. The connection between Little Mix and One Direction didn't stop there. Former One Direction member Zayn Malik was previously engaged to Perrie Edwards of Little Mix. Ed Sheeran has also written a few of One Direction's most notable songs: Moments, Little Things, Over Again, and 18. Not to mention that Harry Styles plays Bohemian Rhapsody as part of his pre-concert setlist for attending fans to enjoy before he gets on stage after the opener.
Day 10: Los Angeles, California
One Direction Connection
This clue was so fun and filled me with excitement. The clue isn't about the location but the 2013 Teen Choice Awards. One Direction won big that night at the TCAs taking home 4 for 4 wins in best Love Song, Single, Summer Tour, and Music Group. The wins specifically were for Little Things for Choice Love Song, Take Me Home Tour for Choice Summer Tour, Live While We're Young for Choice Single Group, and overall Choice Group. Many fans of One Direction were discounting this clue as having something to do with One Direction because only three surfboards are visible in the photo.
However, upon further inspection of the photo, you'll see there are four shadows being cast.
Day 11: Milan, Italy
There was interesting speculation on who this could be tied to. The first item that was brought up was the golden maknae [mahk-nay] (the youngest member and triple threat singer, dancer, rapper) of BTS, Jungkook Jeon. Jungkook was promoted at the Duomo di Milano Cathedral. However, this is not about BTS for various reasons which will be covered in Day 12.
One Direction Connection
One Direction was photographed right in front of the Duomo di Milano Cathedral during the beginning of One Direction. There is no denying that the clue given and the photograph of One Direction circa 2011-2012 are in the same location. You can tell it was early on in their career due to their tattooless arms, Harry and Niall's hair, and their clothing. In 2014, during their tour stop in Milan, Italy the Italian Directioners created an emotional fan project that resulted in the crowd putting up signs that said "We are 1D family". This fan project was a surprise to One Direction and was captured on their Where We Are concert film.
Day 12: Sepulveda Dam, California
If you're not a fan of BTS and missed out on the masterpiece that was the On Kinetic Manifesto Film: Come Prima, you might've not automatically recognised this spot. This music video for On is not the clue, but the connection or a thread to another band. BTS is on hiatus due to needed to fulfil the obligated military requirement that all native Korean men must begin by age 28. The oldest member of BTS, Jin Kim, began his military service in mid-December 2022 after receiving an extension as an entertainer to complete additional promotions with BTS. The next oldest member Yoongi Min will be next to enlist as a Social Service agent as he will be turning 29 in 2023. Meaning that BTS' hiatus is not due to the band needing to break and pursue solo projects (which concur while they're active), but to fulfil a civic obligation.
BTS is not a group to continue without all their members present, so a BTS comeback isn't likely without all 7 members. Nor is it like the boy group to not include Korean language marketing and promotion as it would isolate their friends, family, their home fan base, and target audience of Korean speakers.
One Direction Connection
Immediately as BTS announced their hiatus, Western audiences compared their break to One Direction. Completely dismissing the cultural significance and country-specific citizen obligations on Korean men that impact the Korean music industry. A Billboard article discusses how fans of BTS explained to Netflix via Twitter that BTS' hiatus isn't the same as One Direction's. BBC's article mentions that the BTS hiatus isn't a "severe" as One Directions. Noting the upsetting reality of how extremely long One Direction has been on hiatus and how it is continuing to go on without any updates.
Day 13: San Francisco, California.
Here is a hint for 98 Degrees. They are the only boyband to have done anything with the Golden Gate Bridge. The band literally scaled the bridge to film the music video for their song, Because of You. 98 Degrees have also been active since 2013.
One Direction Connection
There is a video of Nick Lachey giving "advice" to One Direction to be successful. Another article about 98 Degrees giving One Direction "advice". Vox had an article talking about the One Direction hiatus being the "end" of One Direction and the article highlights other boybands that have gone on a hiatus like 98 Degrees and *NSYNC. Both of those boy groups were active for 7 years from 1995 to 2002. 98 Degrees returned after a very long 10-year hiatus in 2012. I found it compelling that 98 Degrees and *NSYNC were active for the same amount of time that One Direction has been on hiatus. Is it a hint at a hiatus comparison or that One Direction is aware of how "severe" and abnormally long their hiatus is? Who knows!
Day 14: Minnesota, USA.
Big Time Rush has been brought up again. The TV show origin back story of the boyband is that they were hockey players from Minnesota who wanted to become a boyband. That's far from the truth. The members of Big Time Rush are not from Minnesota nor do any of them have a hockey background. If we take the TV show clue as factual, then yes, it is Big Time Rush. If we take the clue from the real-life band, it doesn't work as well since that's not their origin story. It also doesn't work since they are an active band.
One Direction Connection
We know that One Direction and Big Time Rush have a complicated history. One Direction may not be from Minnesota, but one of their earlier events to meet fans happened at the Mall of America. The Up All Night CD signing, was a monumental moment in One Direction history. There were so many fans that attended and were able to interact with the boys at the beginning of their careers and I'll be the first to say that 13-year-old me was so jealous of everyone who attended. The week of visiting the Mall of America, One Direction made history when their debut album Up All Night made it to the Billboard Top 200 album charts, being the first UK group to hit number 1 with their first album. TwinCities also wrote a review on One Direction's Minneapolis stop during their On the Road Again Tour praising their performance in comparison to their 2013 Minneapolis stop and how well they did without Zayn.
So, What's Next?
As I'm writing this Day 15's clue has been revealed. I won't break that down here. It's up to you to figure it out or check back on my TikTok to see how I interpreted it. At the End of the Day, if I'm wrong about it being One Direction or if I'm right (which would be amazing), it's been fun being able to talk about my favourite boyband as if they were active. Especially being able to talk about this as an adult fan now with other Directioners and see how much the community can still bond, be hopeful, and enjoy what One Direction did for us.
I've been a fan of One Direction for over 10 years. I do not believe that a reunion announcement would be that easy to get. The band would come back in an unexpected way that causes shock and awe. I mean, after all, One Direction has always been for the dramatics in their performances, tour intro videos, and music videos. Regardless, a boyband is coming back and I'm excited to see what they plan to do in 2023 after putting together an engaging announcement campaign that turned us all into mini-Benoit Blancs (if you've not watched any of the Knives Out films, you need to do so).
Join me in playing detective to solve the greatest boyband mystery of all time. There is less than 12 hours to go until the big announcement is made.