The Boys Are Back: Get To Know Emblem3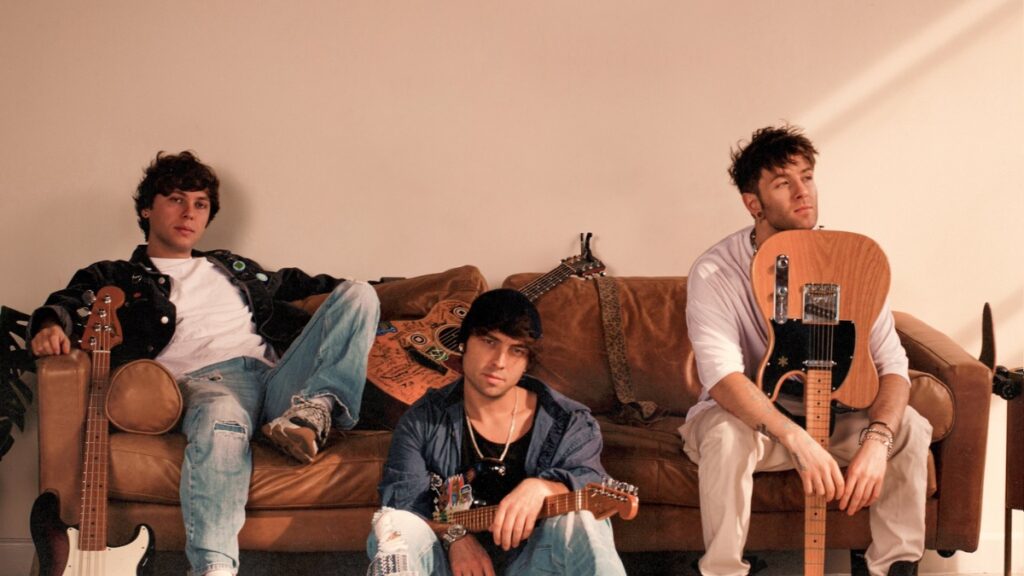 Doesn't everyone want to start off the new year with a bang? Many fans were on the edge from December 16th to January 2nd, 2023 to find out the results of which artist or band were returning. The anticipation for The Boys Are Back's marketing campaign, truly shattered the internet. Fans (like myself) had so many ideas on who it could be from *NSYNC, The Backstreet Boys, Why Don't We, and the one that really took the centre of speculations was One Direction. 
I know that I considered it to be One Direction with it maybe being a deep dive Easter Egg hunt while also giving possible answers on who else could be tied into the clues. It wasn't until the day 18, Monday, January 2nd, when the clues began to receive their answers within the final hour before the reveal, that I was able to see how right and wrong that I was in my theories. It was exciting to see the true reveal come closer and closer regardless of who it was going to be as the amount of effort, creativity, and intrigue for the promotion was incredibly entertaining and well executed. The Boys Are Back did its job of capturing attention using a fun method, spreading quickly via word of mouth, and sharing a common feeling of nostalgia of the past and what can come next for a band. 
     GET UP TO SPEED WITH The Boys Are Back: The Online Mystery of a Boyband's Return
The Big Reveal
What came next, surprised everyone. Right at 12 PM Pacific Time, I set up my phone to record myself opening up The Boys Are Back's website with a mixture of excitement and nerves in my stomach due to the unknown outcome. To my surprise – it wasn't the answer that I was expecting (you can see my reaction on my TikTok), but it was the one that I didn't know that I needed.
The big reveal resulted in Emblem3! I've not heard their music in years since Chloe (You're the One I Want) was released in 2013. I knew immediately that I needed to listen to their music after such an incredible way to make a comeback for their new album Songs from the Couch, Vol. 2. It wasn't the marketing strategy alone that made me want to listen to their music, but the way that their marketing strategy brought together community and their why behind it.
Emblem3 approached their return based on homage and honour of the legacies of renown boybands before them. Emblem3 are just like us, who enjoy reminiscing on the past of our favourite bands who have also inspired us in many different ways from wanting to work in the music industry in some capacity, go and create meaningful impact, and pursue our wildest dreams. The band put together this return in a way that carries a lot of intentionality on how they are aspiring to create their own legacy to be added on top of the past and present legacies left in the music industry.
Emblem3's return did something fascinating, it really did unite many fans together and created a community through the experience. In which the community should come together with the same enthusiasm given during the clue game towards pre-saving Emblem3's new album and uplifting their return. Those who haven't been so uplifting – that is a story for another day as they will not steal Emblem3's light here or any where else.
So, Who Are Emblem3? 
If you're like me and wanted to get to know more about the band, I have some great information for you. Let's call it the Emblem3 101 Starter Pack.
The band is made up of Drew Chadwick, Wesley Stromberg, and Keaton Stromberg. In 2012, Emblem3 audition in San Francisco for the 2nd season of the X-Factor singing their original song Sunset Blvd. Emblem3 made it through the judges' houses to perform on the live shows of their season of the X-Factor and were placed fourth overall after being eliminated.
After their time on the X-Factor, they were signed with Simon Cowell's label Syco Records and Columbia Records. Their debut album Nothing Left to Lose was released in July 2013 and the lead single from the album, Chole (You're the One I Want) was released in April 2013 which hit number 93 on the Billboard Hot 100. Emblem3 performed as Selena Gomez's opening acting during her Stars Dance Tour that started in August 2013 and then later in February 2014 headlines their first tour called #Bandlife. 
After the 1-year contract with Syco Music/Columbia Records ended, Emblem3 went independent resulting in their first EP titled Songs from the Couch, Vol. 1 in June 2014 being released. A little later of the release of the EP in June, Drew Chadwick announced that he was leaving the band to pursue as solo career. Keaton and Wesley went on to release their EP Forever Together a few months later in October 2014. 
Despite the band going their separate ways for a couple of years, they reunited in 2016 and released another EP, Waking Up. In April 2016, Emblem3 started on a new journey – a new tour, the Waking Up World Tour.
Emblem3 came across creative differences and conflicts with management, which is something that unfortunately happens way too often in the industry with talented bands and artists, took Emblem3 on another hiatus. However, all good things that are meant to shine must come at the right time, Emblem3 came back in 2021 with three singles Champagne Dreams, Eyes Wide Open, and So Proud.
Emblem3 is a band that takes their music and fans extremely seriously. The fans of the band have nothing but amazing things to say about their music, tours, and their interactions with Drew, Keaton, and Wesley. Which speaks loudly about the atmosphere of the community internally and externally. That only comes from a band that takes initiative and intention with their fans. The band did a special nudge at an inside joke between them and fans in the final day of The Boys Are Back. On the website now, right about the reveal button there is a hashtag that says #notaboyband.
This is significant – a small recognition to Emblem3's past as a band and with their fans – and now their future in 2023 onward. Emblem3 faced a similar issue that 5 Seconds of Summer faced and had to learn to not so much embrace, but combat the label of boyband versus boys in a band. Especially when they carry a skater boy attitude with a sound not of a boyband, which is traditionally pop, but a hybrid of alternative-pop, rap, and rock.. Resulting in Emblem3 and their fans cultivating the hashtag #notaboyband to push back on the narrative they were just a boyband when they are so much more.
Emblem3 holds their fans dearly and knows that their fans have been eagerly awaiting their return and finally getting Songs from the Couch, Vol. 2, after asking for it for years. It would be safe to say that Emblem3, does have the formula for meaningful fan engagement, which is impressive. That is not the only impressive thing that Emblem3 does, they have a few other tricks up their sleeves. Emblem3 writes, produces, and masters their own music. Making Emblem3 a triple threat and having a unique experience in their music career because they completely have control over it.
I don't know about you, but stanning Emblem3 sounds like one of the best choices you can make in 2023 to expand your playlists, fandoms, and bands/artists that you can support to aid in their growth. After I listened to them more over the past few days, I have realized Emblem3 has very high-quality music and is going to be a powerhouse in the music industry. Plus, they have a sound that I love and actually reminded me of the sounds and vibes that I tend to seek out that make me feel alive. Such sounds and vibes that I have heard from a few of my favourite artists like All Time Low, 5 Seconds of Summer, The 1975 (and others like them).
Songs That I Recommend
These songs have really stood out to me (so far) and helped me become hooked as a new fan. I believe that this mini playlist will also get you into Emblem3 and inspire you to check out more of their discography to get to know them. You will soon see why Emblem3 is #notaboyband.