5 Taylor Swift Fan Shops You NEED to Check Out This Week
It's no secret that Taylor Swift fans are a powerful force and that definitely includes fans who make their merchandise to show their support. In recent years, fan-made merch has taken off! From posters to earrings to reimagined album covers, there is most likely a fan shop with exactly what you want. Each product is thoughtfully created and is generally more affordable than the official artist's shop. Plus when you purchase from a fan shop, you're supporting a small business. It's a win-win!
These next few Etsy shops are run by Swifties just like you!
EKelleyDesign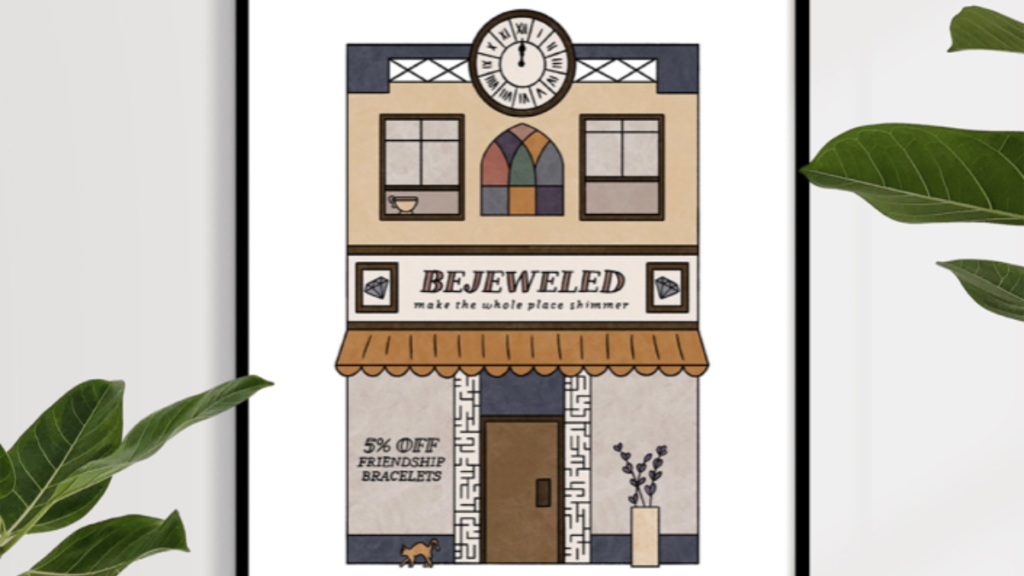 What started as a trend on TikTok quickly turned into a successful business with over 10,000 sales on Etsy alone. Two years ago, Emily Kelley posted a video with the caption, "Day 1 of illustrating every Taylor Swift song until I lose my mind" and the rest was history.
She has prints and stickers for each album as well as songs from the vault and singles not released with an album. Each design is her own interpretation of the lyrics. They are beautifully depicted in a minimalistic art style that is apparent throughout her shop. Each print can easily match any of the others available so you can feel free to mix and match albums and eras. 
There is also a collection of Taylor Swift's concert outfits. Each signature outfit is drawn in that same minimalistic style with the tour name and dates. There is truly a design for everyone and finding the details within the designs is the best part! Visit her site.
MarmaladeSandwiches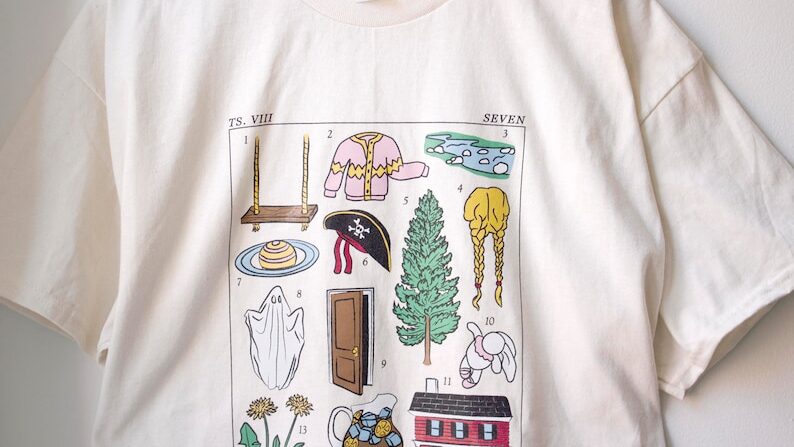 While this shop has a smaller selection in comparison to the others, that is not an excuse to pass this up! Marmalade Sandwiches has 24 unique designs inspired by Swift's albums. Each design is available as a shirt or sweatshirt, a poster, or a postcard. Their art style is incredibly unique. If you weren't a fan of Taylor Swift, you'd probably not even know this was fan merch! It includes specific details found throughout Swift's lyrics.
Marmalade Sandwiches combines pop culture trends with this elegant fairytale that Taylor Swift has created. One design depicts a music festival "live from Betty's Garden" and includes artists such as "James and the Cardigans" and "Inez Sayz." I absolutely love the creativity this shop shows! Visit their Etsy page.
TheAlphaLoft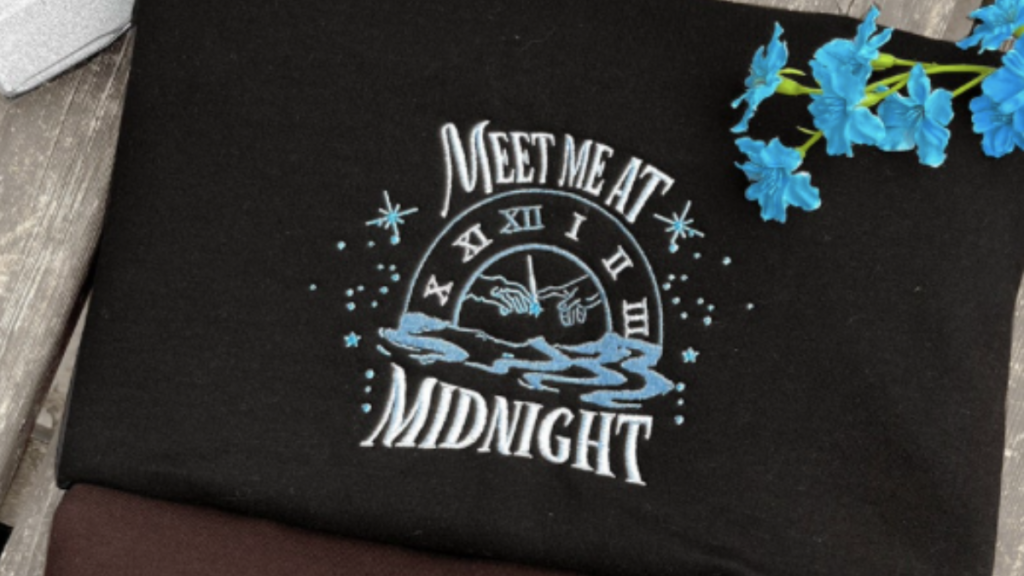 The Alpha Loft, based in London, has a multitude of sustainable, printable art! With over 3,500 sales on Etsy, The Alpha Loft has built their catalogue with more designs than just Taylor Swift. The owner describes it as everything "from 70s retro to fine line art." If that alone doesn't make you want to check out her products, I don't know what will. I have to restrain myself from purchasing the entire collection.
Her Taylor Swift collection includes designs from Folklore and Evermore as well as a few notable quotes from Miss Swift herself. Each illustration is a combination of simple linework with a pop of colour and lyrics from each song. It is the perfect way to decorate any room. Since each print is a digital download file, you don't have to pay for shipping and you can choose the size of the print you want once you receive the file. There is also an option in the shop to order a custom piece. So if your favourite song isn't available, chat with the artist and make it happen! Visit the Etsy page.
MoonandBearCo.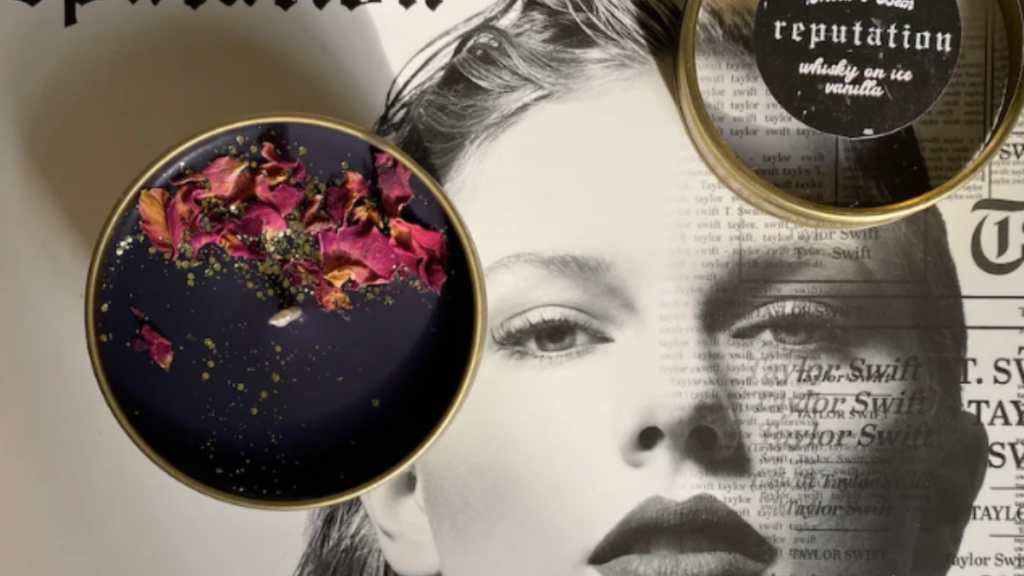 If you are looking for something different, Moon and Bear Co. is the shop for you! Based out of Brighton, United Kingdom, Elizabeth Wilson handmakes candles based on each Taylor Swift album. Each candle is unique in decoration with both biodegradable glitter and dried flower petals. The album aesthetics are perfectly captured, each with a different scent and design. There are two sizes available to purchase, small and regular for an affordable price.
Moon and Bear Co. also hand-makes and sells bracelets based on Taylor Swift's albums that pair perfectly with her other products. The bracelets are adjustable and consist of beads, gemstones, and the album title. Each product is carefully crafted and the perfect way to show your support for your favourite artist. Not to mention you are supporting an up-and-coming small business! Visit Elizabeth's shop.
TillieRo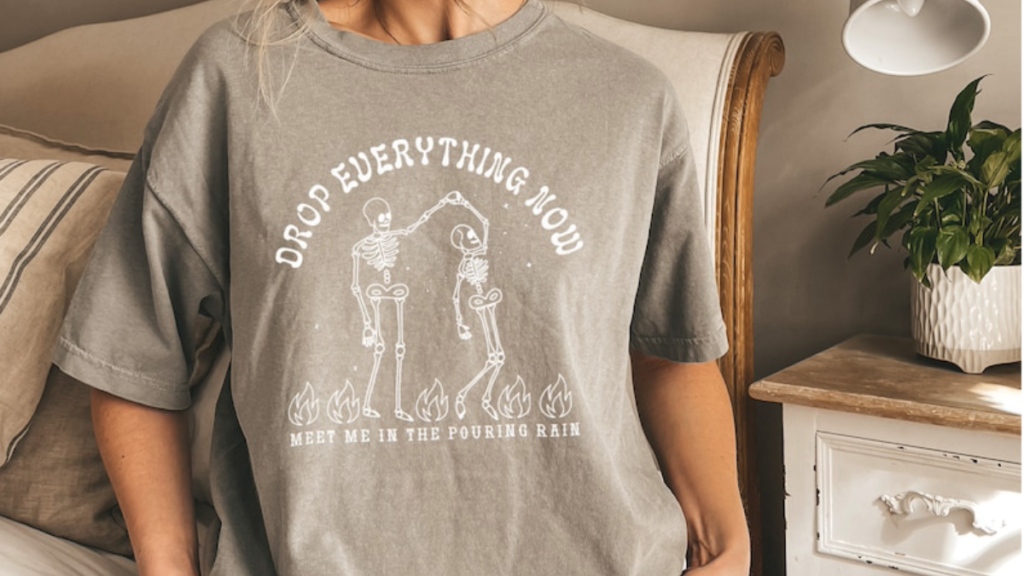 Our last fan shop is a trendy, made-to-order t-shirt and sweatshirt company based in Tampa, Florida. Rachel of TillieRo designs and heat presses her products. She has 15 different Taylor designs to choose from including everything from "You Belong With Me" to "August". They perfectly capture the overall aesthetic of Taylor Swift's sister albums Folklore and Evermore. 
Her designs combine popular styles with a simplistic art style each printed in a variety of colours that match any outfit. With 2,700 sales and many five-star reviews, TillieRo is definitely a shop to keep your eye on. I, for one, can't wait to get my hands on her "Fearless then, Fearless now" design!
Unisex size options are ranging from small to extra large with expanded sizes coming soon. Rachel includes washing and drying instructions in the description of each listing. But she will be happy to answer any questions one may have about her shop and products. Shop her Etsy.