"I Performed On Stage With Yungblud"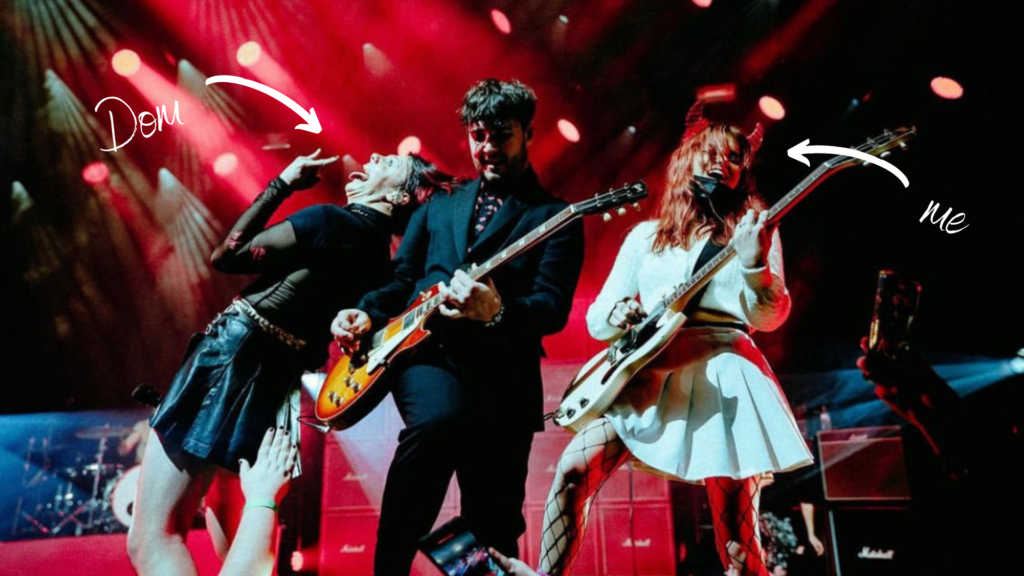 It's an opportunity not many fans will ever have the chance to experience. But for twenty-year-old Charlotte Ulman, her dreams came true at a Yungblud concert in Nashville.
Every fan has once imagined what it would be like to be pulled up on stage and stand shoulder to shoulder with someone you've idolised for weeks, months or even years. Thinking of that feeling, that view, that experience, is enough to send chills up your arms. And whilst for many it remains a fever dream, for a small few, it becomes a reality. That was the case for Charlotte Ulman, a Music Business student at Belmont University in Nashville, Tennessee.
Looking to one day work in the live events industry, it's no surprise to me that her passion for music and gigs is catalysed by her residency in Nashville. Musicians from across the world tour through Nashville because of its musical roots in the country, but where this story really comes together, is in her talents at playing guitar – something she shares freely across her social channels. That's actually how I first became acquainted with Charlotte. Her Tik Tok channel has amassed over 65,000 followers and 4.3 million views, where she injects a little punk rock energy into covers of huge pop hits – Yungblud included.
"I started playing the acoustic guitar when I was twelve. Then at thirteen, I picked up the electric because I realised all my favourite music was played on electric guitars. 13 year old Charlotte was a hardcore emo kid and I wanted to play my favourite bands such as My Chemical Romance and Fall Out Boy."
These influences still remain largely in place for Charlotte, who's love for Yungblud is reflected within his alternative/pop-punk roots. "Not only am I just a fan of his music, but I love the way he writes his lyrics and the way he isn't afraid to make weird – no pun intended – songs," she laughs. When I ask her what it is that she loves about Dom (Yungblud's real away from stage name), her response is one echoed by many. "I mean what do I not love about him to be honest," she starts – a statement that every fan has said one too many times during their fangirling careers.
"I will say that something that stands out to me about Dom, is how he interacts with the fans. He is constantly doing everything he can to connect with us and make sure we know he's there and he sees us." 
"I can't even count the amount of times during the height of lockdown where he would randomly pick fans and Skype them just to say hi and talk for a few minutes. What other artist does that? I also love how he talks about issues in the world and actively uses his platform for good. Especially when it's an issue that isn't directly affecting him, he still shows his support. I think that is super admirable and it also just generally helps whatever cause it may be because of the huge platform he has."
That notion is something felt largely across Yungblud's fan base. At shows, online, on Instagram and Twitter, they're often advocating for equality and individuality as expressed by their idol. And together they feel solace in being a part of such a safe and progressive community which has emerged as a result. Yungblud has provided many across the world with a secure place to be 100% and authentically themselves, and as we all know, almost anything goes at shows.
Not many attend shows planning on hopping on stage to play alongside their idol. Some dream of it, but few actually realise that dream. We've seen it before with artists like Coldplay, and more recently, in that trending viral video of two Japanese girls sat at the piano with Gaga. Sure, one was a little better than the other, but Yungblud (Dom) has openly said before how much he wishes to involve the crowd in whatever way possible at his shows. And with covid restrictions now lifting across the world, it was an opportunity that came knocking for Charlotte. 
"I Brought A Sign To The Gig That Was Literally Made Out Of The Top Of A Shoebox. It Read "Can I Play Fleabag On Guitar?"
"I'd had the idea for a while, but never really thought I was going to go through with it until about two hours before I had to leave for the show. My best friend Molly was sat in the room with me whilst getting ready and we were talking about me bringing it [the sign] and she finally convinced me to do it."
"Fast forward to right after Dom performs "Weird!", there's a little pause before Fleabag starts. I knew this was the last possible moment I had to put the sign up, so I held it up and prayed for the best. He walked over to the side I was on and didn't immediately acknowledge my sign. I thought he might have either not seen it or ignored it so I started to put it down. However, I guess it caught his eye for a split second because he looked at me and motioned with his finger for me to hold it back up."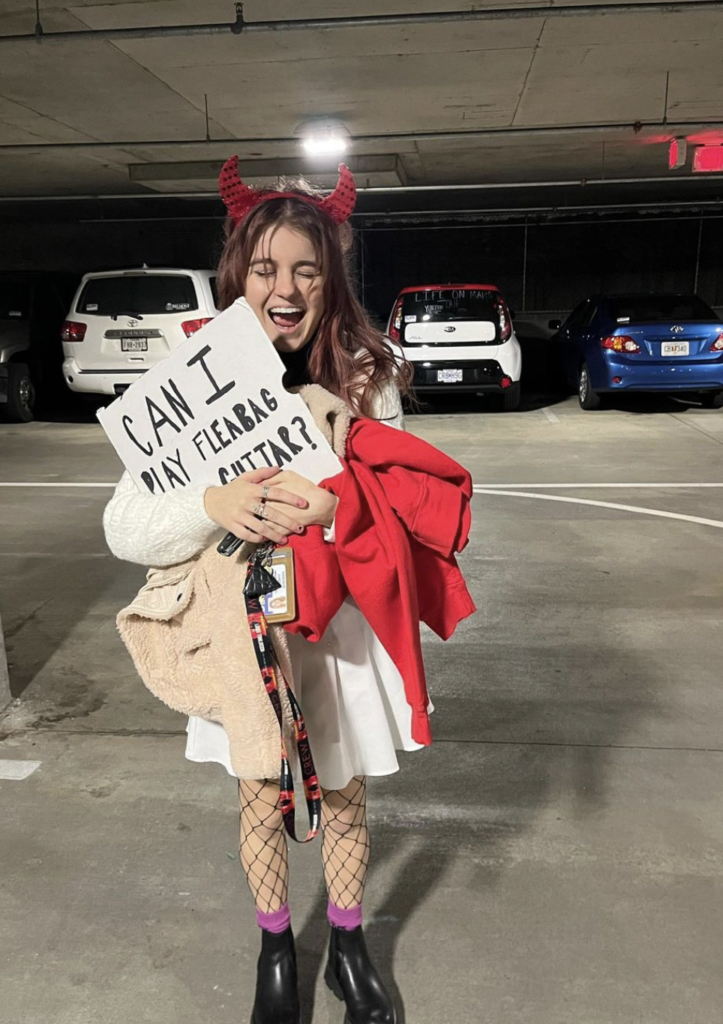 "My roommate, who I'd gone to the show with, had to hold the sign up again because I froze a bit. Dom then invited me to join him on the stage and gave me the best night of my life."
"It took me a few moments to take it in and realize what was actually happening, but it was just the absolute best feeling. I had never in a million years imagined I'd be on a stage with that many people in the crowd, let alone playing it with Dom!"
Charlotte begins to explain to me the significance of the Ryman in Nashville – a venue I regrettably didn't previously know much about.
This 2000-plus capacity venue in the heart of the city boasts a stage that has hosted some of music's biggest names including Beatles' Ringo Starr, Foo Fighters and Dolly Parton. 
It's legacy is huge within the American music scene; almost unsurprising given Nashville's proud musical heritage, and now, Charlotte can say that has played on that very same stage. 
"So many artists dream of playing that venue and I played it on a whim? It's absolutely crazy how it all worked out. I remember very vividly thinking about that at the very end when he walked me to the front and took my hand to bow. We came up after it, looked out and just took the whole crowd in. I could see literally every face in the room. That was such a surreal moment and I don't think I'll ever stop saying thank you to Dom for the whole experience."
As it goes with life in the digital era, this moment was captured on cameras right around the venue. From the first row on the floor floor to the stalls at the side of the room, Charlotte's performance was recorded and posted to social media. Gaining traction at a rapid rate, she couldn't believe the attention she received online over the following weeks. I had to ask her about this, as Dom shared one of her videos of the performance on Tik Tok, exposing her to an even wider audience.
Those videos, now with three million views combined were spreading to For You Pages across the globe. "My notifications were absolutely insane! I had to put my phone on do not disturb for a few days because it was vibrating literally every second with Twitter and Instagram notifications. Thank god I don't have Tik Tok notifications on because that probably would have broken my phone!"
She tells me that in the first four days that followed the performance, she gained over five thousand new followers on Tik Tok alone. "I'm lucky that the majority of it was positive and most of the comments I was getting on all platforms were supportive!"
She laughs when I ask her who her next target is when it comes to onstage performances.
"All of my friends were begging me to bring a similar sign to Louis Tomlinson, and honestly I would have loved to. But I had been camping out for hours beforehand because the Louis show was all general admission and I was way too exhausted. But hey who knows, maybe you'll see me on stage again with Dom! He said he's coming back to the States this fall so maybe I'll convince him to do a round two!"
As we come to the end of our chat, I have to ask her if she has any parting words to fellow fans who are wanting to follow the fan to industry professional pipeline.
"Just do it," she tells me with a smile. "It's as simple as that. I was always on the fence about bringing my sign to Yungblud and was seriously considering not bringing it all together, but oh my god am I so glad I brought it! You just have to go for it and not get discouraged if it doesn't work out. And with that, don't give up on it! When I was 14-15 I could have never even imagined where I would be now at 19."