Inside The Room: Lexy Styles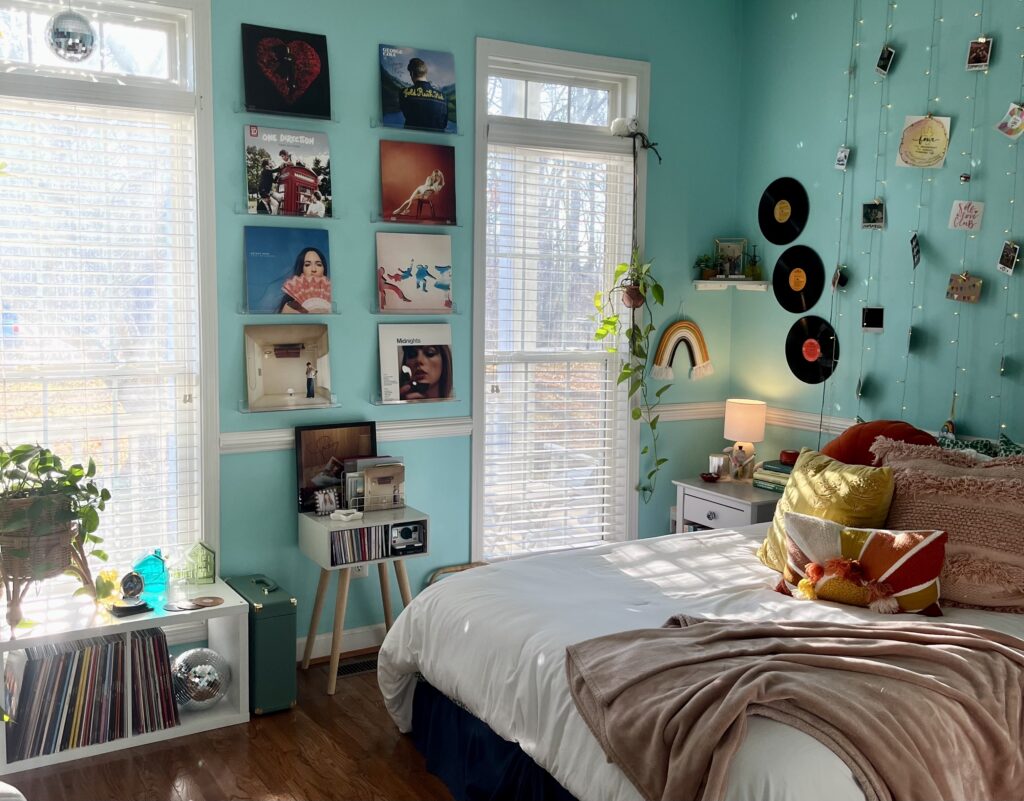 Inside The Room is That Fangirl Life's latest website feature, where we ask fans to share their spaces and show us some of the corners that make a fangirl's house, a home. This week, Lexy Jones, the incredible illustrator behind Lexy Styles talks us through her room, and how she injects her fangirl behaviours into every aspect of her space. Take it away Lexy!
Gallery Wall
By far the standout piece in my room is my gallery wall! I get asked how I made it every single day! I think the most important thing to keep in mind is that it did not happen overnight. I've been collecting pieces for nearly 5 years, so it's been a very gradual process. My biggest tip is to use a mounting putty that is removable and won't damage the wall or posters. This way you can change up the wall as much as you want while collecting items. Use anything you can on the gallery wall! Ticket stubs, prints, polaroids, CDs, posters, things you've made, magazine clippings, anything! You can find prints and polaroids on Etsy, print photos from Pinterest, and don't forget to look in vinyl and CD sleeves for cute lyric books, photos, and even posters!
My wall started very small and was mostly art I made myself and has expanded and changed so much over the last 5 years. Also, you don't have to limit yourself to one artist either. Go crazy and display anything you have from your favourite artists!
Display items that remind you of the artist
Keep your eye out at thrift or home stores for anything that reminds you of an artist! For example, I have several glass houses because they remind me of "Harry's House." Anything fruit-themed I purchase almost immediately for obvious reasons, and most of the stuff I find is under $5! Disco balls remind me of Taylor Swift so I have lots of those as well. You don't need to spend loads of money on official merch when there's plenty of fun décor around that gives a nod to an artist, album, or song lyric.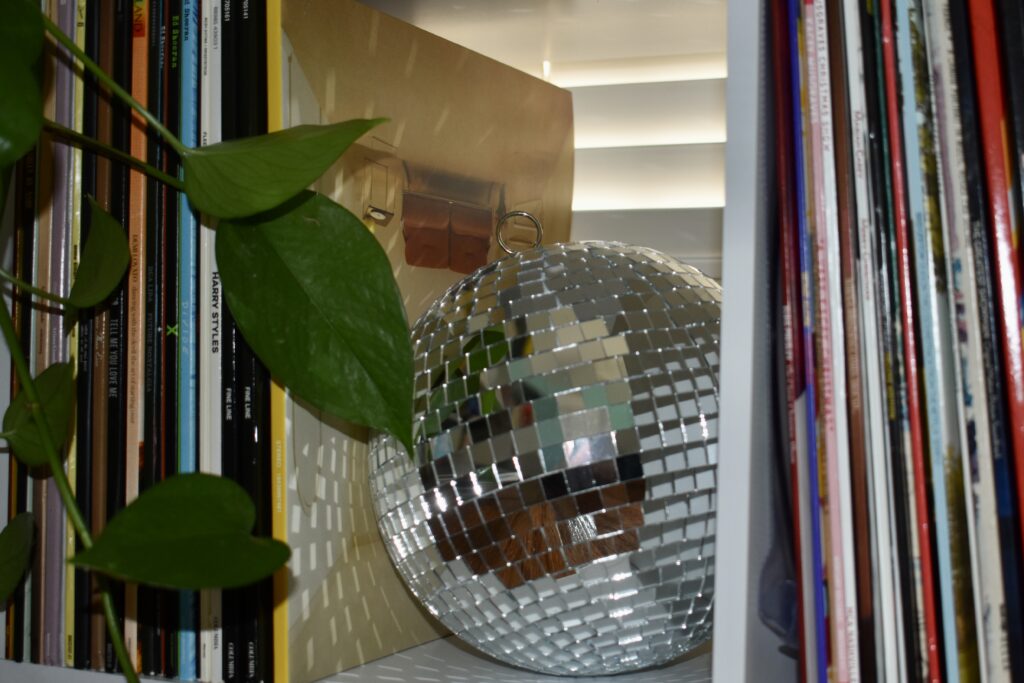 Vinyls and CDs
Another easy way to have a fangirl room is to show off your musical taste. Over the last 5 years, I've also been collecting vinyl and displaying them is one of my favourite parts of my room. I got some acrylic shelves on amazon for under $25 to display my favourite albums. I love this because you can constantly change them out to match the season, your fav artist that day, or even just change up the colour scheme. It takes up a large portion of the wall, so if you're looking for something to fill up space quickly, that's the best way! Another cheap and easy décor idea is to thrift vinyl records and stick them to the wall.
I've done this at the top of my gallery wall, and it was a great way to fill an awkward space. It's great because you can again pick whichever colours you want to match your vibe! But be careful to only use thrifted ones you won't play again, because sticking them to the wall will ruin them! At my local thrift store, they're less than $1 each!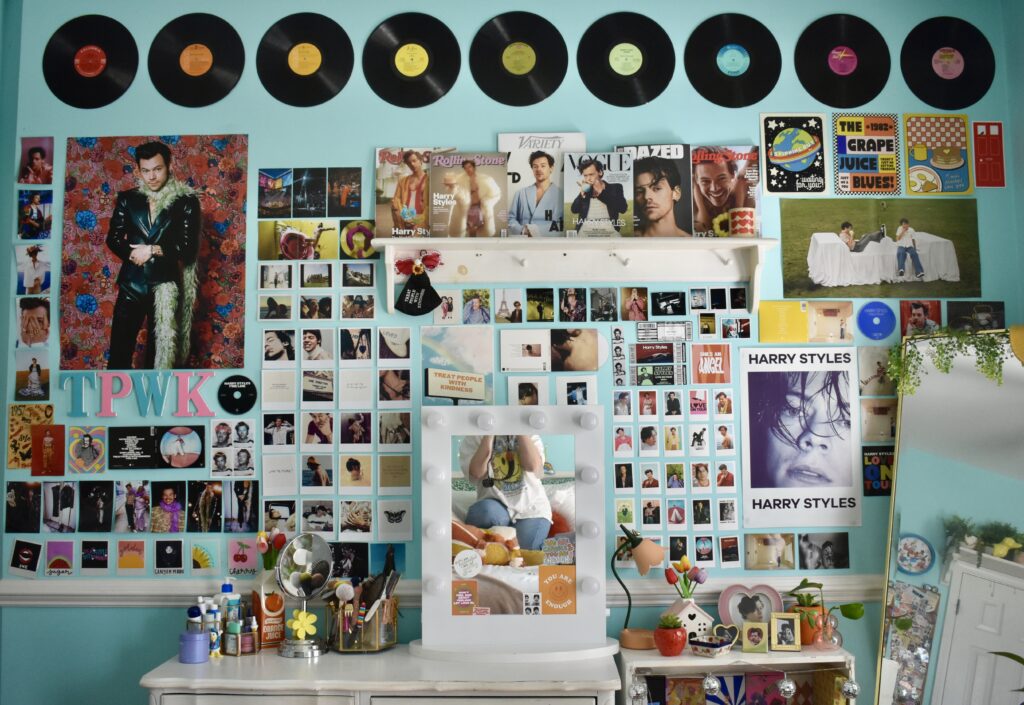 Personal Touches
I think one of the best ways to have a fangirl room is to add your own personal touches. Make your room as unique as possible with your own personal mix of artists. Add your own photos from shows, any concert memorabilia (save everything!), fan art made by you, etc. I have string lights behind my bed that are covered in pictures with friends, memories from shows and trips, and small concert memorabilia. This stuff would otherwise probably be sitting in a box under my bed and never be seen. And it doubles as my headboard!
DIY
Another great way to make your room unique is to do some DIY! Try making a collage of photos of your favourite artist or painting a canvas with your favourite lyric on it! There are so many fun ideas on Pinterest! A DIY that I love in my room is my sticker wall! I had a corkboard lying around that I didn't know what to do with, so I started collecting stickers! Over the last few years, I have covered the board with stickers (mostly relating to my favourite artists) and it makes the most fun piece of art ever that no one else will have! It was the easiest DIY ever, and my favourite part is that I can take the corkboard with me during any move, and I can keep the stickers forever! I used to never want to use stickers because I didn't want to waste them on notebooks or even laptops that you don't keep forever, so this was the perfect project for them!
Loved Lexy's Room? Take a snoop around the rest of it!
You can also take a read of our first instalment of the series where we explored Charlotte's home!