Festive Covers To Get You In The Christmas Spirit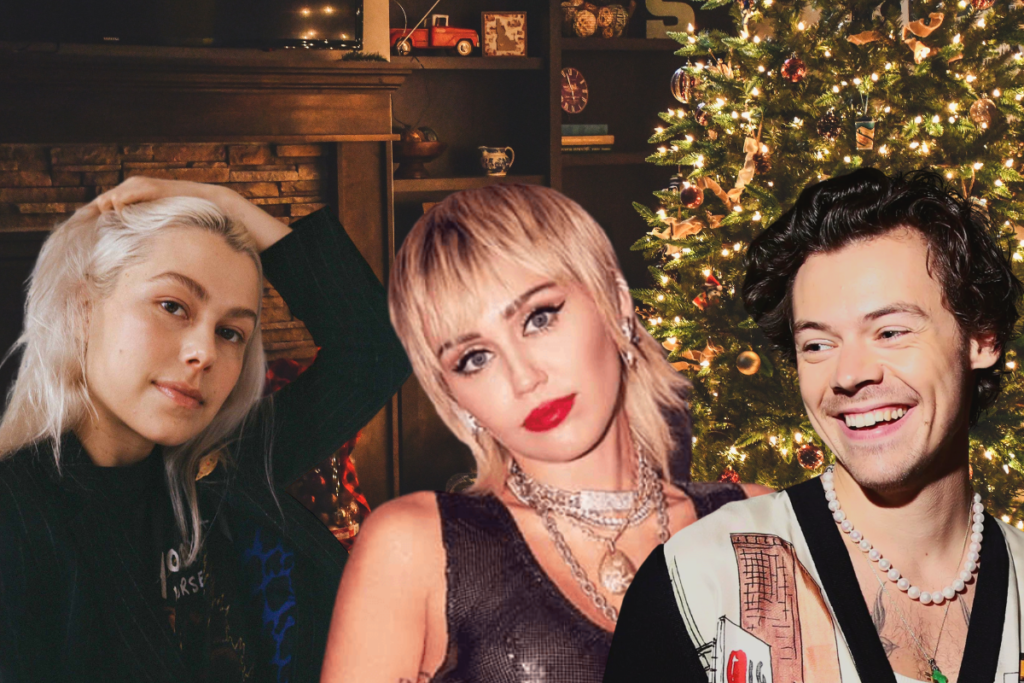 Temperatures are dropping, high streets are glittering with festive lights, and you can't walk five metres without hearing the dulcet tones of Michael Bublé. Christmas is well and truly on its way. Whether you're a certified Scrooge or festive fanatic, these cracking X-Mas covers will help you get into the spirit of things. 'Tis the season and all that.
Harry Styles – Wonderful Christmastime
I'm spending Christmas at Harry's house this year. In other words, I'll be dissociating in my bedroom with this cover blasting in my headphones for the next month. Harry took to the Radio One Live Lounge in 2020 to cover this Paul McCartney classic, and it's as sweet as a candy cane. He gets bonus points for the choirboy falsetto and adorable dance moves at the 2:15 mark.
Phoebe Bridgers ft. Matt Berninger and Fiona Apple – 7 O'Clock News / Silent Night
Who said sad girls can't be seasonal? Phoebe is joined by Matt Berninger of The National and singer-songwriter Fiona Apple on this haunting version of the classic carol, inspired by folk duo Simon and Garfunkel. Beneath the layers of fragile vocals and reverb-soaked guitar, Berninger reads out a 2019 news report, giving a glimpse into life under the Trump administration. With the recent news that he will be running for office again in 2024, it's a sombre yet powerful listen.
She & Him – The Christmas Waltz
If Bublé is the king of Christmas, then Zooey Deschanel may as well be the queen. When she isn't cuddling with Buddy The Elf (she played Jovie in the beloved 2003 film), Zooey can be found crooning with M. Ward, in their indie band She & Him. Her velvety voice was made for this song.
Carly Rae Jepsen – Last Christmas
Covering a Christmas song isn't easy. Artists have to put their own spin on an existing hit, whilst also capturing that nostalgic, festive vibe. It's safe to say that Canadian pop princess Carly Rae Jepsen nailed it with her cute and cosy cover of Wham's Last Christmas. She manages to maintain the '80s spirit of the original, with the addition of deliciously cheesy synth lines and saxophone riffs.
Kacey Musgraves – Have Yourself A Merry Little Christmas
In 2019, Kacey Musgraves blessed us all with her festive TV special 'The Kacey Musgraves Christmas Show'. The star-studded show featured guest appearances from celebs including Kendall Jenner, Troye Sivan and Lana Del Rey, and this cover was a true highlight. Her country-inspired rendition of Have Yourself A Merry Little Christmas will give you all the warm and fuzzy feelings.
Miley Cyrus, Mark Ronson ft. Sean Ono Lennon – Happy Xmas (War Is Over)
Happy Xmas (War is Over) has flooded the airwaves every December since its release in 1971, making it a certified crimbo classic. There have been countless covers of this moving protest song over the years, but this one is special. Although she joined forces with Mark Ronson and Sean Ono Lennon to create a seasonal supergroup, Miley Cyrus' gravelly voice is the star of the show. Whilst some lyrics were updated, she stayed true to the original message of the track, even wearing a sweater-vest paying homage to the anti-war billboard campaign that supported the song.
Destiny's Child – Carol of the Bells
There are few things more magical than the vocal harmonies of Destiny's Child. Whilst most people are familiar with their '8 Days of Christmas' R&B banger, this is a deep cut from their 2001 Christmas album of the same name. It's an acapella stunner that would make the Barden Bellas jealous. Although Bey's lead vocals are truly stunning, we can't help but feel a bit bad for Kelly and Michelle, who are relegated to the occasional "ding" and "dong".
Bright Eyes – Blue Christmas
Here's another one for the indie gals. Just like his Better Oblivion Community Centre bandmate Phoebe Bridgers, Conor Oberst's voice can make any song sound melancholic (in the best way). Between political spats at the dinner table and the sense of aching nostalgia associated with the big day, we can all agree that Christmas can be kind of sad. If you want to embrace that feeling, this is the perfect festive cover to put on and have a little weep too.
Sufjan Stevens – Joy To The World
Sufjan Stevens is basically Michael Bublé for girls with seasonal affective disorder and too many tote bags. This tender version of Joy To The World is truly magical—and if you like it, there's more where that came from. His 2006 album 'Songs for Christmas' has 42 songs on it (seriously). Get ready to gaze out of the bus window and feel like you're in a festive rom-com directed by Wes Anderson.
Ariana Grande and Mac Miller – Baby, It's Cold Outside
This festive cover was mysteriously uploaded to Ariana Grande's Youtube channel in 2012, but it never received an official release. A collaboration with the late rapper Mac Miller, it is an intimate version of the 1942 Christmas classic. The instrumentation is simple, with Wurlitzer-style electric piano lending a vintage feel. Ariana's delicate voice blends perfectly with Mac's legato drawl, and the lo-fi production gives the impression that you're listening in on a private moment between the two stars.
John Legend ft. Stevie Wonder – That's What Christmas Means To Me
It's an indisputable fact that John Legend has one of the dreamiest voices ever. So, when he teamed up with the legendary Stevie Wonder for this Christmas cover, it was a match made in festive heaven. Stevie plays harmonica on this track, a nod to his 1967 version of the old standard.
My Chemical Romance – All I Want For Christmas Is You
Emos, rejoice. You can also revel in the Christmas cheer. In this unlikely crossover episode, Gerard Way and the lads decided to put their own spin on one of the cheesiest Christmas tunes of all time. So, don your black eyeliner, Rudolph jumper and get ready to start a mosh pit at the X-Mas dinner table. It's what baby Jesus would have wanted!
And that's not all!
Still want more? Good job we've made a playlist of all of these AND more from some of your favourite artists!