The Fashion Evolution of Harry Styles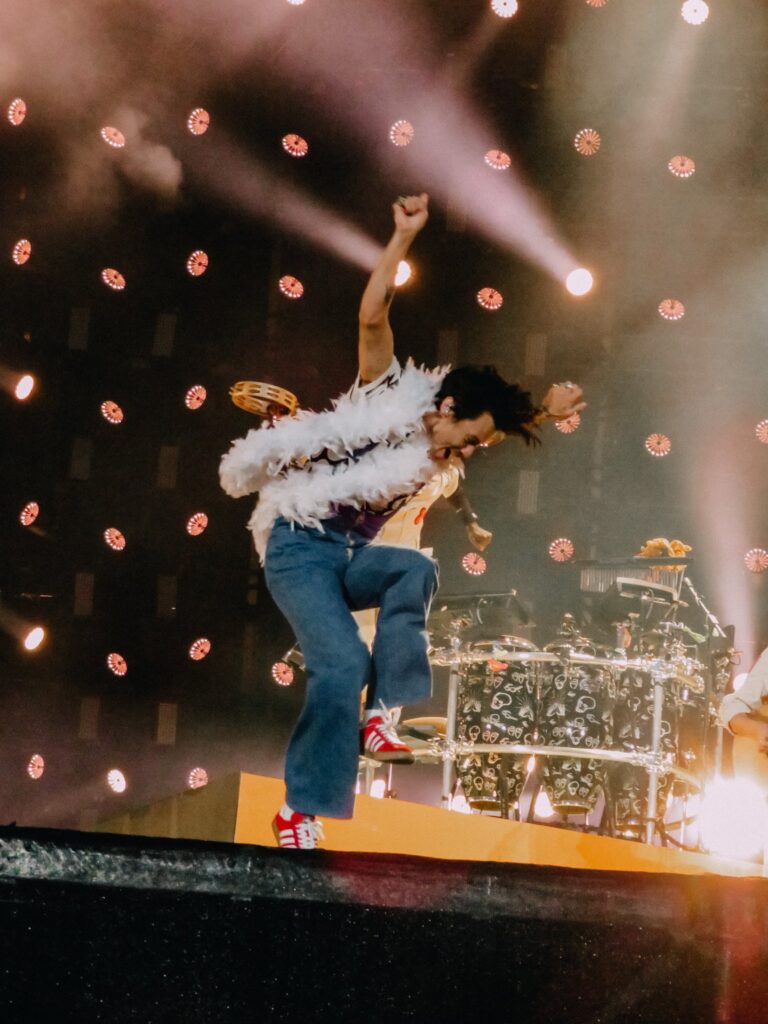 "It's like anything — anytime you're putting barriers up in your own life, you're just limiting yourself. There's so much joy to be had in playing with clothes…"
The relationship between music and style is a well-documented phenomenon. For decades, musicians have used clothing as an accompanying gesture for their creative projects. Artists, both male and female, have pushed boundaries, brought rise to new trends, and often caused controversy in their journeys of stylistic expression. And a man no stranger to this concept is teen-heartthrob turned trendsetter, Mr Harry Styles. His decade-long journey to style-icon status has not been all that straight forward. A search of his name on Google Images reveals his Met Gala, Tour, Fine Line and Vogue looks amongst the top ten visible results, but this hasn't always been the way. A similar search from One Direction's time on X Factor shows the boys in chinos, beanies and ill-fitted plaid shirts – not exactly the ground-breaking, boundary-pushing style we are now so familiar with.
But in the years that have followed since the hiatus of One Direction, Styles has cemented himself as a bit of a fashion revolutionary. By closing the book on this chapter of his life, he looked to the future and identified a concept that allowed him to express himself freely. For this admission, Styles' name holds a witty form of irony. Not in the way that his stylistic choices are questionable; in fact, it's quite the opposite. These decisions are formulaic, multifaceted in their inception. They're ones that permeate wider culture in a similar way to that of legendary icons that have gone before, think Bowie and Prince. Experimenting with textures and details, colours and cuts, no garment is off-limits for Styles and his team.
There's plenty to unpack in the looks that have defined an era for the mainstream media, and even more to be said on how celebrity status can break the mould of traditional, gender norms – something which Styles does completely unapologetically. But in order to understand the significance of some of his most recent looks, it's important to recognise the journey that led him here.
Arriving at X-Factor aged just sixteen, the Styles we met then could not be any further from the version we know today. It was here where we caught our first glimpse of the future fashion matriarch, not that we could have guessed based on the casual teen look he donned for his live audition. This look now, is like a time capsule from the early 2010s. The scarf, brown trousers, grey cardigan and wrist full of accessories encapsulate British Highstreet fashion throughout the early half of the decade, with stores like River Island, Topman and Hollister leading the way for affordable men's fashion. It was sweet and refreshing to see a young person who hadn't raided their parent's wardrobe in order to curate a unique look (here, we refer to Liam Payne's 2008 audition). Instead, the time capsule look chosen by Harry worked largely in his favour. The boy-next-door look won the affection of girls across the country, captivating audiences both young and old, and lined Harry up for the next step in his career.
Moving forward to the beginnings of One Direction as a band and as their journey on the show continued, we saw the makings of the new boyband era. Following the hallmarks of bands gone before, their styles were curated to successfully market the group to their audience of pre-teen girls, and for a manufactured group, their look was equally as artificial. Between the last major wave of boybands and the early years of One Direction, very few groups had come to successfully resume the positions left by the likes of Take That and Backstreet Boys. The market yearned for another corporate machine, and One Direction arrived at just the perfect time. The one-size-fits-all formula generated the response that industry moguls had been waiting for yet left the band susceptible to the questionable stylistic choices made throughout their time on the show. Nowhere was this more visible, than on a Sunday evening results show. When awaiting their fate under the stage lights of Fountain Studios, the group looked like a catastrophic albeit cohesive ensemble. Garments matched each other in an odd, early 10s sort of way – one which to the present eye, looks completely and utterly contrived.
And upon reflection, it's hard to comprehend how scarves and cardigans translated into the fashion-forward Styles we are so familiar with today. The stark differences between Harry in 2010 and Harry in 2021 are astonishing – not even puberty can be held accountable for this transformation. Somewhere along the line, something major happened, and the outcome pitted Styles as a major fashion icon.
Throughout the Up All Night era between 2011 and 2012, we saw the continuation of their manufactured boyband look. The carefully curated styles differentiated each member just enough that they had their own character, whilst remaining cohesive and united. Louis became synonymous with striped tops and suspenders, whilst Niall's identifiable look was a vibrant polo shirt – most commonly a pillar box Red. For Harry however, this was a key era in his fashion evolution so far. For their performances and whilst out on tour, his unform was a blazer and jean combo – a look which managed to survive several years of renewed styling as the band progressed in their career. In that time, his fellow bandmates had disassociated themselves from their earlier, more contrived styles and rolled with the punches as their stylist team continually re-created their looks. In Styles' case, traditionally masculine looks remained firm fixtures right through to the very end –appealing to the masses and ultimately complying with the stereotypical gender norms that dictated life in the spotlight.
Discussions relating to Styles and his fashion raise one, somewhat sensitive subject. Since the early days of One Direction, there has loomed a conspiracy that has managed to permeate all realms of wider popular culture. It is a subject that has divided the fan community and continues to do so over a decade later. This is in relation to gender and sexuality, and the conspiracy that himself and bandmate Louis were once in a romantic relationship. During the height of One Direction's success and as has previously been touched upon, Styles' look followed a largely heteronormative path. Frequently dressed in band-tees, skinny jeans, trainers and hoodies, the looks pulled by his stylists followed conventional gender norms. Similarly, to the wider conspiracy of their relationship, fans have gathered to suggest that it was perhaps a conscious decision in order to dull-down the ever-spiralling rumours. Whilst this theory has never been disproved or otherwise, it certainly makes for interesting thought and consideration.
The use of clothing to express your feelings surrounding gender and sexuality is not uncommon. The labels used to dictate what is traditionally masculine or feminine are becoming progressively outdated within today's modern world, particularly amongst the younger generations where Styles' fan base predominantly lies. The relationship between fashion and gender is longstanding, and prevalence within the arts is too. The seventies decade, in particular, presented many examples of how style can be used in such an expressive manner. The glam-rock movement in music illustrated that gender could be performative – that you could communicate messages pertaining to gender and sexuality as blatantly covertly as desired. For icons such as Bowie and Elton John, this revelation became a defining element to their art. In this way, the then underground LGBT movement was exposed to the wider mainstream, and such tropes became adopted into that.
The appearance and adoption of certain cuts and styles, colours and silhouettes signified a real change in terms of gender and subcultural studies. Their adoption into the mainstream by some of music's most legendary artists brought light to a world previously considered taboo. Without the founding fathers, the likes of Freddie Mercury, David Bowie, and Prince, we may not have established the positive relationship we now know between music, gender, and style. In that sense, Styles' evolution forty years on could have been completely and uniquely different if it were not for such progressive musical icons.
Speaking in an interview with French fashion magazine, L'Officiel, he spoke candidly on the subject of gender and its relevance within modern society. "Many borders are falling – in fashion, but also in music, films and art… I don't think people are still looking for this gender differentiation. Even if the masculine and feminine exist, their limits are the subject of a game. We no longer need to be this or that."
In the clothing that he chooses to wear, Styles reinforces that very statement. His sometimes genderless, often androgynous style holds greater social significance than simply within the worlds of GQ and Vogue. As a prominent figure in the spotlight, he has become a leading light for many within the LGBTQ+ communities, as well as for those of us simply looking to re-write the rule book. The statement that fashion can be used expressively is not anything new to the complex book of gender studies but seeing this admission so freely within the mainstream is.
Presenting attitudes relating to gender studies and socio-cultural narratives, he brings this sometimes difficult subject to a wider and more receptive audience. Clothing has become a form of self-expression that can be completely tailored to each unique individual. In the decade that Styles has been thrusted into the limelight, we've seen the evolution of his character, his personality and arguably his sexuality, before our very eyes. To see that transformation occur within such a public realm is a pleasure. To be allowed to witness this exploration of character is a privilege and is something that many simply refuse to do. Conversations surrounding gender in the twenty-first century are more welcomed now than ever before – but that doesn't mean that Styles is able to completely avoid public ridicule. 
Arguably the major turning point in Harry's fashion evolution, was the appearance at the 2015 American Music Awards. Prior to this, he was the poster-boy sex-symbol that could drive such a band to success and had formerly been dressed to suit. We'd only witnessed him as a rock and roll star, or the overly commercialised teenager who followed the guidance of his advisers. But at the American Music Awards, we caught a glimpse of this first and foundational shift. Dressed by Harry Lambert, the man now behind many of Styles' signature and iconic looks, it showcased Harry's new and futuristic era. His look was one that raised eyebrows – the floral cream Gucci suit broke the mould of contemporary awards-night style, and caused Harry to stand-out alongside his traditionally-dressed bandmates.
This appearance sparked widespread discussion and was the first time Styles had faced such ridicule. In an interview with digital publisher Coveteur, Lambert reflected on the criticisms which came following this appearance: 
To the present eye, this look was rather tame when comparing it to some of the more flamboyant styles offered within the last year specifically. This appearance allowed Harry to dip his toe into the water – to unlock a path that would allow him to explore fashion more freely as the band wound down for their imminent hiatus. Styles and Lambert had managed to strike an appeasing yet provocative balance. By still conforming to traditional societal expectations by arriving in a suit, it offered more leeway which allowed them to experiment with pattern and colour. This was a move that remained throughout the band's remaining days leading up to their hiatus, and well into the early era of Harry's career as a solo artist.
As One Direction came to the end of their formidable pop-chart rein, their final live performance on X-Factor showed the band in a rarely seen stylistic light. In outfits tied together by the hint of blushed red present in Louis' rolled sleeve and Liam's velvet jacket, the foursome looked more cohesive than they had at the earlier American Music Awards. With images of their journey playing out on the large screen behind them, we were reminded of the careers that had occurred before our very eyes. These looks on their own were a sharp token of how each member had undergone a complete character overhaul within their short-five-year career, leaving behind the era of onesies and Jack Wills hoodies. But for Harry in particular, this shift was an indication of the style evolution he was perhaps knowingly about to embark on, foregoing the traditional boyband look and instead adopting the high-class luxury style we now associate him with.
A few months later and as the dust began to settle on the hiatus of the decade's most infamous boyband, Styles had the opportunity to truly reinvent himself. No longer tied to tireless contracts and industry dictated tropes, this was to be the beginning of Harry Styles – the performer. Waving goodbye to the signature long locks and baby-faced image that contributed to his stratospheric fame, this was it. Guided once again by stylist Harry Lambert, the pair embarked on this controlled segway largely behind closed doors. Designers and fashion houses were onboarded – Yves Saint Laurant, Harris Reed, Marc Jacobs and of course, staple Gucci. Working with a myriad of legendary designers, Styles and Lambert were able to curate an artistic independence that allowed Harry to rewrite the rulebook of traditional pop-star style. This independence, as discussed by gender-fluid designer, Harris Reed, is truly unique within the mainstream. Speaking on his first meeting with Styles, Reed said:
"I'm a gender-fluid designer. This community is very important to me, and I really want to make a global change in how we look at acceptance and fluidity,' and he really understood that, and I think what was so beautiful is that he really, really wanted to support the message that I stood for, of acceptance and fluidity, as much as he possibly could." [GQ]
Free from the confines of the One Direction machine, Harry was able to separate himself from former boyband trope and explore his identity through style. What emerged was a selection of extravagant yet tasteful looks, and ones which his taste-making ancestors would be proud of. Sharply tailored suits, embellished jackets, vibrant flared trousers and more often than not, button-up shirts replaced the former skinny-jean ritual. His style was more expressive, more characterful, and ultimately, more flamboyant. And this transition was one wholeheartedly accepted by fans. The HS1 era remains largely idolised and reminisced by fans, for it was the first real period where Styles had broken away from the mould of the marketing machine.
The floral suits which had become staples in his new wardrobe remained front and centre of tour discussions. Following his performance at Madison Square Garden in 2018, Rolling Stone described his style as the "ultimate fusion of Mick Jagger's yin and Paul McCartney's yang – that mix of the Stonesy flamboyant rogue and the Beatles-y romantic charmer." In essence, this statement summarises the charming aesthetic curated for the first era in Styles' solo career. The floral elements and tailored suits were the HS1 era, capturing the hearts and minds of his audience whilst continuing to shroud him in mystery as he pranced about on stage with pride flags.
When the HS1 era drew to a close as the imminent launch of Fine Line loomed in the distance, Harry began to speak more about how he was once again, redefining his look. Questions surrounding his sexuality continued to fly around but were only met with a similarly ambiguous response. It's a topic that Styles continues to surreptitiously dodge – not because he doesn't want to answer the question, as he once revealed in an interview with The Guardian, but rather because there is no response. "It's not like I'm sitting on an answer. It's: who cares? Does that make sense? It's just: who cares?"
It's this very sentiment of refusal to be placed into a box that defines the present Fine Line era. And perhaps, the one thing that fans and commentators care about more than his guarded sexuality, is the imagery that comes with each new release. Fine Line, the album, has delivered some of recent history's most fluid and eccentric looks – ones which have birthed discussions on gender fluidity more so than in any earlier era.
Prior to the release of Fine Line, or, for that matter, any real mention of new musical material, Styles appeared at the 2019 Met Gala in a look that truly shook the media. Of course, the Met Gala is renowned for its forward-thinking and extravagant looks – fashion houses collaborate with attendees to create some the most exuberant looks witnessed on red-carpets each year. That is the excitement of this hotly anticipated event. But Styles' appearance in the sheer black ensemble set the bar for the next era in his career. The days of statement suits were beginning to fade into a somewhat distant memory as the world's media lapped up this creatively expressive statement. In an interview with Vogue following the appearance, Lambert explained the concept behind the Met Look, "After such a colourful tour wardrobe it is nice to do something a little unexpected. This look is about taking traditionally feminine elements like the frills, heeled boots, sheer fabric and the pearl earring, but then rephrasing them as masculine pieces set against the high-waisted tailored trousers and his tattoos. The look, I feel, is elegant. It's camp, but still Harry."
Fed stylistic breadcrumbs in the lead up to the album's launch in December of that year, fans feasted on the snippets they were given. Imagery from the album remains one of the most heavily discussed eras of his fashion and style evolution. 'Pilgrim Harry' as it has affectionately been dubbed by fans is one of the most bizarre looks from the album. Wearing items loaned from the National Theatre, it's certainly a look designed for its artistic merit rather than anything else. The outfits created for Fine Line's imagery are a far cry from the heavily tailored looks of HS1. The only vague similarity between these two eras is the wide-legged trousers which feature on the album's cover art. It is there, where the similarities between HS1 and HS2 lie. From that point onward, even within its musicality, Fine Line performs as a vehicle for expression and experimentation more so than Styles' earlier release.
With Lambert and Styles having worked together since 2015, the two have built a mutual understanding. "Harry has always been keen to experiment with fashion and is never scared to try something new… It has been a natural progression of experimentation that has led up to the look and where we are today," Lambert mentioned in an interview with Vogue last year. The Fine Line era in terms of album and video imagery really adopts some of the more flamboyant and nostalgic looks. To consider where tour outfits would lie on this spectrum is simply and sadly, wasted energy.
In terms of flamboyance, however, Harry's 2020 Brit Awards trio remains one of the quirkiest statements of his career so far. Arriving in a considerably more casual brown Gucci suit paired with a purple woollen sweater, dainty white collared shirt and pearl necklace, the look was suitably Styles, yet not as formal as many had first anticipated. The concepts behind each of these three looks completely contradict each other. His red-carpet look whilst pleasant, was a somewhat safe choice, given the bold statements he had previously made at events like the Met Gala. However, as the evening unfolded, our cravings for fluidity and extravagance were indulged. In an interview with Harry Lambert, he said that the evening's three looks tied together Styles' revolutionary loose ends. "We've never been afraid to experiment with silhouette, and tonight is no exception," Lambert said later in that interview. Here, he was referring to the lace Gucci jumpsuit worn for the performance of Falling. Nodding to icons such as the late Princess Diana of Wales, this dainty look was just a slither of the feminine aesthetic that he continues to incorporate within his wider wardrobe. But the vibrant marigold Marc Jacobs suit and complimentary purple neckerchief would seal the avant-garde style deal. Taking the androgynous womenswear suit and donning it so effortlessly at an event as public as the Brit Awards, was perhaps the boldest statement of all. Rivalling the Met look in terms of its approach to gender fluidity, this admission reinforced all of the earlier statements made within Fine Line. When singing of sharing tastes in fan-favourite 'Cherry', he truly meant his word: "There's a piece of you in how I dress, take it as a compliment…"
In December of that year, Styles made perhaps his boldest fashion statement to date. Appearing on the cover of Vogue and securing the title of the publication's first male cover star, Alessando Michele's controversial blue Gucci gown, the appearance drew large criticisms for its portrayal of gender fluidity in the mainstream. But as has previously been demonstrated by many of Styles' most significant looks, flamboyance is a trait that he carries incredibly well – some would say effortlessly. The appearance in the dusky blue gown would have made plenty a statement on its own; yet coupled with the black tuxedo and selection of chunky rings, it once again referred to the androgynous style that both Alessando and Harry have so famously carried off before. Vogue's coverage of Styles entirely pushed the boundaries of traditional mainstream fashion, high class or otherwise. Never before had the publication pushed such fluidity towards its audience, regardless of the former trends that had littered the shows of Fashion Week.
Whilst for some, this appearance came as a shock, this isn't the first time a significant male artist has blurred the lines of traditional hegemonic fashion. In 1970, David Bowie donned a blue, calf-length Michael Fish gown on the alternate cover of the album, The Man Who Sold The World. Later, in 1984, Queen dressed as women for their infamous 'I Want To Break Free' music video, drawing such attention that it was pulled from the MTV network in the US. Styles was no pioneer in incorporating traditionally female garments into his collection, but he certainly raised eyebrows industry-wide by doing so.
Along a similar vein, the 2021 Grammys offered Styles yet another platform to explore his androgynous sense of style. Opening the show with a performance of Watermelon Sugar, Styles was already front and centre for the evening's online discussions. The black leather jacket and matching trousers were a statement on their own accord. Topless beneath the jacket, the infamous green feather boa offered slight coverage for the short time it remained part of the look, only to be stripped mid-performance. As is normally the case and in true Harry fashion, his flamboyant look sparked widespread appreciation from fans, observers and critics, overshadowing the performance element of his feature entirely. Fans relished in the exposed torso and leather-clad look that indicated a move away from the quirky styles synonymous with HS2. But in analysing his signature looks, there's a running trend that lurks beneath the surface – there's always a tale behind them and a rationale behind each iconic look. This performance look, in particular, was, as Lambert described it, "a sort of full stop after the promotion of the 'Fine Line' album campaign" [Vogue], indicating a new era for HS3 and beyond.
Harry's fashion evolution over the last decade reflects a journey of personal development and self-acceptance. Now rarely seen in anything other than designer labels, it's a far cry from the High Street-seized teenager who arrived at the doors of stardom aged just sixteen. But the evolution of Harry Styles' image is more significant many may initially believe. It has occurred at a time when major social and cultural shifts have unfolded before our very eyes. Had Styles auditioned in 2010 in a floral-print suit (designer or otherwise), he would have been ridiculed from top to the bottom. And, as demonstrated by their appearance at the AMA's, it was even questioned as recently as 2015. In 2022 however, acceptance of androgyny, self-expression and gender fluidity is more widely welcomed by the millennial/gen-z cohorts – a societal progression that pinpoints Harry Styles as a significant social figure. Spearheading a movement encouraging others to treat people with kindness, his motives and impression on popular culture may well become defining for an entire youth generation. 
Harry Styles' fashion evolution is one for the ages, and one which will leave a legacy for generations to come.