An In-Depth Look Into The Evolution Of Zayn Malik's Hair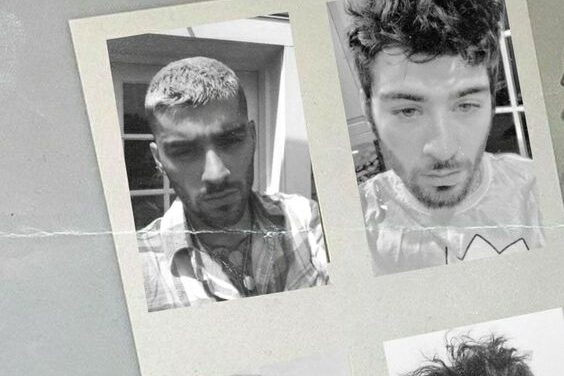 Though all the boys in One Direction have experimented with different hairstyles and lengths over the years, only one member has ever been bold enough to test out a wide range of different colours and styles too. Zayn Malik, the style chameleon of the group, has undergone rapid changes in his do's over the years. From icy blue short hair to quaffed pink, he's slowly made his way through the entire colour chart in an array of wondrous hairstyles. Here, we'll look back at the evolution of his hair, from the early fetus days to the prince hair and everything beyond.
Fetus Zayn
In the early days of the band, Zayn was usually seen rocking a bouffant hair do, slicked back with endless hairspray and shine. A safe choice for the budding boybander.
Cinnamon Swirl
In the first inkling of his preference for stepping outside of the boundaries when it came to his hair, Zayn debuted his new hairstyle at the BBC Radio 1 Teen Awards in late 2012. A swirl of caramel blond on the front of the bouffant, marking his first daring style.
Short and Spiky
For the majority of 2013, Zayn settled for a shorter, spikier hairstyle whilst on tour. This can be seen at the London premiere of This Is Us, where the soft spikes paired well with his stubble.
Short Back and Sides
In early 2014, Zayn rocked a very gentlemanly quaffed hair with shaved back and sides, as seen in the You and I video.
Prince Hair
In the back end of 2014, Zayn grew his luscious raven locks out to just above shoulder length, and boy, did he look great. Styling it swept to the side, pushed back with a headband or worn in a middle parting, as seen at the Royal Variety Performance, the long hair suited him immensely and provided a step away from the shorter style he'd become accustomed to.
The Loose Strand
Yes, this one hairstyle gets its own section, purely for managing to melt down twitter and get an entire segment on Graham Norton about it. At the 2014 AMA's, Zayn's long hair was slicked back with just one strand pulled to the front over his forehead, a la Elvis Presley, providing one of the greatest hairstyles in One Direction history. May the loose strand live on forever.
Man Bun
To kick off 2015, Zayn shaved the sides of his head and left the top long, often pulling the hair into a small bun whilst on stage, another moment of him moving further away from the typical boyband image.
Long Side Part
In the weeks before leaving the band, Zayn would be seen on stage sweeping his long hair over to one side, showcasing the shaved side and looking wonderful with it.
Buzzcut
Zayn stepped out with his head completely shaved for the 2015 Asian Awards in April, signifying the new chapter of his life after leaving the band. A way to loudly pronounce that he was taking back control over his own life.
Green and Shaved.
Not long after that, he was spotted rocking a dyed green buzzcut, in a shade similar to that of the hulk himself, truly setting himself apart from the safe styles he'd pipped for in the band. This seemed to be the awakening of his love affair with colour experimentation.
Blonde and Shaved.
Similar to the green, but this time an icy blonde shade for the buzzcut—one he debuted at the Louis Vuitton Menswear spring/summer 2016 show in Paris.
Blonde Quiff
Around the end of December 2015, Zayn showcased a new longer style, akin to that of his days in the band, but dyed an icy shade of blonde. This style would then later be seen in the video for his first ever single, 'Pillowtalk', placing the style into the history books forever.
Bouffant Pink
In another experimentation with colour, Zayn rocked up to the 2016 Grammy's with a faded-out pink adorning the ends of his hair, in a very 'erect' styled quiff—anyone else see the inside joke there? No?
Glossy Mane
After going through another buzzcut phase, Zayn showed up to a red carpet event in September 2016 with shiny, short locks and a long beard to match—the longest he'd ever worn it at that point—looking ruggedly handsome.
Waves
Forgoing the bouffant or quaffed style that became Zayn's second nature, he went for tousled waves for the 2017 Pre-Grammy Gala, the hair naturally falling into a middle parting and looking as effortless as ever.
Bald
In possibly the oddest—and funniest (sorry Zayn)—hairstyle on the list, it's one that involves no hair at all. Citing the damage constant bleaching and styling had done to his tresses, Zayn was pictured completely bald in late 2017, allowing him the time to grow back his hair healthier and more luscious than ever.
Icy Blonde Hair and Beard
In March 2018, Zayn was spotted with his most adventurous look yet, sporting both his hair and beard dyed an icy blonde shade he'd rocked before. Though short lived, it was extremely eye catching and gave strong Marvel villain vibes.
The Summer of Colour
In a wild few months through the summer of 2018, Zayn seemingly tried every colour option available. Lilac, neon green, icy blue, neon pink and silver, it seemed he really did test out the entire range of the rainbow, with each look just as great as the next.
Long and Wavy
In a selfie posted to his Instagram in February 2019, Zayn's tresses were longer, falling across his forehead in unstyled waves that suited him immensely, paying ode to his longer hair days whilst in the band.
Shaved, Faded, Quaffed
For most of 2019, Zayn rocked the same do—shaved sides finished with a fade and his hair gelled up in a soft quiff. A safe but wonderful choice that has served him well over the years.
Turquoise Bouffant
In his first return to colour in a year or so, Zayn was spotted on Instagram live and later in GQ India/Spain with brightly coloured turquoise hair, worn a little longer both on the top and sides. A welcome return to experimentation for Zayn after becoming a father!
2022
Though we've not seen much of Mr Malik other than the occasional selfie this year, it's clear to see that his hair is ever changing. From short, pixie cropped looks to longer, quaffed do's, it's fair to say that he still holds the crown for the most interesting former One Direction member to keep up with hair wise! We can't wait to see what look he will rock next.