5 Must-Have Vinyls to Kickstart Your Collection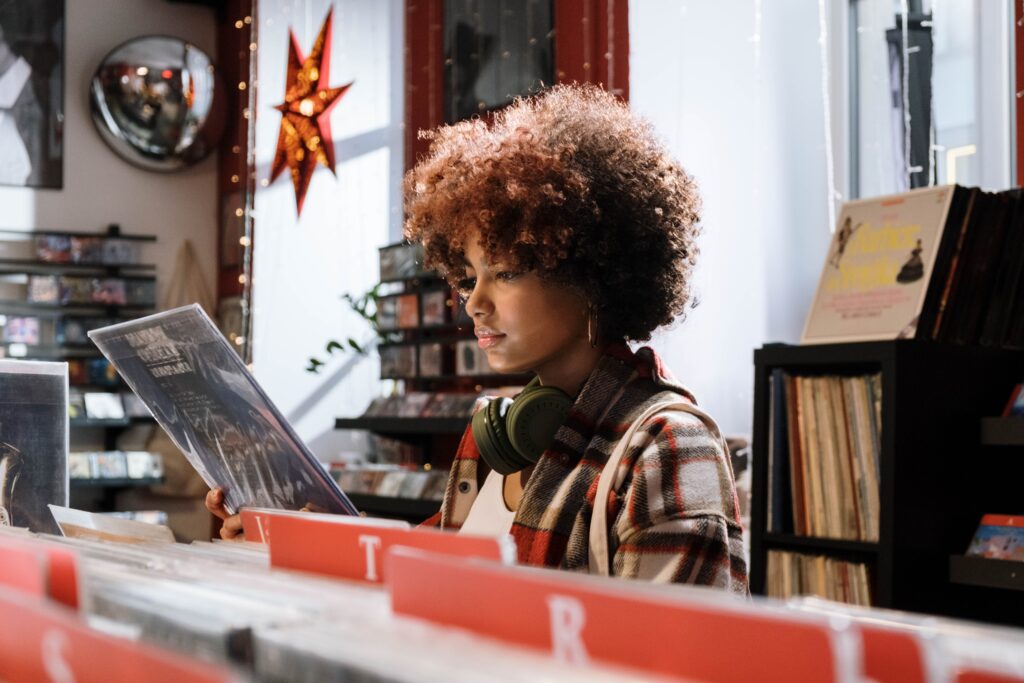 In a time where everything is at our fingertips — quite literally — there's a tangible quality about removing the cover of a new album rather than clicking on it, holding a disc in your hand instead of a device and collecting art from the musicians you love the most like prized books on a shelf, in a library that you can actually visit. When the needle hits and the static whispers sweet nothings in your ear, an unspeakable bond is formed between listener and album. So whether you're bored of online streaming or want to test the waters of a new listening affair; vinyl is not just a click of a button — it's a whole experience, so why not make it a stellar one? Here are 5 must-have classic vinyls to kickstart your collection:


1. The Beatles – Abbey Road

Though the last album to be recorded, Abbey Road stands as the quintessential album to introduce the Beatles, with an album cover the average Joe could spot anywhere and securing a position in the top 5 of Rolling Stone Magazine's 500 Greatest Albums of All Time.

Abbey Road skips the years of mop tops and clean-cut suits, straight past the days of colourful arrays of sounds and visuals and landing safely on an album — though experimental with its medley— feels innocent and playful from songs like Maxwell's Silver Hammer before exuding broody, heavy-listening in I Want You (She's So Heavy).

However; listening to Abbey Road on a device will never do the album justice. The simultaneously inviting and haunting bass line of Come Together and the bright, airy acoustic of Here Comes the Sun are songs that require a record player to take you on the full emotional journey of the Beatles' career.

2. Fleetwood Mac – Rumours

There has never been an album more recognised for its backstory than Rumours – one written during the trials and tribulations of personal relationships within the band.

Rumours is a physical documentation of a musical dialect between frontman Lindsey Buckingham and front woman Stevie Nicks, with Lindsey telling Stevie to go her own way and Stevie's affirmation that Lindsey can have the freedom he so desires in her hit song Dreams— the latter of which resurfaced on TikTok last year and returned to the charts once again.

Relationship issues aren't just unique to Fleetwood Mac; it's something that we all experience at one point or an other and this is why this album deserves a place on this list — it's fun, relatable and a great gateway to exploring not only Fleetwood Mac but Stevie Nicks in her solo career too.


3. Pink Floyd – Dark Side of the Moon

"This is what I think Space sounds like," my partner said to me when we were discussing this album and immediately, I understood what he meant.

Not only does this album represent key points of existence — from the beating of a heart as the album begins, signifying the beginning of life to the ka-ching of the cash register on Money, a commodity that makes the world go round, and even the concept of time. It is an album that seems to touch on key factors of real life in an almost surreal way. Pink Floyd play with —and master—a bond between surrealism and realism in just over 43 minutes.

Some albums can be played on shuffle; but this is not one of them, and that's exactly why this masterpiece that spent 535 weeks on the UK Albums Chart requires the respect of a record player and an important place in your record collection.


4. Blondie – Parallel Lines

Parallel Lines is the perfect introduction to what Post-Punk and New Wave have to offer and Blondie are an iconic pioneer in this field. If you're looking for a sing-song and pick-me-up, then this is the perfect album for you.

The interesting aesthetic of this album which was photographed by Edo Bertoglio, showcasing incredible front woman — Debbie Harry— power posing and together, with her unmistakable vocals that can shift from soft, gentle caresses on their international hit Heart of Glass to bold, hearty bellows on One Way or Another and Hanging on the Telephone. Nobody does it like Debbie Harry.

Parallel Lines is loud, courageous and defiant— everything a woman is taught not to be and Blondie stuck a middle finger up to societal stereotypes. So why not vary your collection with this progressive, New Wave staple by adding the founding mother and fathers of the genre to your collection?


5. The Smiths – The Queen is Dead

Not only is The Queen is Dead a great vinyl to start your collection, it's a staple in any music lover's collection in any format. It is an essential to begin your journey down The Smith's rabbit hole and once you're in, it's incredibly hard to get out – and that's not a bad thing.

This album features iconic Smith's songs such as There Is a Light That Never Goes Out and the sad, melodic I Know It's Over which could make even the hardest of people feel soft inside. This album feels like the soundtrack of an edgy, coming-of-age indie film that you can bring to life by adding in the aesthetic of it going round on a record player and lighting a cigarette, then boom – you're the protagonist.


The album art is almost as recognisable as the songs themselves, featuring French actor Alain Delon from the 1964 film L'Insoumis. Could this album get anymore artsy? Well, the simple answer is 'yes, yes it can…' and can be done by adding it to your collection, where you'll be opening doors to a whole, wonderfully alternative musical world.