Barbie: A Cinematic Experience Drenched In Pink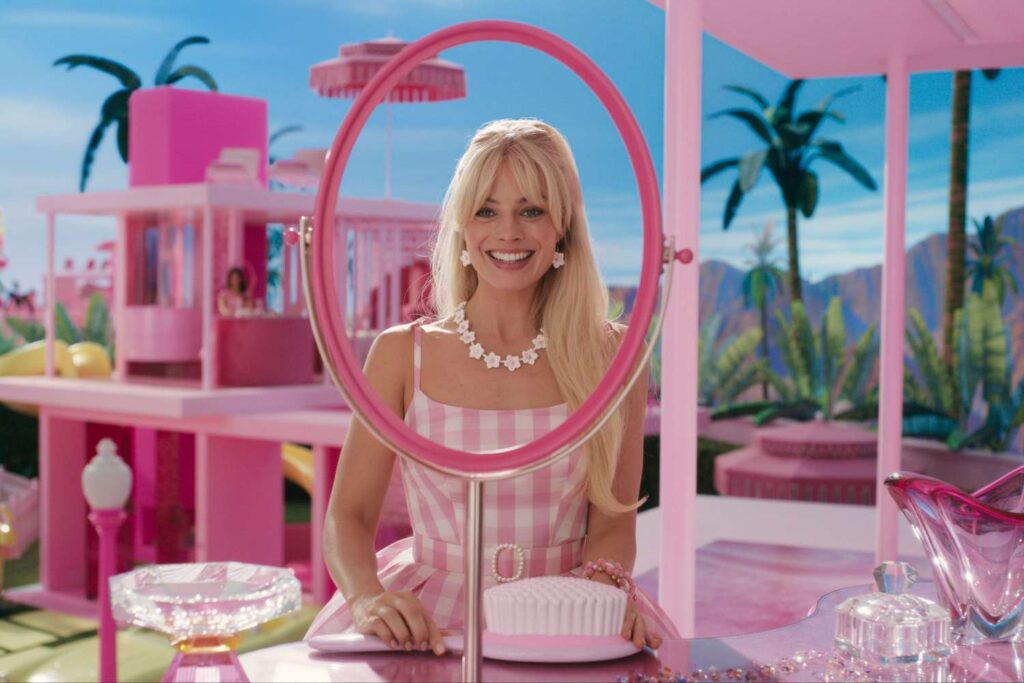 I must admit, I walked into the Barbie movie with very high hopes. Whether it was because of the incredible marketing campaign behind it that made it the hot topic in everybody's mouth or because it is directed by Greta Gerwig, one of my favourite directors, Barbie had quickly become one of my most anticipated – if not my most anticipated – films of the year. I was also equally worried that Barbie would not meet such impossibly high expectations after having seen and heard so much about the movie. So, did Gerwig's latest film live up to the hype that has been surrounding it for months now? It most certainly did for me.
As the title suggests, Barbie focuses on its main character: Barbie (Margot Robbie). As the movie begins, Barbie lives in the idyllic Barbieland where she leads the perfect life, made up of dance parties with the other Barbies, including President Barbie (Issa Rae), Physicist Barbie (Emma Mackey), and Writer Barbie (Alexandra Shipp), and the Kens. However, not all that glitters is gold and Barbie finds herself experiencing a life crisis as Barbie starts questioning her entire world, and her entire existence at large. Following the advice of Weird Barbie (Kate McKinnon), she ventures into the real world with her undying companion, Ken (Ryan Gosling). In our world, Barbie has the chance to interact with humans, such as Gloria (American Ferrera), the Mattel CEO (Will Ferrell) and Ruth (Rhea Perlman).
As Barbie begins, the audience is transported in the high-saturated, gloriously pink, and essentially perfect world that is Barbieland, introduced to us by a disembodied narrator, voiced by the one and only Helen Mirren. The voice-of-God narrator is our first approach to the story as she draws us in by directly addressing the audience from the very beginning of the film. Interestingly, Helen Mirren's narrator is also quite irreverent in some senses, sharing inside jokes with the viewers, unbeknownst to the characters in the film. This is a clever and unique use of the narrator's trope, which can otherwise feel overused and pedantic at times.
Gerwig's script also breaks the 4th wall throughout the film with its multiple references to films and filmmaking. As such, the director is able to reflect on the filmmaking industry itself with this movie in an ironic and refreshing way. This includes artistic references that are not as spelt out for the audience, such as the aesthetic influence of old Hollywood that is evident in the opening scene sequence tribute to the iconic sequence in Stanley Kubrick's 2001: A Space Odyssey that served as promotional material for the film. Borrowing a page from the history of Hollywood musicals, the beautiful musical sequences in Barbie have a clear inspiration in the 1950s soundstage musicals with a pink and ironic twist to them, thanks to the brilliant production design by Sarah Greenwood.
This all plays into the sense of truthful artificiality that denotes the tone of Barbie. While that may seem like an inherent contradiction, Gerwig manages to give an emotionally authentic and yet aesthetically artificial feel to Barbieland and its inhabitants that are undoubtedly part of the film's appeal. In fact, the first act of the film, as the audience is introduced to Barbie's world, is reminiscent of childhood. The story is shaped physically and narratively like the ones kids come up with in their games and dreams: in children's imaginations, and therefore in Gerwig's film, Barbie does not need to walk all the way down the stairs of the Dreamhouse when she can just float down.
Barbie is inherently a feminist film. Every woman watching this film will undoubtedly relate to Barbie and her journey of self-discovery. Barbie perfectly portrays the reality of being a woman in today's world, with all its complexities and struggles. Most significantly, seeing the fear of not being extraordinary enough portrayed on screen was extremely relatable. And seeing all of this being addressed in a film by a woman filmmaker was particularly powerful. With its timely social commentary and witty satire, Gerwig's latest film is a cinematic response to patriarchy, one that reflects on feminism in the 21st century in an ironic but poignant way.
As mentioned, both the script writing and directing of the film are impactful but none of this would have been as impressive as it is without the A-lister casts that makes Barbieland come to life. Ryan Gosling gives the performance of a lifetime as Ken as he is able to dive deep in his portrayal of the character with all its complexities, while nailing the comedic timings for someone that is predominantly a funny character, at least on the surface level. Margot Robbie also shines in Barbie in her emotional portrayal of the main character as we follow Barbie through an adventure that allows her to truly discover herself and who she wants to be.
While Barbie may be a comedic and overall very funny film, Gerwig once again explores themes of womanhood and motherhood in a tender and emotional way, both of which are recurrent in her filmography. With many different Barbies we can take as role models, the film represents womanhood and feminism in their many different forms, shades, and sizes. However, the film also acknowledges the different reactions towards Barbies amongst women, while highlighting both the toy's feminist and empowering history and the fact that Barbie is now owned and produced by a company largely run by men.
Much like a pink and shiny Pandora box – but in a much more positive light – once metaphorically opened, Barbie cannot be stopped as she reveals an array of newfound emotions once released into the real world. With Barbie, Gerwig creates the perfect balance of laughter and tenderness, with some meta-cinematic references on top, thus producing a stunning philosophic masterpiece. It is a film that makes you want to rewatch it again and again until it becomes a classic in order to explore all its layers: I for one already can't wait to enjoy this cinematic experience all over again.