Every Single The 1975 Video, Ranked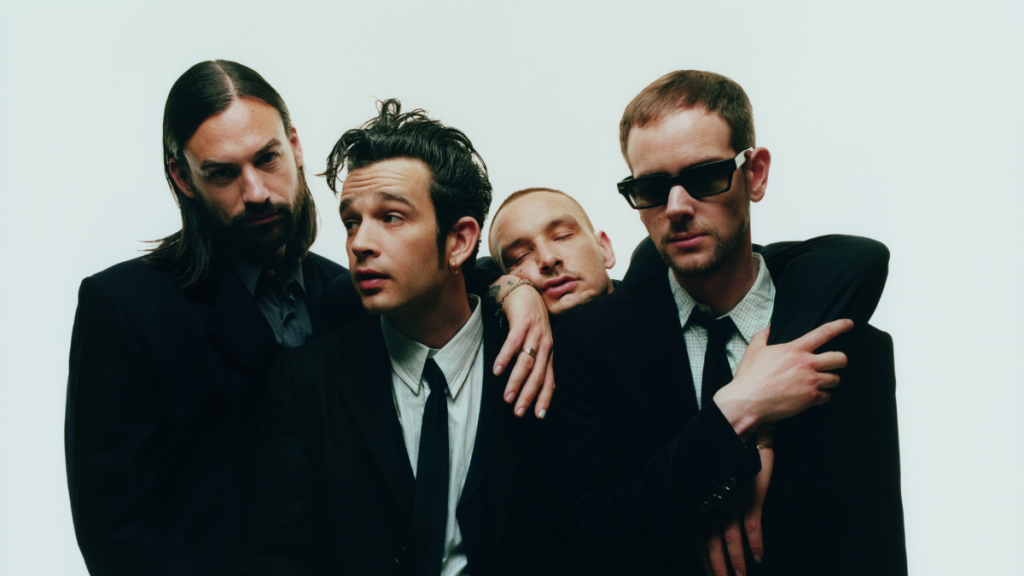 From the release of their debut EP 'Facedown' in 2012, The 1975 have crafted a striking visual language to accompany their music. Whilst their glittering production and anthemic songwriting won over fans and critics from day one, it was their carefully considered aesthetic that helped them stand out in a crowd of homogenous indie bands. In 2022, the band marked 20 years together and released their fifth studio album, 'Being Funny in a Foreign Language', cementing their status as one of the most influential and exciting pop bands in the world.
Today, we're diving into The 1975 cinematic universe, ranking their music videos from across their five studio albums.
25. People
Arguably the angstiest song in their discography, 'People' was the lead single from their fourth album 'Notes on a Conditional Form'. It's a brash, abrasive punk track with an equally anarchic music video, which sees the band performing inside a cube surrounded by harsh LED lights. It's bold and subversive, but I can't help but feel like the band are at their very best (wink) when their videos blend performance with narrative. Also, Matty's Marilyn Manson inspired hair is nightmare fuel.
24. UGH!
This underrated track was the second single from their 2016 sophomore record, 'I Like It When You Sleep, for You Are So Beautiful yet So Unaware of It'. The track is given a live performance video, which sees them experiment with lighting and bold live production. It's a fun, neon-soaked romp, but perhaps a little too simple in comparison to some of their other efforts.
23. The Birthday Party
Another single from the 'Notes' album cycle, this pared-down track is given a surrealistCGI treatment in the music video. It's The Sims meets Black Mirror, as a digital avatar version of Matty visits a screen-time detox centre, only to be transported into a trippy dreamscape where memes come to life. It's a cool concept, but kind of creepy.
22. Happiness
Following the release of lead single 'Part of the Band', 'Happiness' saw the band return to their 80s inspired pomp.The music video channels the retro spirit of the track, which incorporates a series of performance shots in various rooms of an old-fashioned hotel. Matty gives his best impression of a cheesy lounge singer and inexplicably ends up on a horse.
21. Oh Caroline
No, you're not watching a bootleg version of Jackass: Bad Grandpa. The video for 'Oh Caroline' sees the band don prosthetic make-up to appear as elderly versions of themselves. The video cuts between present day and the future, as we see the pensioner line-up vibing out on stage in a smoky bar, as the eponymous Caroline watches on.
20. If You're Too Shy (Let Me Know)
The 2020 single saw the band return to the edgy black and white aesthetic that they popularised in 2012. Directed by long-term collaborator Adam Powell, the video features the band performing against a brick wall. It's a simple but effective throwback to their early days, but when the song sounds like it could be played during the prom scene of a John Hughes movie, they could have pushed the boat out a bit more.
19. Frail State of Mind
The second single from 'Notes' is a an experimental, garage-inspired effort (think Mike Skinner meets Richard D. James). The video captures the eclectic, futuristic nature of 'Notes on a Conditional Form', whilst evoking the song's themes of social anxiety and claustrophobia. Filmed in fuzzy VHS quality, the dizzying video sees Matty crawling around a darkened room surrounded by old televisions.
18. Guys
The mid-tempo indie ballad was the final single from 'Notes', celebrating the friendship of the band by combining archival footage of their exploits over the past decade. It's a love letter to male friendship, reminding us that when they're not being postmodern and conceptual, they're just a bunch of lads making music with their friends. Ah bless.
17. Settle Down
The video for this 2014 single has a quintessential '1975' feel. It's an achingly indie black and white video which contrasts with the 80s influence of the track. The cinematography is stunning, featuring wide shots of a washed-out Northern city, combined with shots of disillusioned youth traversing the streets. The video perfectly captures the dull ache of being a teenager, which is a theme that they've continued to explore ten years later in the opening track of 'Being Funny in a Foreign Language ("I'm sorry if you're living and you're 17").
16. I'm In Love With You
Live on stage at Belfast's SSE Arena, Matty quoted folk hero Bob Dylan, who famously said, "You can't be wise and in love at the same time". But who wants to be wise when you can be happy and blissful and silly and fun? That's the message that the band are channeling in 'I'm In Love With You', and the vaudevillian video sees Matty plays a clown, in a nod to their 2016 video for 'A Change of Heart'. It's an adorable video that gets bonus points for its Phoebe Bridgers cameo.
15. Sex
An ode to adolescent hedonism, 'Sex' is a defining single for the band, which saw them transition from indie buzz-band to bonafide UK rock royalty. The album version of the music video perfectly captures the "apocalyptic sense of being a teenager", with footage of angsty youths taking drugs and causing trouble. It has the seedy aesthetic of a Harmony Korine or Gus Van Sant film, and the American setting is apt given the influences of this song – anthemic indie rock à la Kings of Leon and Jimmy Eat World.
14. TOOTIMETOOTIMETOOTIME
The song is the epitome of 'no thoughts, just vibes', and the video captures this sentiment perfectly. The polarizing song sees Matty dancing with a host of fans, against a plain backdrop of changing colours. It's a wholesome tribute to the people that keep the band alive, even if it does have the glossy aesthetic of a Gen-Z targeted hair-dye advertisement. Maybe that's the point.
13. The Sound
In this bold performance video, the band are playing in a perspex box, bathed in pink neon lights. Matty looks like every inch the rockstar with his smudged black eyeliner. It's a bold and bouncy track, that sees the band embrace their status as a pop juggernaut. Criticisms of the band are flashed across the screen, as Matty embraces his persona as a "sycophantic, prophetic, socratic junkie wannabe". An unapologetic slay.
12. Girls
This single from the "I Like It When You Sleep…' era also sees the band move away from the edgy, black and white aesthetic of their debut record. In true 1975 fashion, they take the piss out of themselves with a skit intro that sees the band moan about the colourful set ("We're not a pop band, it needs to be black and white," Matty groans.) In a cheeky nod to Robert Palmer's 'Addicted to Love' video, the band are replaced by a host of models playing instruments in a series of choppy jump cuts. It's a fun and self-reflexive 80s throwback that perfectly fits the track.
11. Somebody Else
This emotive track begins with an unsettling skit, as Matty sits motionless in a dingy motel room. He is interrupted by clown Matty from the 'Change of Heart' video, a recurring character in their visual work over the years. We hear a laugh track from an unseen studio audience, as Matty gets changed into his usual uniform of black skinnies and leather, and walks out of the door.
This postmodern video may have laid the foundation for the design and concept of the 'At Their Very Best' tour over five years later, demonstrating the band's carefully considered vision.
10. Love Me
This pinktastic video features another manifestation of Matty's uber-popstar persona from the 'I Like It When You Sleep' era. Here, he is bold and Bowie-esque, posing with cardboard cutouts of posters from Harry Styles to Elvis Presley. A self-reflexive meditation on celebrity culture and commodification, directed by Diamond Martell, the mastermind behind the controversial Blurred Lines video by Robin Thicke. It's like Top of the Pops on acid.
9. Love It If We Made It
This conceptual, state of the nation video captures the chaos of Trump's America and post-Brexit Britain, hurtling towards climate disaster, civil unrest, and a pandemic. We see the lyrics being literally represented on screen in a montage of archival footage. It's a biting social commentary, with their artistic vision at its most graphic and unabashed.
8. Heart Out
The final single from the self-titled era, this music video ensured that the album cycle ended with a (literal) bang. It's a performance video with a twist, as a tween version of The 1975 perform on stage at a school talent show! Highlights include an adorable performance from Matty's brother Louis Healy, and a masterclass in pulling off pyrotechnics in a school assembly hall.
7. Me and You Together Song
The song is an early 2000s fantasy, inspired by Busted and McFly, whilst the music video encapsulates the innocence of young love in all its rose-tinted, nostalgic beauty.
6. Chocolate
Era-defining. A cultural reset. A soft grunge indie Tumblr girl's wet dream. The band's first hit single established their black and white aesthetic, and created the blueprint of a generation of indie bands. We've got leather jackets, cigarettes, Matty kissing a hot girl, chiaroscuro lighting. They're driving around the city in a disillusioned, sexy millennial version of The Specials' 'Ghost Town'. Iconic.
5. It's Not Living If It's Not With You
This music video is a masterclass in postmodernism. We see Matty waking from a nightmare and getting ready for a live show, as the band walk on-stage in David Byrne-esque suits, surrounded by backing dancers. It cleverly represents the chaotic, disorientating, and painful cycle of addiction, as Matty even stumbles into the entire music video for 'Sincerity is Scary'.
4. A Change of Heart
This heart-warming video is beloved by fans, as Matty's sad clown persona encapsulates many of the recurring themes in the band's music—vulnerability, performance versus authenticity, love. It proves how impactful it can be when a simple concept is executed well, and Matty's fosse-inspired dance moves are a joy to watch.
3. Part of The Band
The band kicked off the 'Being Funny in a Foreign Language' album cycle with class. It's a return to their roots with an atmospheric, monochrome video, brought to life with tasteful camerawork. Viewers are introduced to the burnt-out car from the album cover, which is covered in Basquiat-inspired art. Longtime fans will notice "the poetry is in the streets" motif daubed on the side.
The song pokes fun of intellectual hipster millennials with cultural capital, accompanied by a music video that appeals directly to intellectual hipster millennials with cultural capital.
2. Robbers
This firm fan favourite deserves a spot near the top of the list. The infamous 'Robbers' kiss is collectively imprinted on all of our minds. A pastiche of Tarantino's 'True Romance', the video sees Matty and his female counterpart play the role of a modern day Bonnie and Clyde. It is cinematic, visually stunning and packed with narrative interest, as we see the pair run around greasy diners, playing with guns, smoking cigs and looking generally sexy and mysterious. The video builds to an epic conclusion as the two lovers rob a convenience store, with the rest of the band playing the getaway drivers.
1. Sincerity is Scary
had to choose one song and one music video that defines The 1975, 'Sincerity Is Scary' would take the top spot. Lyrically, the song explores the incessant struggle between postmodern irony and earnest sincerity that has become a hallmark of their songwriting in recent years. Afterall, it's easier to hide behind metaphor and self-referential, meme-soaked irony, than to simply declare, "I'm in love with you." This multi-faceted music video explores this idea, as Matty dances through a utopian American street (that was filmed on a set in Disneyland, California).
The whip-pan camerawork gives the illusion that the video was shot in a single take, whilst Matty's dancing evokes classic films such as 'Singin' in the Rain'. It's packed full of Easter eggs that fans will recognise, whilst casual fans will appreciate the tribute to the golden age of Hollywood. A modern pop masterpiece.