24 Love Songs To Soundtrack your Valentine's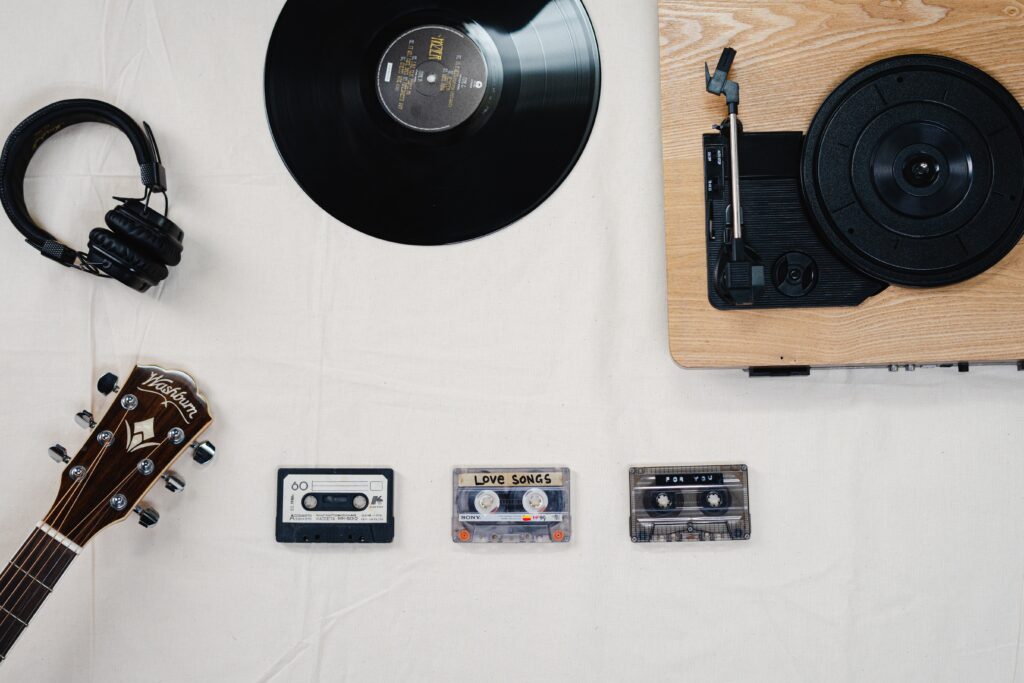 With Cupid's Day on the horizon, most songs being played out there are about the big L… Love. Whether it's about unconditional love, forbidden love or even just self-love, take it from The Beatles and remember: Love Is All You Need. It doesn't matter if you're celebrating with a loved one or alone, this playlist is bound to have you feeling the love this Valentine's Season. So, shall we take it from the top?
Closer – Alex Coles
A soft voice, catchy beat and sickly-sweet words makes this song my first choice. Alex allows the words to take the lead here with a clear confession to a loved one of just how much they mean to him. 'I don't wanna fall asleep until I know you're fine' in the bridge before a small acoustic segment gives the delicacy the song needed.
Flowers – Miley Cyrus
The ultimate self-love song of 2023 so far. Miley gives us a reminder that we don't need anybody but ourselves. Ensure you love the absolute pants out of yourself and you're in for some of the best times of your life. If Miley tells us that, it's bound to be true right?
Cupid's Chokehold/Breakfast in America – Gym Class Heroes
Almost a song that may not be classed as a love song, but when you read into the lyrics, you'll find the lead singer has found the love of their life. I mean, they even tell us Cupid has them in a chokehold. Bonus points if you've read Duplicity and feel this song on a deeper level.
Paper Rings – Taylor Swift
Taylor Swift knows how to write a love song, and this is the pinnacle of wanting whatever comes through life as long as you have that one person with you by your side. The gentle bridge just makes the song feel so much more heartfelt and almost feels like you're becoming involved in a secret confession.
All About You – McFly
A song written by Tom Fletcher for his wife Giovanna, which became easily one of McFly's most precious songs. It's a pure love song and is definitely one that has the heart racing with love. The strings add to the romance, complete with the harmony at the end and tears in your eyes too.
Pointless – Lewis Capaldi
Being an artist renowned for his delicate melodies and gentle voice, this is possibly one of my favourite love songs at the moment. To me, it's the new first dance song without a doubt. There is no other word to describe this song than flawless.
Little Did I Know – Julia Michaels
Julia has given us a song that shows that feeling of love after thinking it may never happen. It has a delicate feel throughout and the rise of sound during the bridge brings a coming of age feel to the song, making it feel like it should be played in a Netflix Original teen movie. It's absolutely beautiful and definitely up there with some of the greatest love songs I know of.
Yellow – Coldplay
Coldplay aren't afraid to show a little colour, and this time it's yellow that they've chosen. Yellow is the colour of happiness for a start, mixed with the absolute adoration of their love. It's timeless, it's beautiful and it's one I know I'd absolutely love to be played. Plus, Lewis Capaldi and Niall Horan have covered it…
Teenage Dream – Katy Perry
Romance songs don't always have to be slow and gentle, and here's exhibit A. Katy shows us that love makes us feel like a teenager all over again… especially at the beginning. It's fun, playful and so exciting to be exploring something so special with someone else. Always live that teenage dream with someone…
Man! I Feel Like A Woman – Shania Twain
It's the ultimate feel-good song and jam packed with self-love. Do you. Be You. Nobody else can tell you any differently. If Shania Twain can sing it with Harry Styles at Coachella and still be giving that good of a performance at the ripe age of 57, you can too. Grab that hairbrush because… Let's Go Girls! *Kicks down a door*.
Adore You – Harry Styles
This man is a sucker for love. He'd do anything for you, so this song just allows us that little glimpse of how much you'd get from a life with Harry Styles. It's love to the tenth degree with compliments aplenty and adoration in every single line. You don't have to give him anything, but you know that no matter what, he'd give you the world.
Live Without You – Wild Youth
The most beautiful song, without a doubt. It depicts adoration and that unimaginable level of love with someone who means everything to you. Everything is for them. The little things make time with them perfect. The bridge leaves no room for mistaking that life wouldn't be complete with them. The music, wording and all-round feel of the song is top tier, and I couldn't be prouder of such an incredible set of boys for creating this song.
Falling Like The Stars – James Arthur
A gentle song to remind us of how it feels to be laid beside your significant other, simply admiring them. Cheesy but one of those moments that is probably where you're deciding your future with that person. It's soft and sweet, and James' voice alone is enough to make you feel soft and calm. It's jam packed with love and absolutely stunning from beginning to end.
Holiday – KSI
Who would have thought KSI could be a boxer, a rapper and a hidden Romeo all in one? He shows his softer side here as he thinks of a holiday, and how that relates back to his love. Warm, a chance to get away from his life and a great time. It's a feel-good summer song with a steady and soft beat, but also gives us so much love and warmth.
Black and White – Niall Horan
If this doesn't scream love, then I'm going to end here. It's the depiction of the most love filled day, a beat that lets you scream at the top of your lungs and the absolute vision of a true love. All in 3 minutes and 13 seconds. Niall has hit the nail on the head with this love filled song, promising to love them (us… it's about all of us…) for the rest of his life. So, roll down those windows and scream it out.
Anyone – Justin Bieber
If you need someone to write a song about adoration, go and call Justin. This song is a heart melter if there ever was one, and if it hasn't melted you yet… imagine it being serenaded. It's honest and true, and as heartfelt as you can possibly make a song. If you need me, I'll be begging my fiance to sing this at our wedding.
Perfect to Me – Anne Marie
Anne Marie is one of the biggest reasons I feel so comfortable in my own body, and this song is the reason why. It doesn't matter what you look like, what you do or how you go about life, but always remember it's okay and you've got this. You're incredible and you're doing great. Plus, she's like the coolest and most down to earth lady ever.
Medicine – James Arthur
Love is about helping eachother right? Through the good times and the bad? In sickness and in health? James shows us that love can be the medicine to make the bad times better and be right there through the worst moments. There's also an incredible sound to this song all round which adds to the greatness.
I Want to Write You a Song – One Direction
It's gentle. It's sweet. It makes us melt. One Direction knocked it out of the park here with a heart-felt and delicate song that offers us a glimpse into their feelings, and shows just how much they would do to show their significant other what they mean to them. We can all go and cry a puddle of tears now, I'll allow it.
Can't Help Falling in Love – Elvis Presley
Love is timeless, much like Elvis Presley's music. Whilst being incredibly pretty, Elvis gives us delicacy throughout the song and assures us that the love with him is meant to be. It's written in the stars, and throughout the track. Despite being released in 1961, still to this day it remains one of the greatest love songs.
Never Seen Anything "Quite Like You" – The Script
One of the most beautiful and heart-warming songs by The Script I've ever heard. Piano melodies, gentle voices and words that would make even the strongest of people crumble. It's a wedding aesthetic in a song and I can't express how beautiful it sounds live too. Plus let's face it, who doesn't love Danny?
Forever and Ever and Always – Ryan Mack
Another song that describes and gives us everlasting love. Ryan can't seem to express enough just how much he loves this person, and for how long too. It's gentle and sweet and so romantic. It's one I'll definitely have played at my own wedding next year.
Through the Phone – Wild Youth
Lockdown was difficult for anyone, but when you're in a relationship with somebody or away from family… it struck hard. This song is about exactly that. Its heart felt wording makes for a strong contender to this song. Think back to those days, how often did you have to love someone through the phone?
Late Night Talking – Harry Styles
Let's end with the main man himself, shall we? Harry gives us that best friend and boyfriend vibe all in one with this song. He only wants to make us feel better, but he does all the time right? Its heart felt and makes us feel warm and fuzzy and has a sickeningly great backing track to it.
If you've made it this far, well done you. It's been a journey, but we've made it, and I'm impressed. Have the most incredible Valentine's season, and whether you're with a partner, family or by yourself… have the best time ever.