BTS: Understanding the Military Hiatus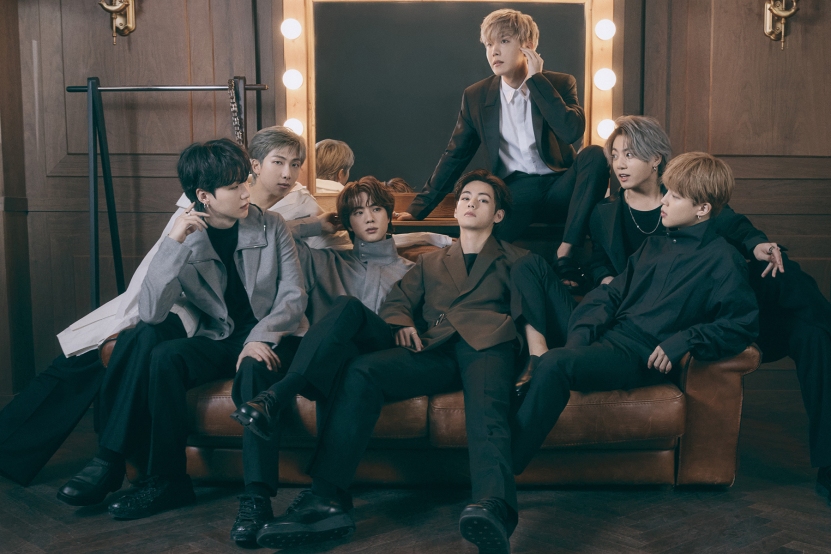 Dul, set, bang! Annyeonghaseyo, Bangtan Sonyeondan-Imnida! 2, 3, Bang! We are BTS. If you are an ARMY, you can hear that introduction clear as day. For anyone who isn't an ARMY (the name of BTS' fanbase), that introduction has been led by the leader of the seven-member Korean boy group, Namjoon (also known by his stage name RM) for over 8 years. 
Despite BTS being an officially debuted boy group since June 12th, 2013, in the public eye, they have been together for much longer. The 7 members of BTS Jin, Namjoon, Hoseok, Jungkook, Jimin, Yoongi, and Taehyung have been in each other lives for over 13 years. The millions of fans that make up their ARMY have been their biggest support for upwards of 10 years to as recent as a month into being a fan; no matter how long you've been a fan, you just like BTS are being impacted by their mandatory hiatus.
The history of Korea's pop music genre is relatively newer in comparison to other pop genres and has a twist for all native male entertainers that interrupts their music career: mandatory military service. The creation of the beast which is the K-Pop industry evolved in the 1990s and had an influence on how BTS was formed. Global growth has shifted how much attention is on the Korean music industry and to understand it, we must remove the Western lens of standards that decide what is and isn't "normal" for a group to do with their career trajectory.
The best way to do this is to "Come Back Home" to the roots of K-Pop, get on the Map of the Soul with BTS' formation, and get a crash course on how global recognition has put a spotlight on the meaning of hiatus for young Korean boy groups.
Brief History of K-Pop
BTS' success and growing acceptance in Western and global media (a.k.a. acceptance in US media) is an incredible feat that was a product of a rather curvy experience founded in the early 90s. To know anything about K-pop is to know Seo Taiji and Boys – they are the "it" group, the innovators of Korea's music industry.
Quick note: While reading the Korean names, please keep in mind that Korean names are written as surnames than first names. 
The members of the group Seo Taiji, Yang Hyun-suk, and Lee Juno shifted the Korean music industry when they experimented with different sounds from Western music. The experimentation successfully resulted in crafting what is the standard K-Pop song production formula: the use of rap along with pushback against modern society with lyrics that critique societal issues. Along with challenging other Korean norms in the 90s with fashion, censorship, "taboo" song topics, and governmental backlash. 
The formation of idol groups and idol culture came out of the 90s when SM Entertainment was founded in 1995, YG Entertainment in 1996 by former Seo Taiji and Boys member Yang Hyun-suk, and JYP Entertainment in 1997. Idol group formation is a gruelling process and has been known to be a toxic and abusive environment for idols who are going through training. Unfortunately, in the past idols have been pushed to "perfection" and held to high standards of dance, musicality, and unrealistic standards of beauty. It is normal for children as young as 6 up to 18 to begin their training and spend a majority of their lives only knowing the rigorous training of the industry to meet the demands to be in an idol group. 
Jihyo of TWICE trained with JYP since she was 9 years old and waited 10 long anxiety and stress-filled years waiting to hear if she cut to be a deserving idol. It paid off when becoming the leader and main vocalist of TWICE, but she has spent most of her life only knowing the industry more than not. Korean prospective idols can wait from 1 year in training to upwards of 10 like Jihyo awaiting their very uncertain future in which they could be cut without warning at any moment in their training period. 
For those who can get through from training to debut, their company has full control over their lives. Like any other company and record label there are contracts and things that artists must do to meet their contract and expectations and there are also questionable things that do not belong in any artist and group's contracts – total agency over the artist. Many of the Korean idols once picked to debut are locked in a serious contract that controls their songs that they sing, ownership of music, total control over how they are marketed as a band, how each member is or isn't marketed, and how frequently they are, how they dress, how they eat, and how they date. This isn't speculation – it has been reported by idols who have left after their contracts were over or left during the training period after finding out what their contract entailed.  
Fortunately, the Korean government has worked on ending the exploitation of young trainees – but even in 2010 when BTS was being formed many of the Korean companies kept a high limitation structure on their trainees and idols! The foundation that Seo Taiji and Boys created using music to express themselves truly against the mould of the world – didn't stick and oddly enough one of the previous members of that group is perpetuating the issue that they wanted to criticize.
The history of K-Pop is important to understand how BTS came to be. Bang Si-hyuk was determined to create a different experience for aspiring Korean artists and sought to create such a studio. Bang "Hitman" PD used to work for JYP in 2005 until forming what was Big Hit Entertainment. Bang's struggle with understanding and finding his place in the industry is where he found his inspiration in looking for other artists who openly expressed their voices and personalities in their music. That became the backbone of BTS. 
The Bulletproof Boys 
Bang sought to form a group called the Bulletproof Boy Scouts in 2010; the name "bulletproof" was a reflection of recognizing and celebrating the resilience of the youth's toughness and capabilities to withstand and continue through the pressures of the world. To be "bulletproof" Bang wanted a band that could authentically and genuinely reflect that experience through their personalities, talents, and passion. 
BTS in the beginning was meant to be solely a hip-hop group built around an underground artist he discovered by the name Rap Monster which eventually evolved into RM years later. The beloved leader of BTS, Kim Namjoon, was the foundation that BTS was built upon. The entire focus on hip-hop Bang didn't last long due to hip-hop album sales falling and wanted to ensure his Bulletproof Boys were marketable and successful.
Bang needed more members to complete his vision of creating a light in the dark for today's youth. Jeon Jungkook caught mass attention with his triple-threat talents of being an amazing singer, dancer, and rapper – earning him the title of "golden maknae" through his audition during the third season of Superstar K. His audition had JYP Entertain, FNC Entertainment, and Starship Entertainment along with 4 other agencies. Jungkook's choice to go for Big Hit Entertainment to be a trainee came from being impressed by Namjoon's rapping; others would say it was because of their first encounter when Jungkook saw Namjoon's thighs. 
Kim Taehyung whose stage name is V comes from Daegu with dreams of being a musician through being a saxophonist. Taehyung may be a little rusty now on the saxophone, but for a good cause. Taehyung originally wasn't going to audition for Big Hit Entertainment – he only went to the audition to support his friend.
Due to the encouragement of the Big Hit Staff and the ok from his Dad, Taehyung auditioned on the spot and was picked to go on to the next round. 
Min Yoongi the producer and rapper of many names, including Agust D (solo rapper) and Suga (in BTS). Before those stage names, Yoongi was known by his rapper name Gloss in high school where his background as being a rapper and producer began. After successfully producing tracks for others, Yoongi auditioned for Big Hit's rap competition "Hit It" where he landed in 2nd place and was offered a contract with Big Hit to be a rapper and producer. Yoongi was not going to be a member of BTS originally but was convinced to join and hasn't looked back. 
The one and the only "worldwide handsome" Kim Seokjin or Jin was the fourth to join BTS. He was originally scouted by SM Entertainment while walking the streets of his hometown in Anyang. Jin never followed up with SM Entertainment as he thought it was a scam – that perspective didn't last long when he was scouted later by Big Hit Entertainment while he was a college student. After being convinced by Big Hit staff he auditioned to be an actor as he didn't have any singing or dancing experience.
Jin was convinced again by staff to become a trainee for BTS. Even with his hesitancy, Jin following through with BTS was the best decision he made. It's your hope, it's J-Hope! Born Jung Hoseok, he was known for being only a dancer at first. J-Hope started in a local dance crew called Neuron and then auditioned for JYP Entertainment. His audition went well and made it through a few rounds before he was cut by JYP leading him to a fateful decision of auditioning for Big Hit Entertainment. Big Hit Entertainment saw beyond J-Hope's potential talents as a rapper along with his dancing skills and he was signed as a trainee.
 J-Hope almost parted ways with Big Hit until Namjoon convinced them to keep J-Hope in the group, thus creating the dream rap team of Yoongi, Namjoon, and Hoseok. Jimin was the last member of BTS to join after he was encouraged by his dance teacher from the Busan High School of Arts to audition for Big Hit. He passed the audition and was flown out to Seoul to become a trainee. 
Learning The Korean Hiatus Through BTS
Rewind to the beginning of this article – the BTS introduction was shared. It's memorable, meaningful, and usually a constant. As of December 2022, that introduction has been put on pause until 2025. BTS, the sensational worldwide boy group, had to say a temporary goodbye to their "worldwide handsome", Jin at the Yeoncheon training centre on December 13, 2022. Jin's departure from the group started the boy group's official and inevitable long-term hiatus. The hiatus that BTS is taking is normal within Korea. However, since the boy group has expanded outside Korea's borders in ways that neither Korea nor BTS would've imagined, there is a need for non-Korean fans and the general public to understand that this is no ordinary hiatus that other boy groups have done before. 
BTS took a break from music for a short period in the summer of 2019. That break from music was to allow the members of BTS to experience a true uninterrupted time of rest and rest that they've not had since their early teens due to training and their debut. Each member of BTS wanted to have "a chance to enjoy ordinary lives of young people in their 20s, albeit briefly". For one whole month, BTS was able to experience a holiday, leisure, time to catch up with friends and family, no need to think about their music, take time for their hobbies, and have personal time away from each other. 
The break to experience life as those in their early 20s was motivated by personal reasons. While this hiatus, is due to legal obligations set by the Korean government since 1957. This legal obligation is called Conscription and exists due to the ongoing war with North Korea. All Korean males are drafted at the age of 18 and are legally required to fulfil this obligation unless the Korean government has granted an exemption. Native Korean women are not obligated to participate in military service, but those who are interested may volunteer. 
Korea's conscription has various roles that those who are going through the service can due to fulfil the requirements from active duty enlistment, social work personnel service, mobilization summons, and training exercise summons, to name a few. One of those roles has to be completed between the ages of 18 to 28 for 18 to 21 months. The only reason Jin was able to not have to begin his required military service 2 years ago was due to the revised Military Service Act that was passed in 2018, which has been nicknamed the "BTS Law" that allowed K-Pop starts to postpone their military service until they are 30. 
The Korean government did not want to lose BTS' impact by the group going on a hiatus due to their mandatory military service due to the tremendous economic impact that they bring to the country from tourism alone. When I write tourism, I mean tourism without a need for a concert – the mere idea of being in the same space as BTS and seeing the recent spots that they've been in brings significant economic gain to Korea.
In 2020, the Korean government received a proposal that wanted to acknowledge the economic and social contributions that Korean pop celebrities have made. The goal was to recognize their meaningful contributions to national interest by providing alternative solutions to the military service. Even with good intentions behind the proposal, the Defence Minister said it would be a difficult decision to offer an alternative military service to BTS to keep the aspects of fairness in the military service. 
There are very few opportunities for exemptions in having alternative services. Men with physical limitations or health concerns are allowed to perform alternative services, which is what is expected of Yoongi when he enlists due to his shoulder injury. Artists and classical musicians who have won awards for their work have been allowed alternative service that requires teaching and performing as long as the award is recognized by the Defence Military; BTS despite having won many awards, has not received one of those awards. 
Professional athletes who have international honours have been allowed to do alternative service that aligns with their expertise. A good example of that is Son Heung-min a professional football forward for Tottenham who was granted full exemption of the 21-month military service due to leading South Korea to victory in the 2018 Asian Games. Heung-min still had to service a military service but was for a shorter time: 3 months. Korean adoptees who have reinstated their nationality and are not fluent in Korean are granted an exemption. Those who have dual citizenship have an interesting experience with military service.
Individuals who have dual citizenship have to either serve in the military or drop their Korean nationality and be considered a foreigner. Stray Kids' Bang Chan and Felix opted in for their Australian nationality, which is the nationality identity they have most of their lives in while individuals like Seventeen's Vernon who moved to Korea when he was a toddler with his parents did not drop his Korean nationality, most likely due to living more as a Korean national than not and will serve in the upcoming future. Amongst the K-Pop ideals that have dual citizenship, some are foreigners and will not have to fulfil any military service such as Matthew from KARD and Johnny from NCT who are American, Mark from NCT who is Canadian, etc. Then other K-Pop idols who are not Korean are automatically exempt such as Mark from Got7 who is American, Yuto from Pentagon and Yuta from NCT who is Japanese, BamBam who is Thai, etc.
Therefore, not all K-pop idols and K-pop groups are deeply affected by military service, but many are not.
This has created a lot of backlash towards why there aren't more chances for exemptions and the service mandateeatment" due to how the 18 to 21-month interruption in life has negatively impacted economic advantages and being "harsh tr education and career opportunities. However, the alternative to not doing the typical conscription is a 36-month-long service working in the country's prison system doing administrative work, jobs in the laundry and kitchen facilities, and living in the prisons. It may not be "jail" for getting an exemption from the traditional service, but it is a prison of misery for not meeting the "requirements" of completing the service like all other Korean natives. 
To follow in their fellow countrymen's footsteps, BTS will fulfil their mandatory service. It's cultural. It's legal. It's a mandatory call to action that has to be completed. This is a different grasp of music career breaks that Western audiences are not used to. BTS at once was compared to One Direction when their hiatus announcement began. Netflix received a big backlash when comparing BTS to One Direction by missing the cue on understanding that BTS going on a break is due to legal obligations and citizenship duties that they cannot ignore versus One Direction pursuing solo projects with an indefinite return. 
It's normal for K-pop groups to be active and have 1 up to all members of their groups doing solo projects. BTS now is on a break where the members who are not currently prepping to enter the military are doing whatever they please in their downtime. Which is something this hard-working group of men deserves. They are industry leaders, and they are getting themselves ready for one of the biggest leadership changes and demands in their lives. As a fan of both BTS and One Direction, I will say that both groups have needed to find time to find their identities in and out of those groups. The difference is the intentionality behind the hiatus', the solo projects, and the way that the hiatus' upsets the members, and the fans. 
It all truly comes down to culture: individualistic vs collectivistic and a country that is still in an ongoing war and requires military service vs those who don't. BTS' full enlistment schedule has not been officially announced. Yoongi is going on a short tour promoting his Agust D mixtapes until late June or early July ending in Japan. I will guess that Yoongi will enlist sometime in September or October of 2023 to fulfil his duty as he will be turning 30 on March 9th. He is using that 30 years exemption to his advantage meaning he will have to enlist as soon as possible post-the Japan date on his tour. 
Not everything in music has to be viewed through the lens of the Western way of life. It's not possible nor will that lead to success in having cross-global collaborations in music. Culture is going to follow the artists wherever they go and BTS is no different. It's time that the Western music community takes more time to learn about Korean culture and norms, how much culture and norms affect their artist's music careers, and be more open to considering Korean artists as valuable contributors to the music industry.